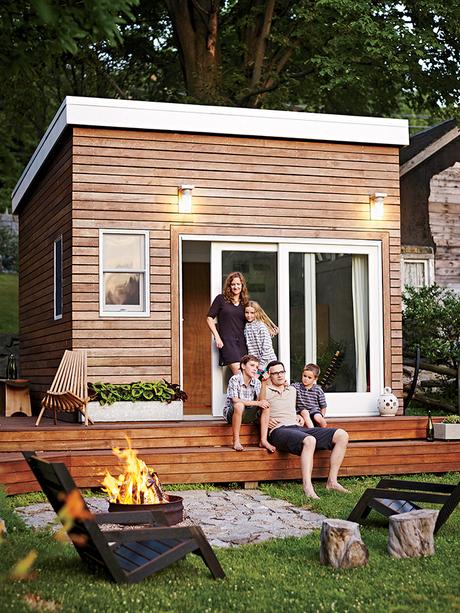 When the Ferguson Sauder family—parents Meg, a school counselor, and Tim, a design instructor, plus kids Cole, Olive, and Asher—wanted a multifunctional backyard addition, they decided to build it themselves. Two Liftoff chairs by Tim Miller, one of Tim's former students, surround an oil-drum fire pit set in granite dug up on the property. On the deck, the Panamericana chair is by Industry of All Nations. 
Project  Lanesville Outbuilding Designer 
Tim and Meg Ferguson Sauder
Tim and Meg Ferguson Sauder had two problems: Like many parents, they wanted more space for their active family. They also needed to get rid of a deteriorating, hornet-infested storage shed sitting in the yard of their home in Gloucester, Massachusetts. So the family devised a solution in the form of a gift-box-size modern outbuilding that's more of a weekend retreat than simply a place to park the lawn mower.  
The project was started out of pure necessity. Tim, the creative director of a student design studio at nearby Gordon College, where he is also an instructor, needed a home studio of his own. The couple's children, Cole, 13, Olive, 10, and Asher, six, who have an informal business making long-board skateboards out of recycled wood, needed space to play and tinker. And with a large extended family always ready to visit them in Gloucester, an idyllic seaside town on Massachusetts's North Shore, an extra bed would come in handy. 
As Tim and Meg describe it, building a better shed turned into a family project and an exercise in inexpensive, sustainable building. "We wanted to do this as a sort of experiment to see what we could do if we got to start from scratch," Tim says.
With the exception of the roof and plastering, Tim, Meg, and their children built the 168-square-foot space themselves, almost exclusively with reclaimed materials. The mahogany that wraps the building and covers the deck came from a garbage bin, as did the oak for the floors, which was rescued from an apartment renovation near the famous Boston watering hole Cheers. A porthole-style window came at a discount from a building supply outlet. The outdoor fire pit was cut from an oil drum. 
The interior is a bright and cozy space that alternates functions from design studio to playroom to guestroom, depending on the family's needs. Tim and Meg found a Murphy bed, through Craigslist, that they reassembled and covered in birch. Tim fished a broken Eero Saarinen Executive chair from Knoll out of a dumpster on campus; Meg convinced a local auto mechanic to repair the fiberglass frame, and they reassembled the chair themselves. Wanting to add a small bathroom without connecting to the sewer or a septic system, they found a waterless EcoJohn toilet, also via Craigslist, that uses a small propane burner to incinerate waste. 
In the 12 years they've lived in their home, Tim and Meg have taken on a few renovation projects. They gutted the interior, built new walls, and constructed an outdoor shower for rinsing off after summer adventures. "I think we like the challenge of saying you can make things really beautiful without spending tons of money," Tim explains. 
Meg, a counselor at a local school, says that the family has always used Craigslist to find deals. While the push to use repurposed pieces in the outbuilding was driven in part by a goal of staying under a $10,000 budget, she says using ethically sourced goods is a daily part of the family's life. When they began the project, in 2012, they worked with an architecture student on preliminary designs for the space. But Tim says they quickly realized their serendipitous approach to materials meant that normal planning wouldn't work. 
In all, the process took about a year. Now the patchwork of recycled materials fits well with the outbuilding's multiple roles. In the summer, it serves as a hub after badminton games or boat trips on Ipswich Bay, which is visible through the sliding glass doors. Some evenings, the family packs in for movie night, and, in the winter, the children play floor hockey and basketball inside. "It's kind of like our playground," says Olive. "When we get bored upstairs, it's like we have a second house." 
Log in or register to post comments