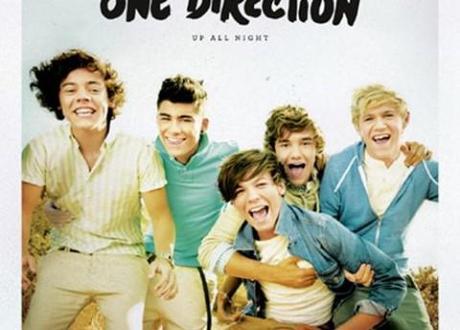 One Direction: the only way is up? Photo credit: British One Direction http://www.flickr.com/photos/hindeben/6273100080/
X Factor boy band One Direction's debut album Up All Night has gone straight to no.1 in America, with sales of 176,000 – a feat never before achieved by a British artist, not even the much-vaunted Adele.
Harry Styles, Niall Horan, Zayn Malik, Liam Payne and Louis Tomlinson were brought together by Simon Cowell on the 2010 season of The X Factor. They didn't win the talent show – that honor when to Matt Cardle – but they have won a massive teen following, as well as a Brit Award for Best Single ("What MAkes You Beautiful") this past February. They can boast more than 2 million followers on Twitter, a Nickelodeon TV show and an up-coming appearance on Saturday Night Live. But are they just another manufactured boy band or a sweet, guilty pleasure?
One Thing

Irresistibly catchy pop. Sophie Goddard in Cosmopolitan called it "catchy" "full of toe-tappers" and "just IMPOSSIBLE to dislike." Adam Markowitz, gave the "irresistibly bouncy" album a B+ in Entertainment Weekly, identifying One Direction as "the first viable next-gen boy band for a tween demographic", even though they look like "Nick Carter's scarf-wearing foreign-exchange-student cousins." Zachary Houle at Pop Matters was also a slightly self-conscious fan of this "tweenybopper bubblegum pop" which "doesn't suck…but … actually rocks." Hollywood Life gave it four out of five stars, concluding that: "With catchy melodies, thoughtful lyrics, and more energy than a thousand Justin Bieber fans in a tiny box, Up All Night feels like summer and Christmas and my birthday all rolled into one."
"Inoffensive", unimaginative. Simon Price, who admitted to having never heard of the band in his review for the Independent, described them as "a cobbled-together quintet of barely pubescent boys with dish-mop hair and 'are you local?' nostrils," whose album consists of "15 instalments of inoffensive daytime radio pop." He conceded that it "will sell by the zillion."
The Guardian was so unenthused that their page for the album bears the following message: "This page has been automatically assembled and we currently have no information about Up All Night. We hope to fill in the gaps on this page soon. In the meantime, please enjoy this picture of a cat."
Teen dream. But the teens love them. Bliss magazine fave the album four out of five stars, admitting that What Makes You Beautiful is "on perpetual repeat in BLISS HQ", while Sugar magazine "guestimate" that they've listened to the album 2546 times, boasting: "We know every single lyric… for all we know we probs sing it in our sleep." They're such big fans that they have a whole page devoted to the band on their website and this month's edition is the "One Direction special".
The Cowell Touch. Some are putting the band's success down to more than just their teen dream appeal and catchy song stylings. Music Week reporter Paul Williams told the BBC that being managed by talent show impresario Simon Cowell is probably the "x" factor here: "[Cowell] has a hell of a lot to do with it. He is one of the most famous people on TV in America and he's been associated with Leona Lewis and Susan Boyle, both of whom have had number one albums in America, so he has a lot of influence…. When Simon Cowell drives an act, people are going to listen and pay attention. Although you have got to have the goods, as well as having someone like Simon championing you."
But how are they No. 1? Sure, One Direction might be a sweet treat, but 176,000 in sales sounds pretty low for a number one debut. The BBC, however, has the answer: Sales figures may seem low, given the size of the US market, but album sales have nosedived in recent years. "Big releases by acts such as Jay-Z or Lil' Wayne can expect to shift somewhere between 600,000 and 900,000 copies in their first week, but the number one album often sells less than 200,000 copies," the broadcaster reported.
More X Factor and teen hits:

Teen party movie Project X: Obnoxious or awesome?
The Hunger Games: After Harry Potter and Twilight, is this the next big teen movie franchise?
The Hunger Games sates the appetites of the film critics
Little Mix wins The X Factor 2011, the worst edition of the talent show yet?
Five key X Factor moments