Less than a 2-hour drive from Dublin, Waterford is best known for its namesake crystal, but that's not all the city has going for it. If you're planning a trip through Ireland, spending a day in Waterford will be time well spent.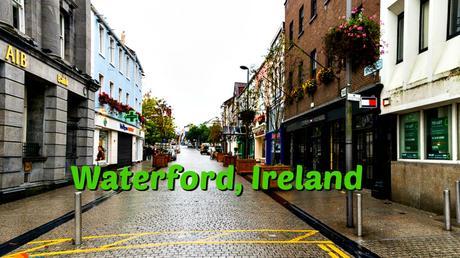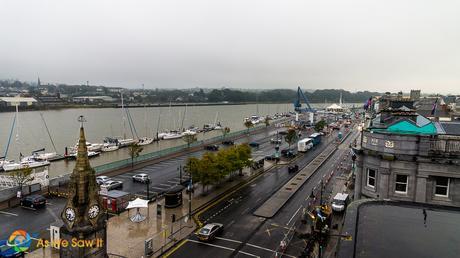 Riverfront in Waterford, Ireland
One day in Waterford
I confess that, thinking that the city had little else to offer than a crystal factory we rushed from Dublin to Cork on our first visit, with only a stop at the Rock of Cashel on the way. However, when Faílte Ireland offered to show us around Ireland's "sunny southeast" a few years ago we seized the opportunity. Who could know it better than Ireland's national tourist bureau?
Founded by the Vikings in 850 AD, Waterford is Ireland's oldest city and was once more important than Dublin. Yet with all of its history, the best of what to see in Waterford is all conveniently tucked into a snug little downtown area that is easily walkable.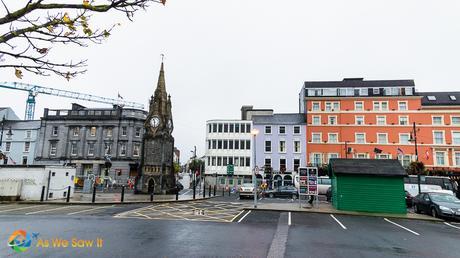 View of Waterford from the riverfront.
The city's slogan, "a thousand years of history in a thousand paces!" is no joke. Within just a few steps of each other are three key visitor attractions, each focusing on a different era. Think of it: You can see Viking, Medieval and Georgian Waterford all in a single day, and without having to traipse all over town.
9:00 – Waterford Crystal factory and showroom
The world-famous House of Waterford Crystal is only steps from the Viking Triangle and worth a visit even if you're not in the market for luxury goods. Glassmaking is a fine art. Besides, the Visitor Centre opens earlier than anything else in the Triangle, so it makes sense to begin your day sightseeing in Waterford with their first tour of the day.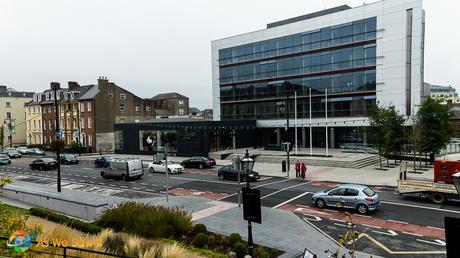 Waterford Crystal Factory
Waterford Crystal Visitor Centre offers a one-hour tour of their factory, where you can watch the finest glass craftsmen create "prestige pieces" for special-order customers. Many of these beautiful pieces are on display in their showroom so you can see them afterward.
Although we hadn't planned a tour into our day we managed to squeeze in 10 minutes of crystal viewing at the showroom just as it was closing up. Up until then we had considered Waterford crystal to be little more than a "name brand," but upon seeing the unique creations in the showroom we came to realize why so many people want to own it. I even discovered a beautiful chandelier there that I wouldn't mind owning, for a mere €10,000.
Pocket change, right?
Tip: Save 10% on admission by purchasing your tour ticket online before you go (link below).
Visiting details:
Admission: €13,50 for the general tour, €25 per person for a private tour, prearranged. Showroom is free.
Hours: Factory Tour: Mon – Sat: 9:00 to 16:15; Sun: 9:30 – 16:15; Retail Store: Mon – Sat: 9:00 to 18:00; Sun: 9:30 – 18:00. These are from Apr.-Oct.. See website for rest of year.
Expect to spend an hour on the tour and half an hour at the showroom.
10:30 – Bishop's Palace
From medieval times until the early 20th-century the Church of Ireland's bishops of Waterford and Lismore called the Bishop's Palace home. Hence the name. The building was designed and built in 1741 by the famous Richard Castle on the site of the original, medieval Bishop's palace. Now that the bishops no longer live in it, it has been repurposed into a museum with rooms restored in 17th and 18th -century style.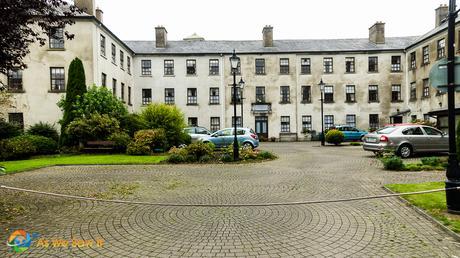 Here costumed actors tell of Waterford in the Georgian era. They will escort you through the period rooms and tell all about the rare 18th– century Irish furniture, glass, silver and paintings in the building. You will see the largest collection of historic Waterford Glass in the world on display as well as the oldest landscape view of an Irish city (William Van der Hagens' view of Waterford 1736).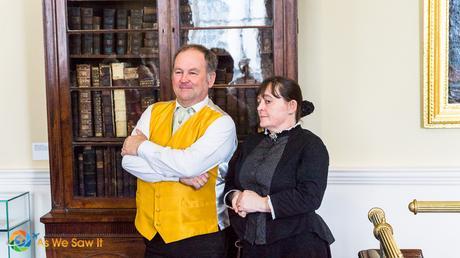 Costumed actors explain their riles in the Bishop's Palace.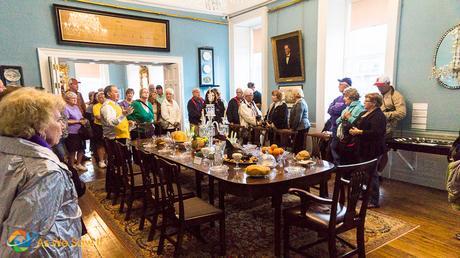 Explanation of the Dinning Room in the Bishop's Palace.
Visiting details:
Admission: €7 (€10 combined admission – Medieval Museum and Bishop's Palace)
Open: Mon-Fri. 9:15 – 18:00, Sat. 9:30-18:00, Sun. and Bank Holidays 11:00 – 18:00. See the website for hours Sept-May.
The tour lasts 45 minutes and you are free to roam the museum after the tour. Expect to spend about 1-2 hours here.
Tip: You can take a break for lunch at the onsite café and come back to view the rest of the Palace when you are ready. The Bishop's Palace is usually less crowded on weekdays.
13:00 – Medieval Museum
A two-minute walk from the Tower, directly behind the Bishop's Palace, is Ireland's only Medieval Museum. This stunning modern building incorporates previous construction they found onsite, including a 13th-century Choristers' Hall and a 15th-century Wine Vault.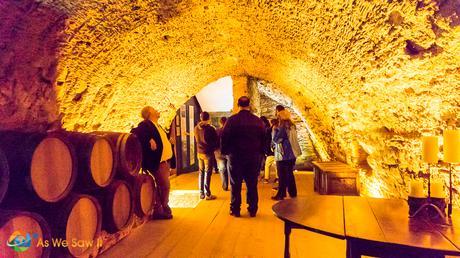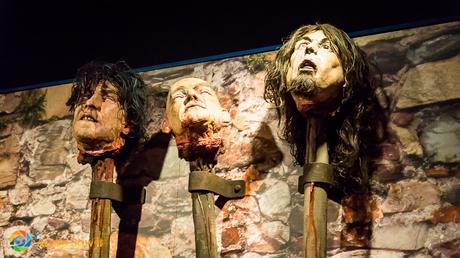 And you thought you had a bad day…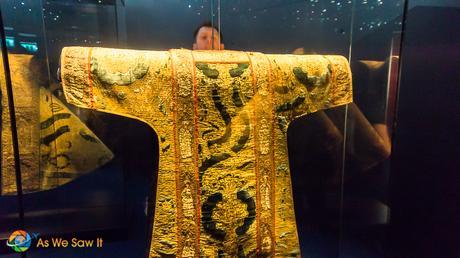 Don't-miss highlights in the museum are the 4-meter-long Great Charter Roll of Waterford (dated to 1373) and the 15th-century Cloth of Gold Vestments, the only full set of medieval vestments to survive in Northern Europe. Other unique treasures include:
The Relic of the True Cross
Pilgrim badges
Ring Brooch
Sword of Edward IV
King Henry VIII's Cap of Maintenance
The Great Parchment Book of Waterford
The Luker Chalice
Vestment Chest
This museum really explains a lot of the history of Ireland. If you've wondered why the battles continued between England and Ireland or about the divide between the Catholics and the Protestants, you will better understand after your visit.
Visiting details:
Admission: €7 (€10 combined admission – Medieval Museum and Bishop's Palace)
Open:-Fri. 9:15 – 18:00, Sat. 9:30-18:00, Sun. and Bank Holidays 11:00 – 18:00. See the website for hours Sept-May.
16:00 – Epic Tour of the Viking Triangle
Actors in period dress will tell you about the city's history as they guide you to six national monuments:
Reginald's Tower (first mentioned in 1088)
Greyfriars Medieval Franciscan friary (1240)
Choristers' Hall (1270)
the Mayor's Wine Vault (1448)
the Bishop's Palace (1743)
and Christ Church Cathedral (1783), when no church service is in progress
It's a shame that this enjoyable 45-minute character-led walking tour isn't offered in the morning because it gives an easy-to-understand overview of Irish history. Still, it helped us to tie all our varied impressions of Waterford together.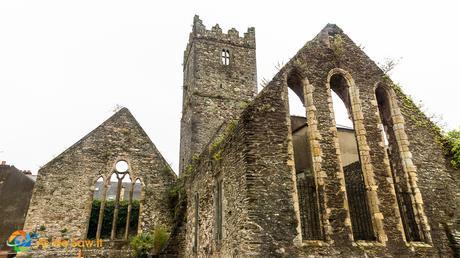 Visiting details:
Admission: €7 (€10 combined admission – Medieval Museum and Bishop's Palace)
Open: Epic Tours of the Viking Triangle are run daily from May through September at 12:00, 14:00 and 16:00 (military time).
The Epic Tour of the Viking Triangle starts at the entrance to the Bishop's Palace.
Where we ate
Bishop's Palace: The Palace has a reasonably priced restaurant that is ideal for lunch. They offer a good variety of dishes, so those on special diets will likely find something they will like.
Granville Hotel: We loved the atmosphere here. This historic hotel was the birthplace of Irish nationalist Thomas Francis Meagher and where the Tricolour (Ireland's flag) was flown for the first time. It has also been Georgina Campbell Hotel of the Year, a highly coveted award. For more about the hotel's history, to see one of its rooms or read about its award-winning restaurant, read our post about our stay at the Granville Hotel, with more photos of this impressive place.
Tip: Enjoy a local specialty and ask for a Waterford blaa in lieu of normal bread.
Waterford resources
Websites:
Purchase tickets to the Waterford Treasures here
Waterford photo gallery
Books on Amazon:
Articles about nearby destinations:
7 Things to Do in Kilkenny, Ireland
9 Things to Do in County Wexford
Save this for later:
Pin this to your Pinterest travel board to save this "One Day in Waterford" itinerary. You can also follow us on Pinterest for other travel ideas.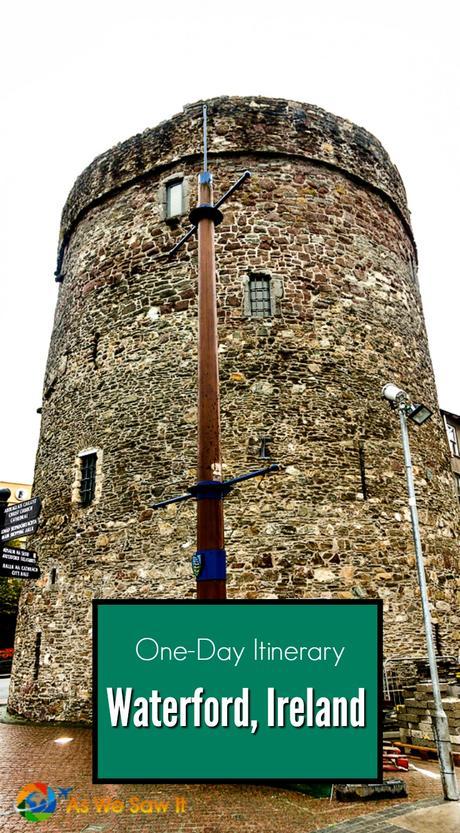 (Visited 6 times, 6 visits today)