It hasn't quite gained the popularity of other cities like Athens, Santorini, or Mykonos, but Nafplion is still a best-kept secret for those who know of its picturesque scenery and history.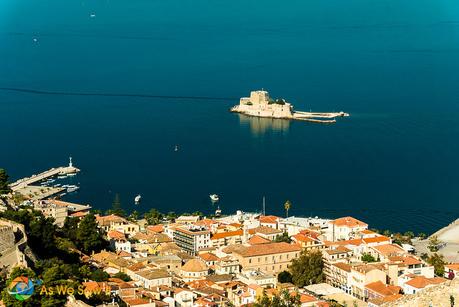 Certainly it was a secret to us. We had never heard of Nafplion until we saw that our cruise ship was stopping there.
Why spend a day in Nafplion?
We pulled out the computer and had a session with Mr. Google … only to find out that Nafplion is also called Nafplio and Návplion, which made everything pretty darn confusing. But once we got beyond all that, our research showed us that crystal clear, aquamarine waters, quaint shops, and long scenic walks are what we would find there.
It's also a great base for day trips to many of Greece's most famous archaeological sites (the first two are designated UNESCO World Heritage Sites):
Mycenae—the capital of Mycenaean civilization, which dominated the eastern Mediterranean world from the 15th to the 12th century B.C. and played a vital role in the development of classical Greek culture.
Epidaurus—a vast site devoted to the Greek gods of healing, with buildings that are considered one of the purest masterpieces of Greek architecture.
Ancient Corinth—one of the most important cities of ancient Greece, also famous as the site of Paul's 1st-century missionary journeys.
Lots of history here, guys, both ancient and modern. Since Jesus' time this town has changed hands a few times. It has been under everything from Turkish to French, Italian and finally Greek rule. An important bit of history is that back in the early 1800s Nafplion was actually named the first capital of modern Greece.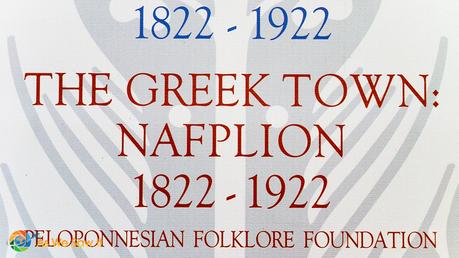 Our day in Nafplion
Every one of the excursions our cruise ship offered would have been interesting. However, as you may know, we aren't too fond of big tour groups. We prefer to strike out on our own to explore and see what a local town has to offer.
We had made friends with another couple on the cruise ship, Celia and I bonding over the fact that both of our husbands are photographers. Jim laughed when we handed us his card; his website is called The Way I See It. Celia is of Greek heritage and I had asked her to help me learn a few words of the language when we were at our first Greek port, Kerkyra (Corfu). We decided to spend the day together, again.
Spoiler alert: Nafplion was a treat. For such a small port we were surprised at the wide variety of things to do and see.
Of course we started our day by striking out on foot, beginning with a own self-guided pedestrian tour through the town (read: No idea where we're going, nowhere we have to be). We really just wanted to be in the moment and enjoy.
The shuttle bus dropped us off in a parking lot not far from Syntagma Square. A lot of Greek main plazas share that name, much as main avenues are often named High Street or Main Street. Syntagma means "constitution." Greeks are rightfully proud of the fact that their country is a republic.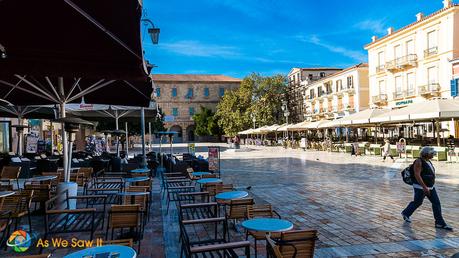 Megalos Dromos
Shooting off from the main square is a pretty pedestrian street, Vas. Konstantinos. At least, that's what the official signs say it is. The Nafpliots, however call it Megalos Dromos, "Great Road," because it is the main thoroughfare through Nafplio. As such, many of our fellow cruise passengers made a beeline for it. Lemmings? Not us. The four of us rolled our eyes and headed in the opposite direction.
As we strolled through the beautiful old town we noticed that it is packed with intriguing museums and inviting restaurants everywhere, and not just on the Great Road. The colorful bougainvillea-laden streets, weathered buildings and well-worn cobblestone streets that we discovered heard more than their shares of clicks and whirs as the two cameras eagerly captured every shot. We wives, in the meantime, shared a sigh of relief that the old town area is pedestrian only. It was nice to not have to listen for approaching cars.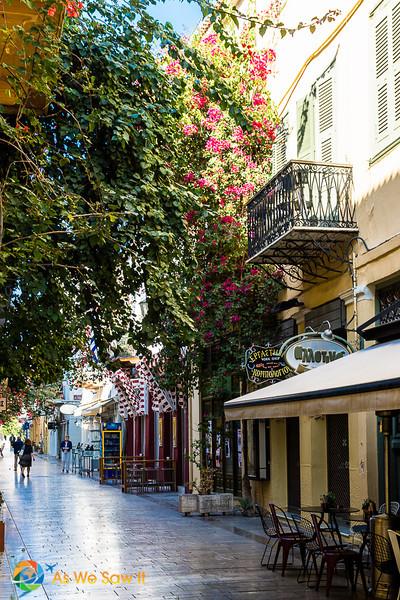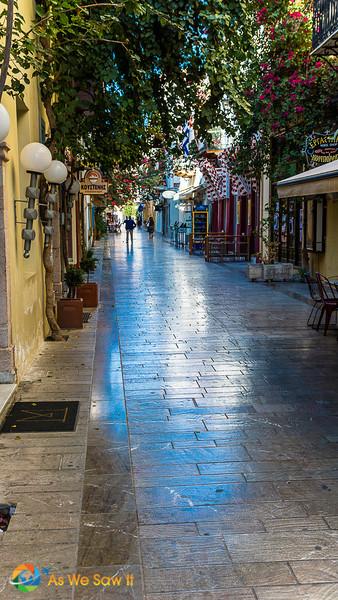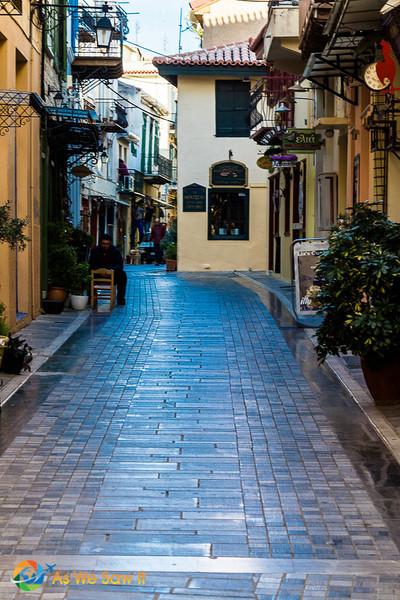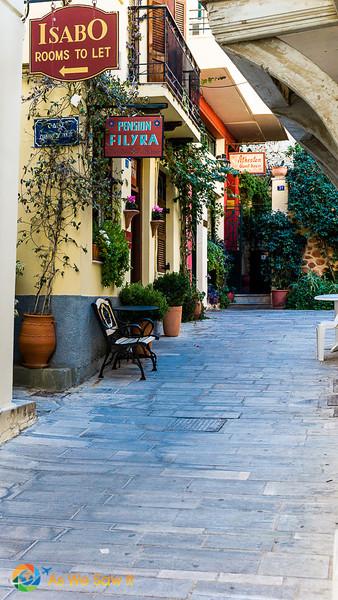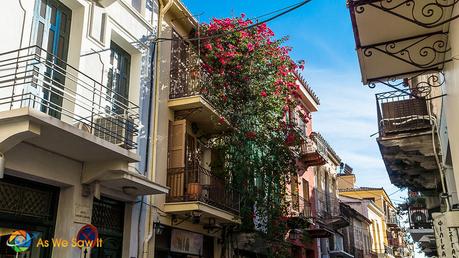 About those restaurants:
Where to eat? … Where to eat?
… kept popping into my mind. I was already thinking about that
Greek salad
I'd become enamored of, and looking forward to my next one. This was going to be a long morning: We'd only just finished our breakfast.
Churches
Whenever we visit a Greek town we always make an effort to visit some of its Greek Orthodox churches. They are always beautiful.
The Church of Saint George (Nafplio Cathedral) was a particularly impressive church. It has beautiful frescoes dating from Venetian times.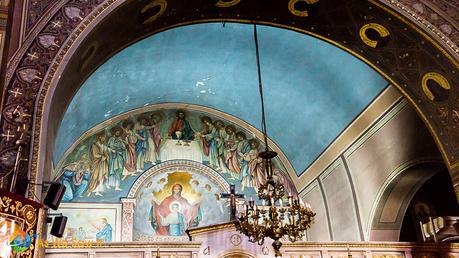 Remember how I mentioned that Nafplio was Greece's first capital? Besides its beautiful frescoes this church also has a genuine royal throne. Otto, Greece's first king, who ruled the country from Nafplio in 1832 to 1834, used it when he attended mass.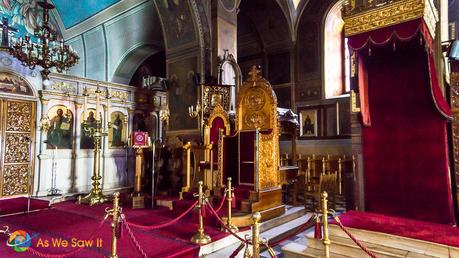 The local market
We got excited when we spotted a huge farmer's market.  The stalls were filled with not only colorful vegetables and fresh fruit, but honey, wine, olives, dried herbs, and fish as well. Actually, that was just the beginning of what was available for sale. (Confession: I had a hard time choosing which photos to include here.)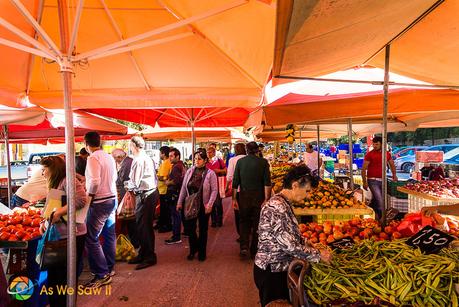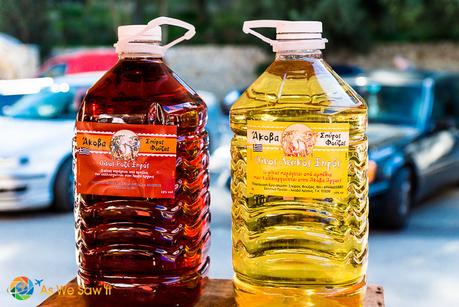 This is how to buy wine!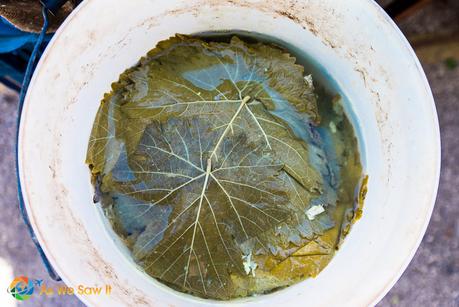 Grape leaves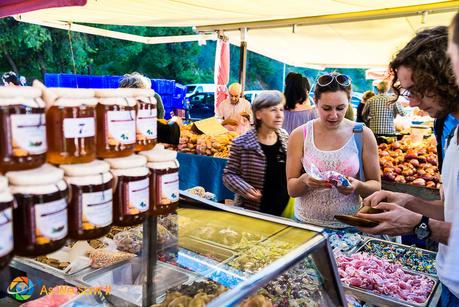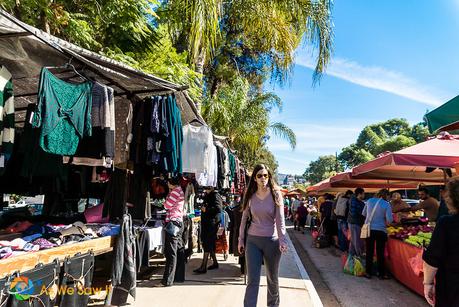 Nafpliot housewives (and a few husbands) walked among the stalls, asking about the quality of the vegetables, wine and grape leaves, carrying their purchases and greeting others whom they knew.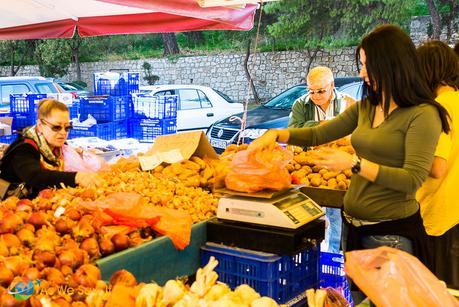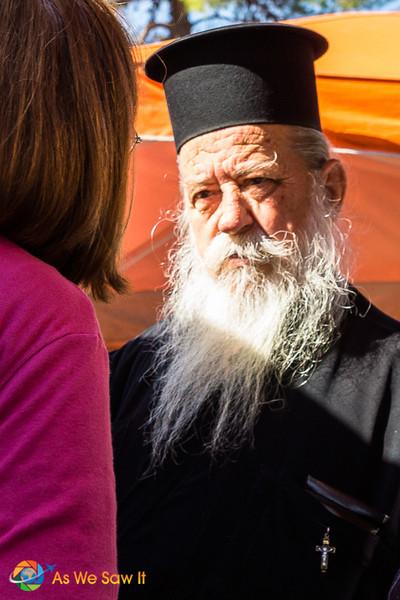 Tip: If you are in Nafplio on a Saturday and Wednesday morning you'll find the market on 25 Martiou Street. It runs until lunchtime.
Palamidi Fortress
There was one ever-present sight during our walk: the impressive fortress that looms over the town. It was built by the Venetians in 1714, but apparently it wasn't very effective because the Turks attacked and defeated it the following year. A century later when they began to use the fortress as a prison they built a staircase up to the castle, courtesy of prisoner labor. (They claim that it has 999 steps, but that's an exaggeration; there are actually "only" 857.)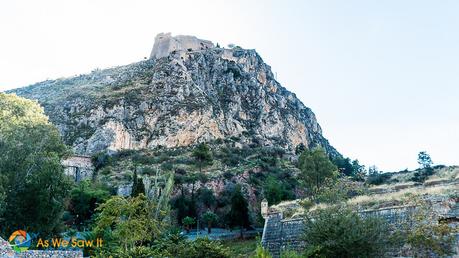 Tip: If you plan to climb the stairs to the top, start in the morning while they are in shadow, and bring water!
The open-top bus
We wanted to visit the fortress, but not at the risk of ruining our cruise experience with four pairs of sore legs the next day! Instead, we took advantage of the Nafplion open-top tour bus that drives up to the fortress on its route (Adults: €5 and worth the price). That meant we only needed to climb three steps to get to the castle—the ones to get on the bus!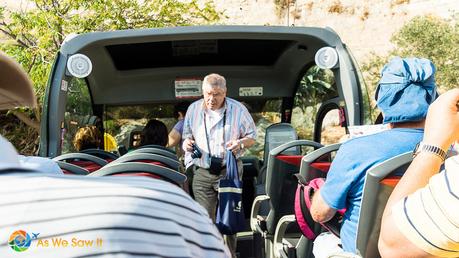 Tip: As with most tour buses a multilingual commentary is available.
The Lion of Bavaria
One of the sites that was highlighted on our tour bus was an impressive carving of a lion that seems to be sleeping. I'd guess it's one of the most-photographed sites in Nafplio. Carved into a cliff, it was commissioned by King Ludwig of Bavaria (father of Otto, the first King of Greece—remember him?).
Inscribed beneath the sculpture is a commentary that memorializes its significance. It was commissioned to commemorate the Bavarian soldiers in Otto's escort who died during a typhoid epidemic that devastated the town in 1833.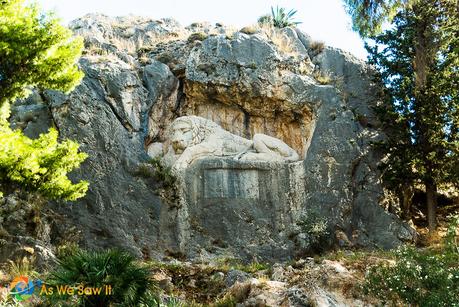 The Land Gate
Our bus took us past the Land Gate, which at one time was only one entrance into the (walled) city of Nafplion. At one time, we were told, there was a moat in front of the gate and that's what gave it its name. The Venetians had a no nonsense rule that the drawbridge would close immediately at sunset. No exceptions. This meant that no one who reached the gate after dark would be permitted to enter the city. They all had to seek shelter outside the walls.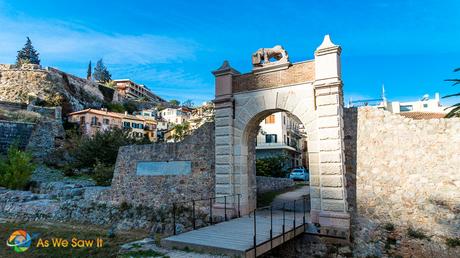 The Venetians constructed the Land Gate, which explains why the winged lion of St. Mark (the symbol of Venice) sits above the opening. The poor guy has lost his head and tail, though.
Dan took a beautiful shot of a nearby town on the way up to the fortress.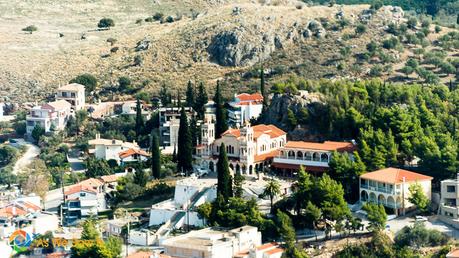 When the bus stopped at the fortress we hopped off so we could get a close-up look. With a whole hour until the bus returned we had plenty of time to look around. As one of the best preserved citadels we've ever seen it was worth the €4 price of admission.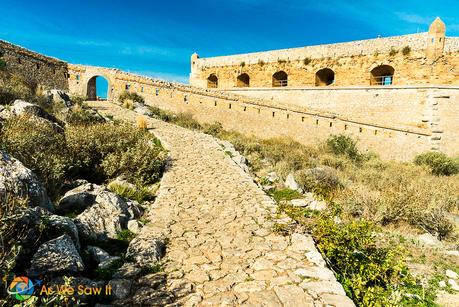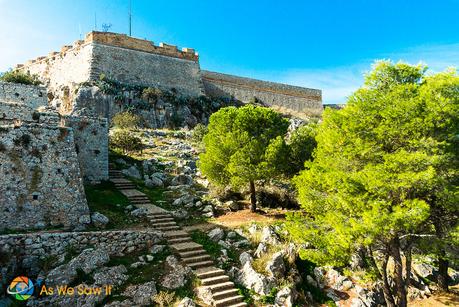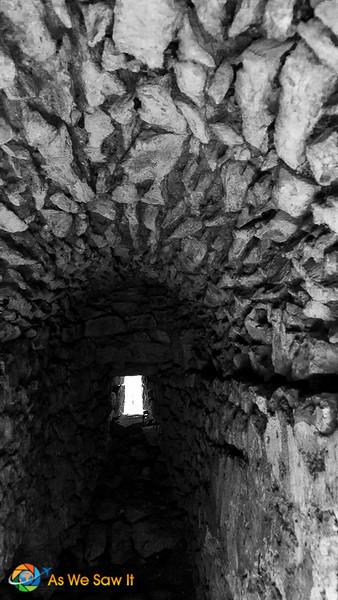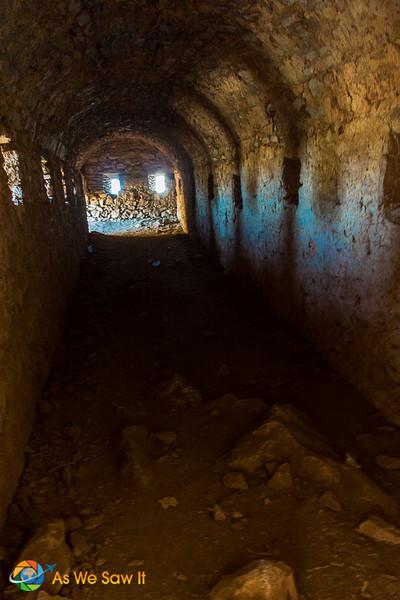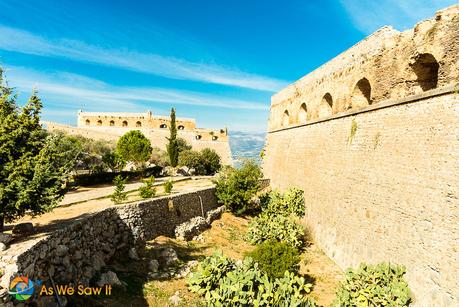 And oh, the views!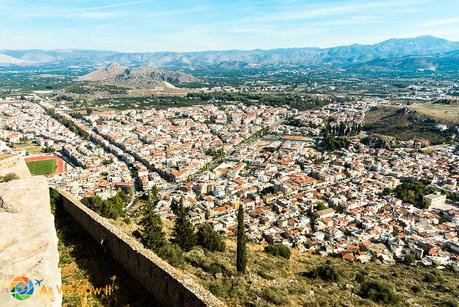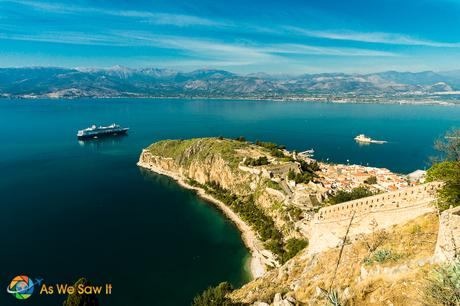 If nothing else, Palamidi Fortress is worth a visit for the views of the surrounding countryside.
Between you and me, an hour was more than enough time to see the fortress. We might have been able to squeeze in the nearby Castle of Acronafplia as well, but didn't want to risk missing the next bus back.
Back in town
The Insider's Guide to Nafplio promises that "beaches in Nafplio come in such an abundance that you will no doubt find one that meets all your expectations." For those of you who like to mix a bit of beachgoing into your holiday, you'll find plenty of options here on their Nafplio Beaches page.
You know what? We agree that enjoying the inviting seaside for the second half of a day in Nafplio would be a great plan. But no sand and sea for me, unfortunately. My fair skin doesn't know how to do "bronzed." As soon as it notices that I'm in a swimsuit it goes straight from pale to lobster red. So we went for Plan B: a little window shopping along the Great Road and a whole lot more exploring.
We spent the rest of our afternoon in an older area that had a lot of interesting, photo worthy architecture, then headed back to the ship.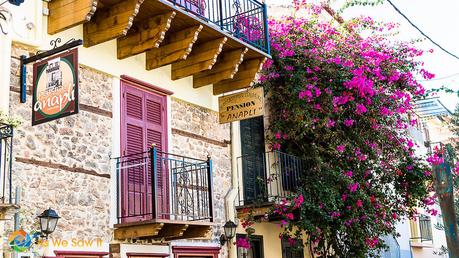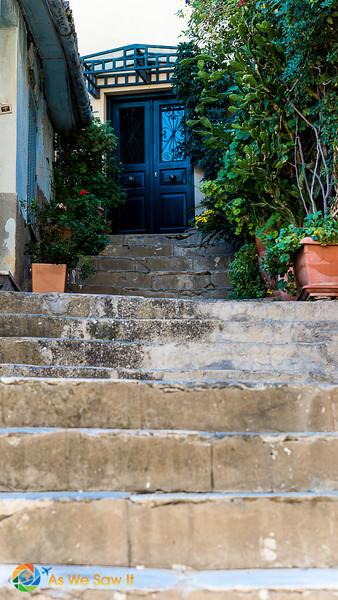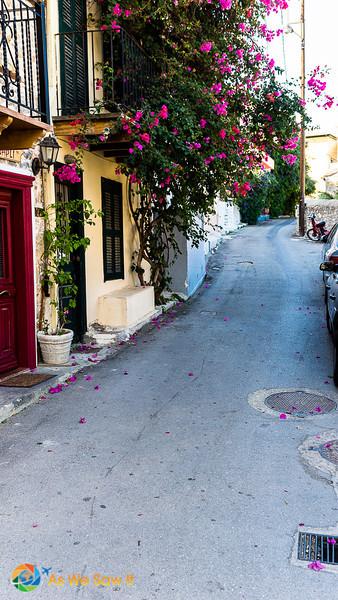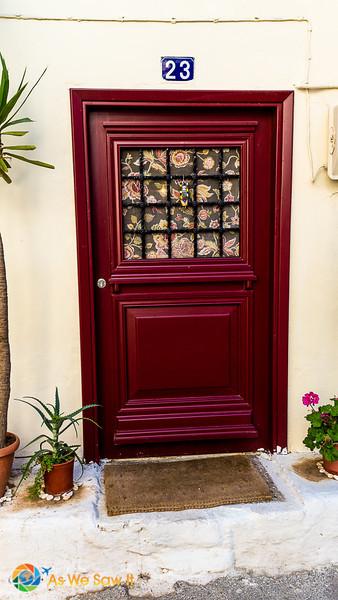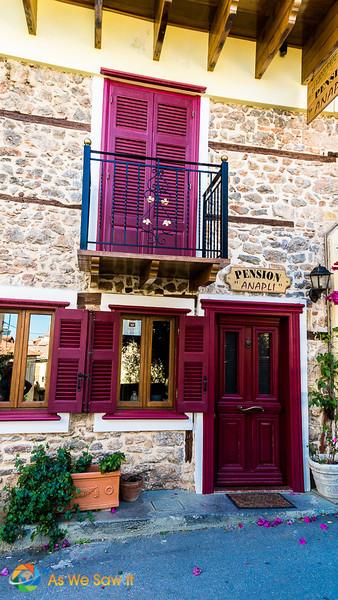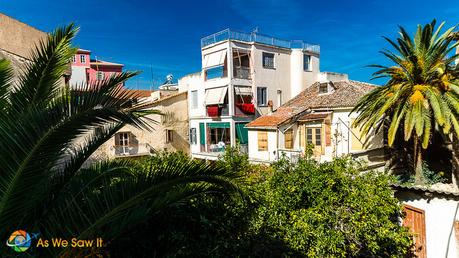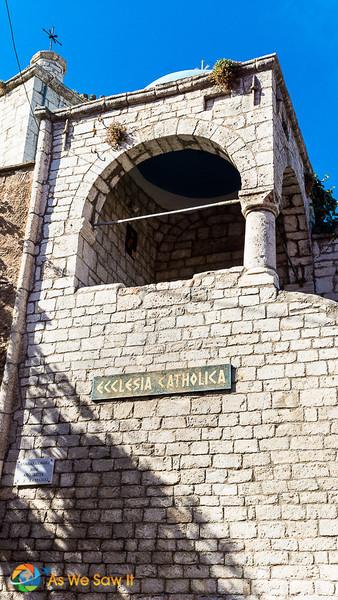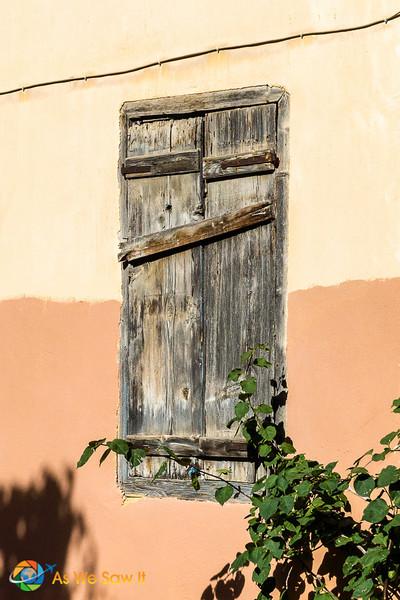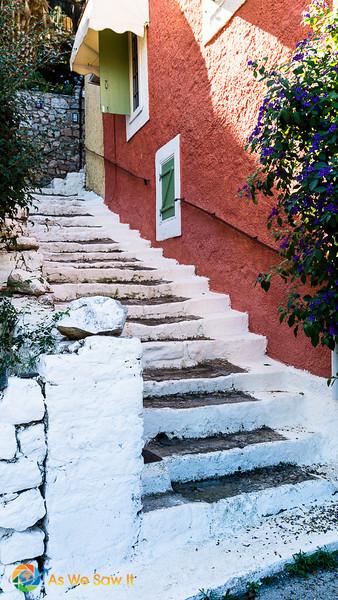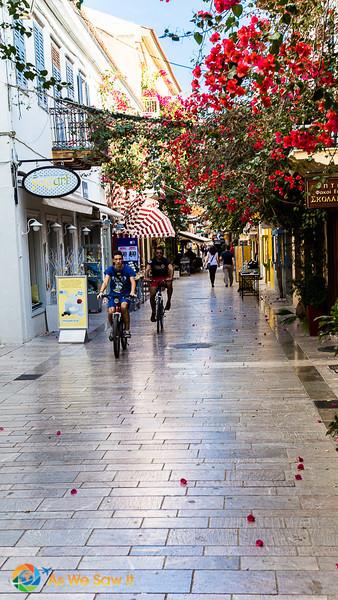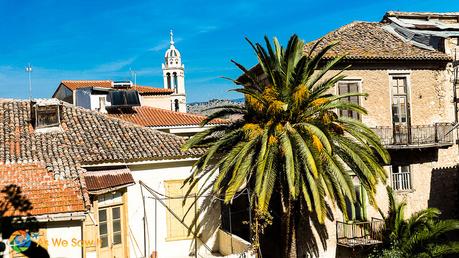 Now that you've seen our one day Nafplio itinerary …
… please share what you would have done differently.
More Greece travel on As We Saw It
Read about other islands to visit in Greece here.
View our best photos of Nafplion here
Follow us on Pinterest … all of our photos are pinnable.
(Visited 9 times, 9 visits today)