What if you only had one day day in Kilkenny and a local offered to show you around? We had the unique opportunity to be guests of Fáilte Ireland and Kilkenny Tourism. The tourist bureaus showed us a few things to do in Kilkenny that we might not have tried otherwise, and we fit them all into one day.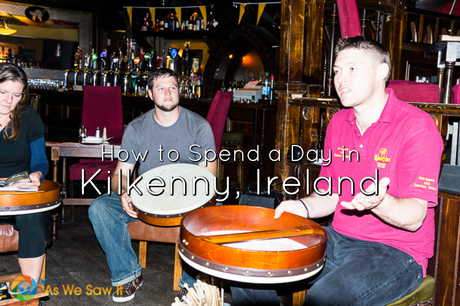 Kilkenny made us hurl
Not in the way you were thinking, though.
In America, hurling is what college students do after having had too many drinks on a Saturday night. In Ireland, it's a 3,000-year-old sport that's only just now catching on overseas.
Forget soccer or football; the Irish are rabidly passionate about the sport. Hurling has been played in Ireland for over three millennia and is arguably the world's fastest game … and Kilkenny has the best team in the country.
Only one day after the All Ireland Hurling Final, we got our own chance to try our hand at it, courtesy of The Kilkenny Way Ultimate Hurling Experience. Our host, P.J. Lanigan, met us on a hurling field and gave a brief talk about the sport, its history, and why it's so popular.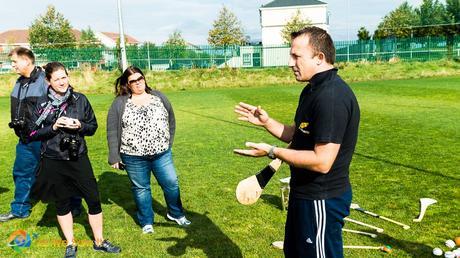 Then the fun began. He had us each pick up a hurley (the stick) and hurling ball, and before we knew it we were blocking, hooking, lifting and striking, skills we'd never even heard of before. By the end of it all he had us balancing balls on our hurleys and running across the field.
Even for someone like me who is not a sports fan – and most definitely not athletic – this is a fun way to spend two hours.
Tours daily: 11:45 or 2:30 Mon-Fri, 12 Sat-Sun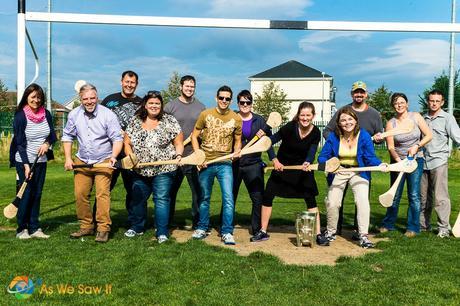 Lanigan's Legends Hurling Bar and Restaurant
With all that running around you'll be hungry, I promise. The hurling experience ends up at Lanigan's Legends Hurling Bar, the sports bar for hurling enthusiasts. We were escorted to the upstairs bar, which P.J. had turned into a hurling museum, complete with hand-painted murals of history's greatest hurlers and a well-thought-out assortment of hurling memorabilia.
Adding to the experience, there's a TV on the wall so if there's a game on you can watch them use the skills you'd just learned while you eat.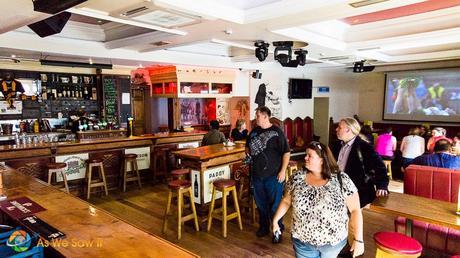 Lunch in Kilkenny was at Lanigan's, a pub with hurling memorabilia everywhere.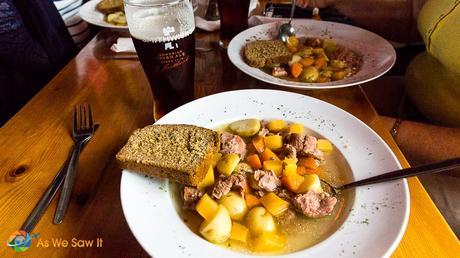 We enjoyed a savory bowl of very traditional Irish lamb stew and a pint of Kilkenny's own Smithwicks, Ireland's most popular red beer.
The most fun way to spend a day in Kilkenny: a theatrical walking tour
Here's how to make history entertaining: Take a one-hour walking tour of the Medieval Mile, the oldest part of Kilkenny, led by actors dressed in period costume. It runs daily at 2 pm, from July to October. (Starts at the Hole in the Wall on High Street.)
Our tour was led by "Sir Mike," the self-proclaimed Sovereign of Kilkenny, who claimed to be from the time of the Black Death. We played along as he took us along the city's ancient streets while he told stories of people from his past and showed us the buildings, alleys and streets of his time.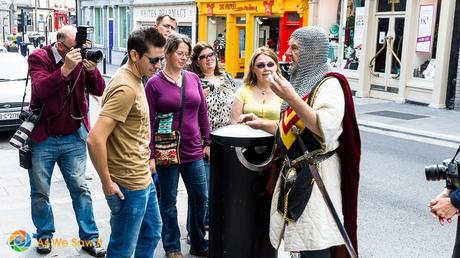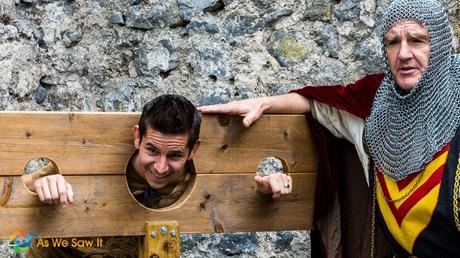 Sir Mike had a great sense of humor and made the city's history come alive, especially when we encountered some other colorful characters along the route. (Let's all pretend we never noticed that two characters were portrayed by the same actor.)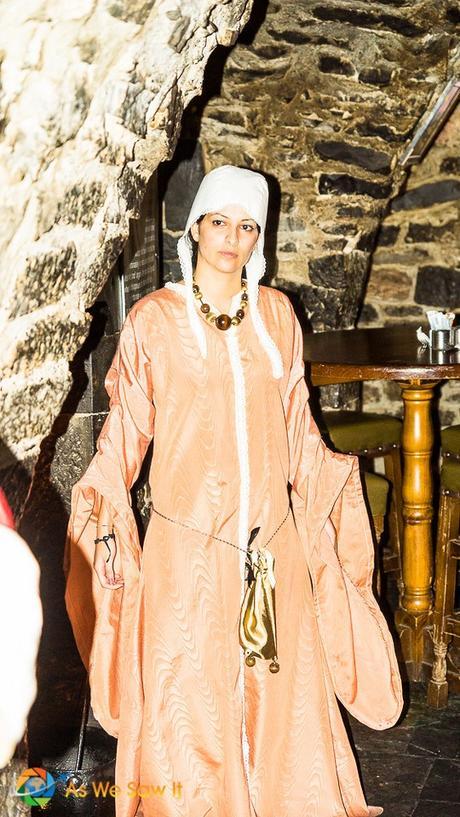 Sir Mike introduced us to Dame Alice Kyteler, who explained her role in Kilkenny's history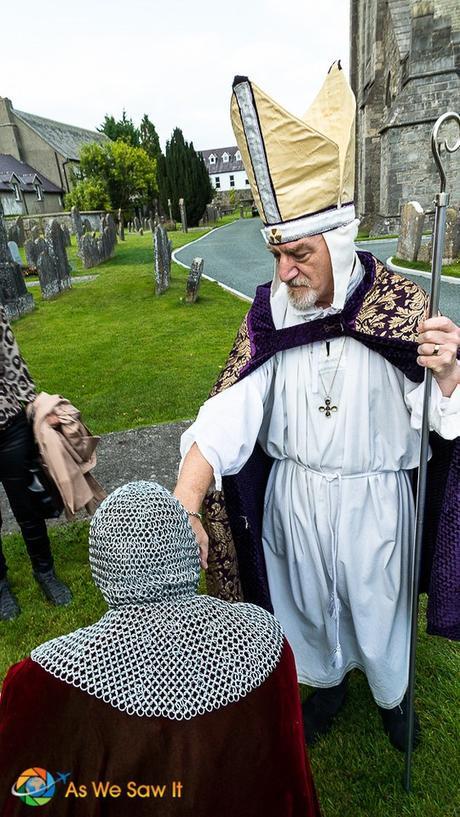 "I don't care if you're a knight, kneel and kiss my ring!" says the bishop of Black Abbey Church.
Rothe House
"Sir Mike!" shouted a gentleman from the window of Rothe House. "Bring your guests inside!" And soon we were in the courtyard of a unique Irish 16th century merchant's townhouse complex. The man in the window was John Rothe Fitz-Piers, a wealthy merchant and father of 11 children. (He must have loved his wife. A lot.)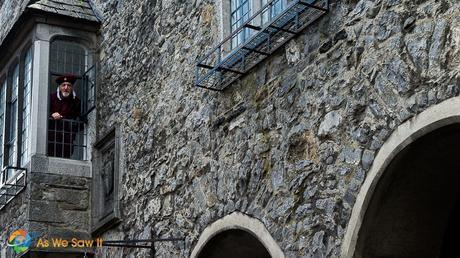 John Rothe, a wealthy merchant, proudly took us around the house and gardens he had built in the 1600s.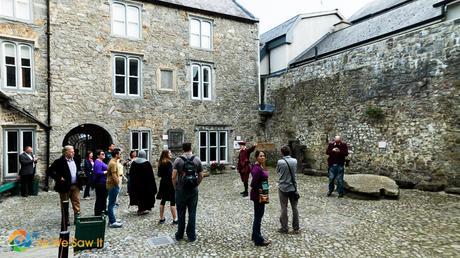 John Rothe bragged that he had built three houses with enclosed courtyards and that Rothe House has changed little since it was built.
Rothe House is considered to be a prime example of a house of Kilkenny's influential merchant class. We didn't go inside but we did see the garden to the rear, still a typical 17th-century garden.
I later learned that the Rothes were part of an oligarchy of around ten families who controlled Kilkenny for nigh on three centuries.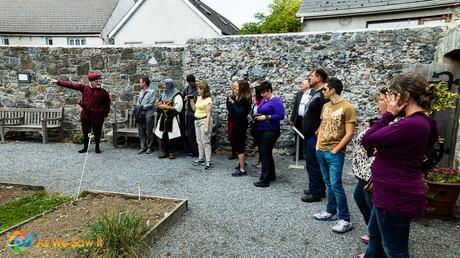 Kyteler's Inn
Sir Mike led us into Kyteler's Inn to "meet" Alice and hear her tell about her life.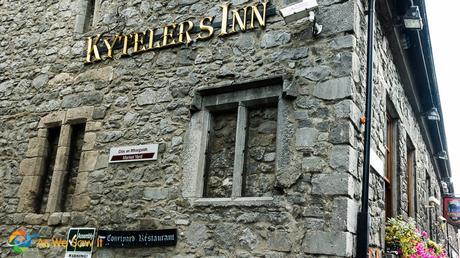 Alice de Kyteler began Kyteler's Inn in 1324. As the daughter of a Norman banker and the owner of a popular Kilkenny inn, she became very well-to-do and very well-connected to the local gentry. She had the misfortune, though, of being a widow four times.
Jealousy over her success led Alice to be eventually accused of having used witchcraft to kill her husbands and sentenced to be burned. Fortunately, her friends in the local gentry, ensured that she was 'spirited' away to England before she could be arrested.
It's not very often that you'll get a chance to enjoy a meal or a beer in a 750-year-old building. Kyteler's history is fascinating, but so is its layout. I almost got lost just looking for the rest room. Everywhere I looked I seemed to discover another room, all connected to the main inn in hodge-podge fashion.
Tip: Return after dinner for traditional Irish music.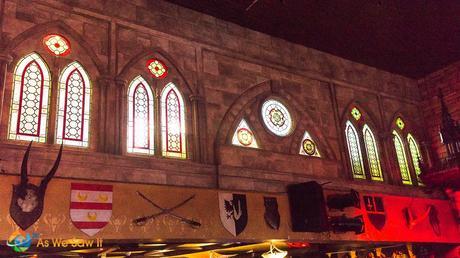 The top level of Kyteler's Inn is a huge room with wonderful windows overhead.
St. Canice Cathedral
Sir Mike brought us to St. Canice Cathedral, where we were introduced to a "former bishop." He served in a cathedral that was built in the 1200s, but Christians have been worshiping on the site ever since the 6th century.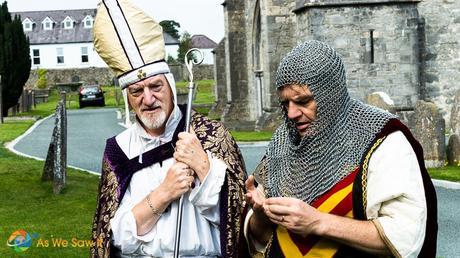 Now belonging to the Church of Ireland, the cathedral that stands today has been carefully preserved in its original Early Gothic style. Enter the church and you'll find the original baptismal font as well as a replica of an original 13th century stained glass window. The cathedral also contains some of the finest 16th century monuments in Ireland, so it's definitely worth a visit.
Tip: Sir Mike pointed out a nearby 9th-century round tower that once was a watchtower and refuge. If you have extra time in town, he said, you can climb to the top. It offers remarkable views of both the city of Kilkenny and its surrounding countryside … weather permitting, of course.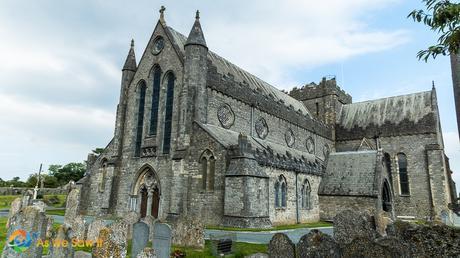 Kilkenny Castle and its grounds
We had reached the end of the Medieval Mile so Sir Mike bade us goodbye at Kilkenny Castle.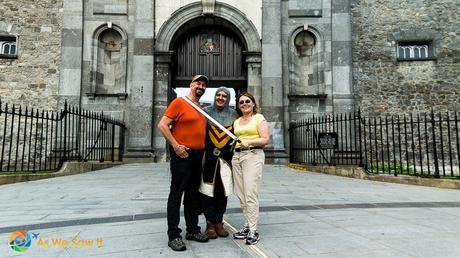 Goodbye, Sir Mike. We had a wonderful time!
Yes, Kilkenny has its own castle, built in 1195 to control an important fording point on the river that runs through the center of town. It was privately owned until 1936, when it was sold to the government. I'm guessing the upkeep was too much to bear.
There is no charge to walk about the extensive grounds, but they charge a fee to tour the castle's interior. Two wings have been restored to what they might have looked like in the 1800's. I'd have liked to share a few photos of the interior to inspire you to visit … but since no photography was allowed inside I can't share much more. ;(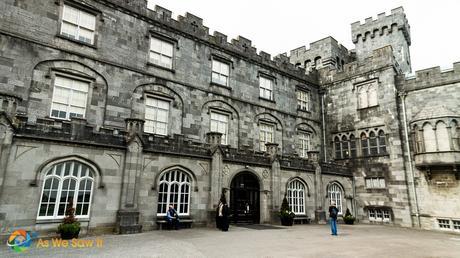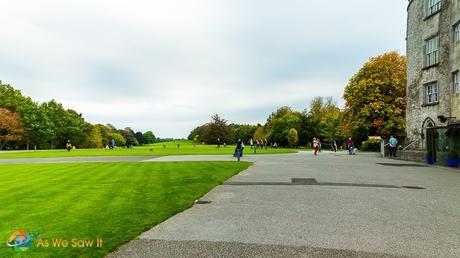 Learn to play a bodhran
If you only have time for one day to see Kilkenny, then you must plan to visit on a Monday or Tuesday. One each of those two evenings Damien Walsh, a master Bodhran performer, gives group lessons in how to play the bodhran, Ireland's traditional drum.
Believe me, you don't want to miss this. What better way to learn to play the ancient drum than at ye olde Kyteler's Inn? Here the historic bar's ambiance and traditional drum's rhythm will complement each other so well that you may lose yourself in the experience.
Damien made everything so simple. As fun as it might seem just to watch people try to learn to play the bodhran, it's all the more fun to try it yourself. Even if you have very little musical ability and even less rhythm, you'll get the hang of it and end up feeling like a talented musician by the end of the class.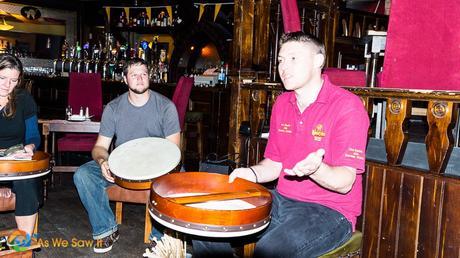 Things to do in Kilkenny: Learn to play the bodhran. Very family-friendly.
Dinner at Zuni Restaurant
We usually look for inexpensive local hangouts when we travel so we rarely have the opportunity to dine at a Michelin rated place like Zuni Restaurant. What a treat! The talented chef, Maria Raftery, only uses the best locally-sourced ingredients, and she even designed her menu so that it reflects where each ingredient came from.
The best way I can describe their cuisine is Irish-global fusion; the foods are native to Ireland yet the flavors and tastes are from all over the globe. As guests of the restaurant we had a menu planned and prepared to showcase their specialties, yet they seamlessly adjusted dishes at the last minute for those on special diets.
My mouth still waters when I remember that duck with mushroom risotto….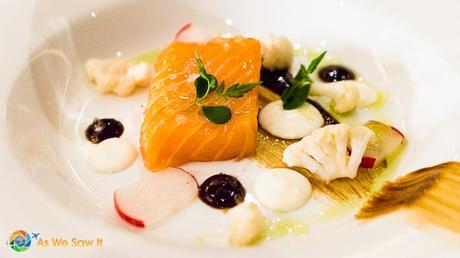 Our starter: Cured salmon, caramelised soya sauce, creamed horseradish, dill dressing.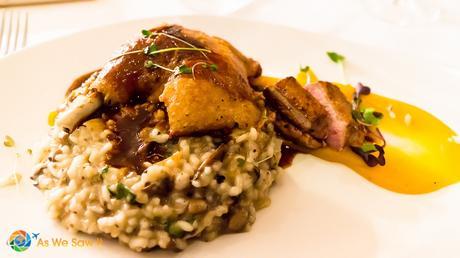 Confit duck leg, roast duck breast, mushroom risotto, sweet potato puree, port wine jus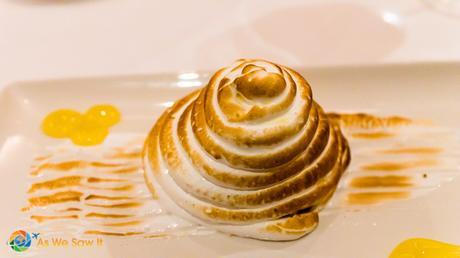 Lemon meringue Alaska
Where we stayed
Just outside of town is Lyrath Estate Hotel, a luxurious hotel-spa-convention center where we were lucky enough to stay for a night. It is a classic estate house with a very modern wing that somehow fit together in decor. Dan took so many great shots while we were there that it deserves its own post.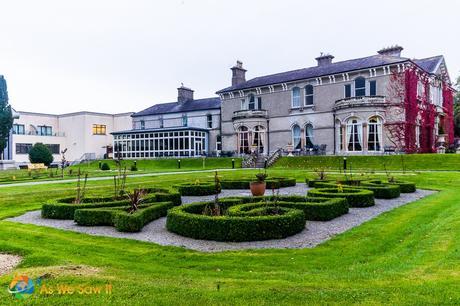 Inspired?
Plan your trip: For additional things to see and do in the area, the Kilkenny Tourism website is your best resource.
See more: Also please check out our gallery for more photos of Kilkenny.
Save for later: Pin our photos to Pinterest. (Scroll down to find a full-size pin.)
Read more about Kilkenny on Amazon:
Stay there: And just in case you need to book a room …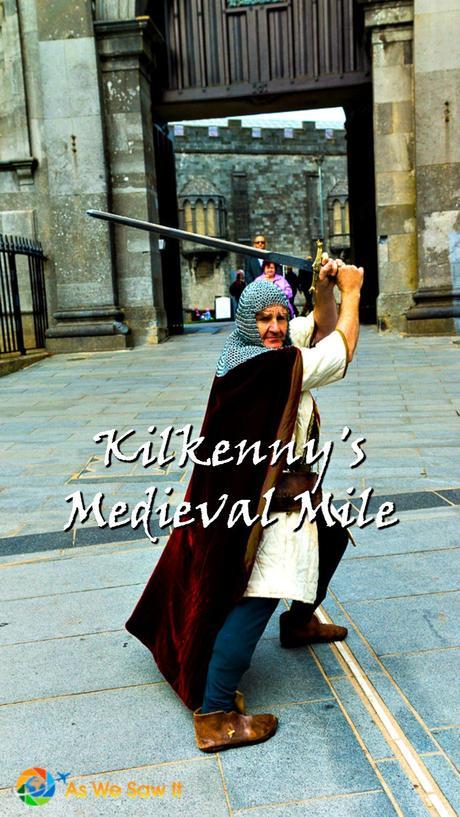 (Visited 5,899 times, 4 visits today)