We arrived in Bangkok after a hellish flight on Bangkok Airways disrupted our blissful week in Phuket. We had left at noon, expecting to arrive by 1:30PM, but due to cancelled flights and delays, we didn't arrive until 8PM. It left us with only one day to experience all of what Bangkok has to offer.

We arrived to our lovely hotel, the Chakrabongse Villas, and slept soundly throughout the night. The villas are located right by the Chao Phraya River.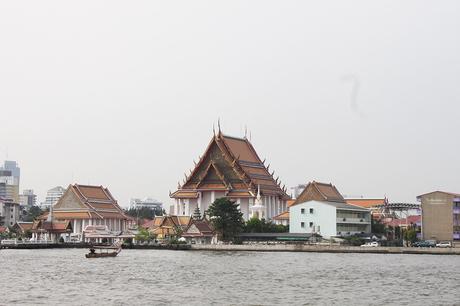 Here's our amazing view from breakfast.
Khao San Road
Right outside the hotel is Khao San Road , a popular tourist stop with plenty of street food, snacks, cool little shops and a bit of shopping. I found a gem of a souvenir store where I bought every single one of my gifts for family and friends!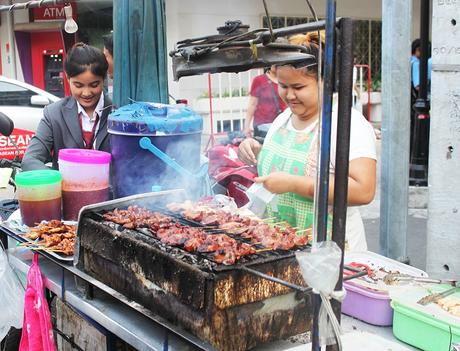 Bangkok Flower Market
Next, we walked over to Bangkok Flower Market, the largest wholesale flower market in all of Thailand. It's open 24 hours and best at night. Tons of energy, but still a nice stroll in the daytime.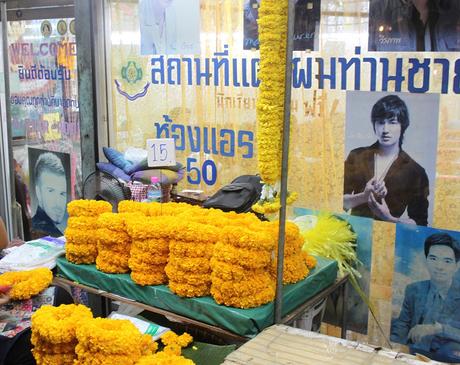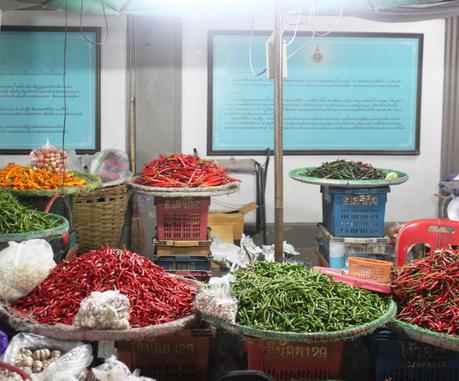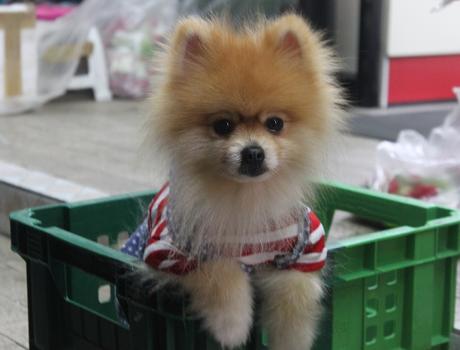 Riding a tuk-tuk
If you are in Thailand, you must ride a Tuk Tuk. It's a super-affordable way to travel short distances around the city. It cost us about $1 to pop over to Chinatown.
Our tuk tuk driver knew all the little back roads to beat the traffic. Bangkok has congested streets and he drove pretty fast, so it was an exciting ride!
On the tuk tuk, you get the full experience of all the sights, sounds and smells of the city. I love it!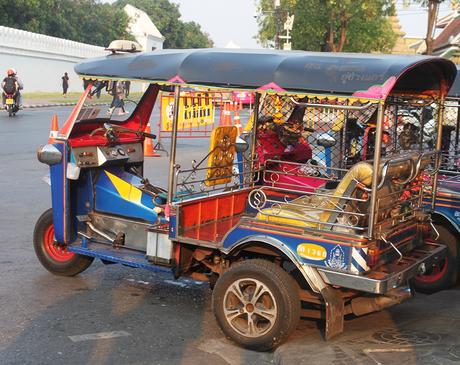 Chinatown
Chinatown is super lively at night; the streets are packed with people and delicious street food vendors. We began with a couple dishes at a restaurant and then just popped around and sampled bites off various street vendors.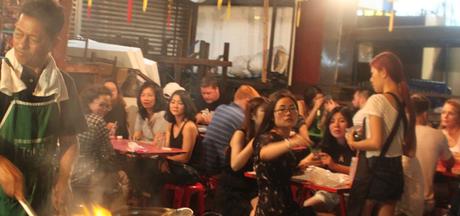 Why visit Bangkok
Bangkok, the capital of Thailand is a huge city popular for its opulence, ornate shrines and exciting street life. It is one of Asia's most cosmopolitan cities with grand palaces and temples, busy markets and a vibrant urban nightlife.
Boasting high-rise buildings, ultra-modern shopping malls, ancient sights, colorful markets and exotic restaurants, touristy Bangkok is worth a visit at least once in a lifetime.
The best time to visit Bangkok is either in late December or early January, which is their winter season and considered the peak period for tourists.This is because the city can be too hot at other times of the year. The temperature is also relatively low in November or February.
For a reasonable fee, you can check into a classy boutique hotel that offers fine dining and private tours around the city. If you happen to be on a tight budget, you can lodge in an affordable mid-range hotel or guesthouse, then dine on street food and street restaurants, sightseeing with tuk tuks, public transport or taxis.
Additional places to visit in Bangkok
If you have one whole day to tour the enormous city of Bangkok, here are some amazing places you should visit. Your trip to this beautiful part of the world would not be complete otherwise.
Grand Palace: The Grand Palace, which is located in the old part of the city, is Bangkok's most popular landmark. As its name implies, the Grand Palace is a spectacular building that houses the Thai state departments, the war ministry as well as the mint. This awe-inspiring architecture was built in 1782 and has been the residence of the Thai King, the Royal court and the administrative seat of government for the past 150 years. It is occasionally used to host important ceremonies as well as to accommodate visiting heads of state. This intricately-built structure is a testament to the craftsmanship and creativity of the Thai people. It has continued to draw the attention and respect of visitors from around the world. It is also the dwelling place of Wat Phra Kaeo, the Emerald or Jade Buddha. Tourists are expected to dress modestly when visiting. Also, it is advisable to go with a tour guide so you don't miss out on the important details of this historical building.
Wat Traimit (Temple of the Golden Buddha): Wat Traimit, also known as the Temple of the Golden Buddha, is located at the end of Chinatown, near Hualampong Railway Station. The wat is home to the largest seated gold Buddha in the world, an exquisite golden statue measuring 3.5 meters and weighs 5.5 tons. It was discovered sometime in the 1950s. When East Asiatic Company bought some land near the temple, one of the terms of sale was removal of a plaster statue of Buddha on the site. Due to its weight, the crane dropped the statue. After an overnight rain, some monks passing by the fallen statue noticed dazzling gold shining through the plaster. It was later peeled off to reveal the regal figure in all its glory. The origin of the statue is still unknown, but it is believed to have been carved during the Sukhothai era, when artisans disguised golden Buddhas from invading armies by wrapping them in plaster and stucco. Seeing this massive statue is one of the highlights for tourists visiting Bangkok.
National Museum: Bangkok's impressive National Museum is famous for being the biggest museum in Southeast Asia. It was the only museum in Thailand until the mid-1970s, which explains its large collection of exhibits. Thankfully, most of the pieces are labeled in Thai and English. It is the home of Thailand's contemporary and ancient history. A large part of the museum's structures were erected in 1782 as the palace of Rama I, Prince Wang Na. In 1874, Rama V converted it to a museum and it now has three permanent exhibitions which are spread across several buildings. Guided tours are offered in English, and visitors get to see ceremonial and religious artifacts, regalia, games weaponry, ceramics, musical instruments and so much more.
Lumpini Park: Lumpini Park is a green haven for visitors, away from the busyness and traffic in the city of Bangkok. It's an ideal place to spend a quiet afternoon under the shade of a Chinese pagoda, or hang out on one of its many lawns. You could also enjoy a boat ride on the nearby lake. Occupying 58 hectares of land, Lumpini Park was formerly called Sala Daeg field, named after Buddha's birthplace in Nepal. It was donated by Rama IV in 1925. The park has been used for some anti-government protests that eventually became violent, so do a quick check on the current status before visiting.
Damnoen Saduak (the Floating Market): Would you like to go shopping on water? If yes, Damnoen Saduak, famously known as the floating market, is where you should be. Located in Ratchaburi, on the outskirts of Bangkok, the market has also been dubbed the 'Venice of the East'. You can buy fresh fruits and delicious Thai foods while cruising on a boat, and get to chat with the locals too. For a more touristy experience, go for the 'Floating Market Cruise Day Trip'. This six-hour treat includes pick up from your hotel, transportation in an air-conditioned bus and an extensive tour, all for a low fee. Some tours also include a visit to a coconut farm, where you can see how sugar is produced for desserts and sweets.
To be honest, one day is not enough for you to experience the supreme beauty of Bangkok. However, if that's all you have, you'll definitely get a blast from visiting all the interesting places described above.
Inspired?
Save this for later by pinning it to your Pinterest travel board.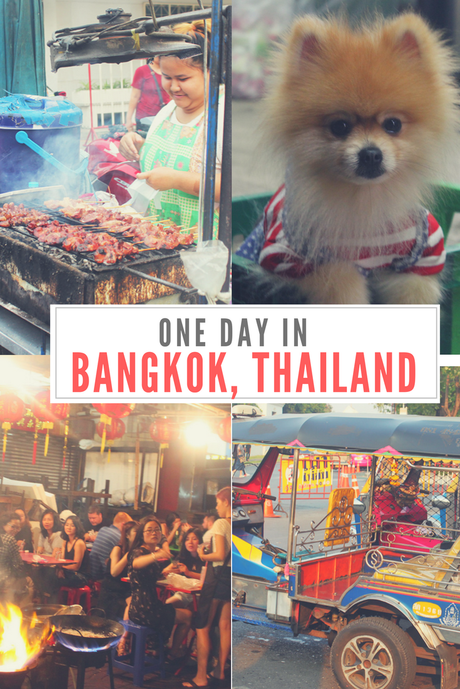 About our guest post author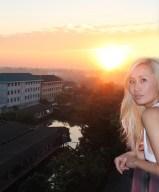 Kaila Yu is a top blogger based in Los Angeles. She also writes for self-named blog Kaila Yu and was the former lead singer of an all-girl rock band! Many of the stamps that she earned on her passports were earned while touring with the band.
Kaila has a combined social media following of 580,000 (and growing). She has been regularly featured in print and media around the world, including The Rolling Stone, FHM, MTV, Buzzfeed, The Huffington Post and more.
Kaila is not at all afraid to speak her opinion, whether it be a popular one or not.
Find her on Facebook, Instagram and Twitter.
(Visited 1 times, 1 visits today)