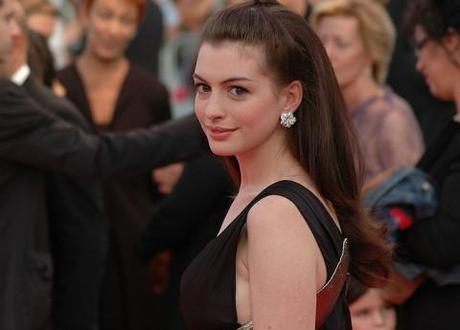 Anne Hathaway. Photo credit: Mireille Ampilhac
One Day charts the changing relationship between British university friends Emma and Dexter over twenty years. Based on the bestselling novel by David Nicholls, the film stars Anne Hathaway, attempting a Yorkshire accent as working-class Emma, and Jim Sturgess as feckless Dexter. The movie follows the book's unusual structure, recounting events that take place on the same day every year. But can the screen version of One Day, scripted by Nicholls himself, follow the novel's success?

Disappointing. "The movie is no page-turner," complained Mary Pols in Time, comparing the film unfavourably with the book. Pols argued that the characters of Emma and Dexter are undeveloped in the movie and that the action feels "disjointed". "It's beyond strange that the primary fault of One Day lies with the screenplay," she said. Over at The Evening Standard, Nick Curtis was in full agreement, suggesting the novel's many fans will be "angry": "The film falls into every trap of literary adaptation. It's rushed, superficial, unmoving, full of characters explaining the plot to one another," he wrote. Peters Travers was more succinct in Rolling Stone, branding One Day "tear-jerking twaddle".
Anne Hathaway. There was uproar when it was announced that Bride Wars and Princess Diaries American actress Anne Hathaway was to play Emma. Has she proved critics wrong? Not Peters Travers, who described her British accent as "heading for infamy". Over at The Times (£), Kate Muir felt Hathaway's accent was so bad that it "destroys the mood" at crucial moments. Muir also argued that the film version would go over better in the US than in the UK. Presumably Muir hadn't read the reviews in Time or Rolling Stone – or indeed at Salon, where Andrew O'Hehir thundered: "One Day is an appallingly bad movie made by talented people who could and should have done much better, but somehow all drove off the cliff together." O'Hehir was as unimpressed by Hathaway as he was by Sturgess: "The two leads are gruesomely miscast, mug shamelessly and seem awkward around each other to the point of actual repulsion."
Charming. At The New York Times, A.O. Scott was rather more complimentary, praising One Day as "observant, relaxed, touching and charming", if only in parts. Scott compared the film to Four Weddings And A Funeral, suggesting the two movies share the same "breezy, inviting Anglo-ness". At The Washington Post, Ann Hornaday was also charmed, particularly by the handling of the theme of loss. Nevertheless, Hornaday wasn't exactly wildly enthusiastic, also describing One Day as "tepid" and "tame".