This just in from LW's Fiona, her twopenn'orth on the Great Shoes Debate…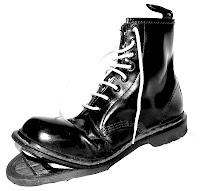 For those who like MBT's, try Back In Action, Whitcomb St, beside the National Gallery. 
They don't have the whole range, and it is a slightly odd emporium, but if you have any long-term medical condition (in my case asthma) you don't pay VAT on the shoes. Makes the prices less eye watering. Click here for their website.

Fiona Fiona, a descendant of John of Gaunt, is an actress who also teaches juggling, circus skills and escapology (she made a famous break from the London Dungeon). Fiona leads the Jack the Ripper walk on Saturdayafternoon and the Famous Square Mile walk on Thursday mornings.