By Susan Duclos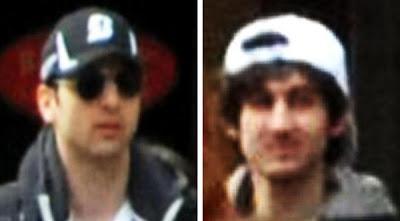 [Updates on top]
[Update]
Live coverage here: 
http://livewire.wcvb.com/Event/117th_Running_of_Boston_Marathon/73695935?ss=1
 [Update]
Suspects identified:
BREAKING: AP: Surviving Boston bomb suspect identified as Dzhokhar A. Tsarnaev, 19, of Cambridge, Mass. -SS
— The Associated Press (@AP) April 19, 2013
More from
Business Insider:
-- NBC reports that the two suspects are brothers.
-- They are reportedly of Chechen background, and is possibly from Turkey.
-- They have been repotedly here legally.
[Update]
Via
BuzzFeed
:
"Authorities say these people came from overseas... had overseas military training [and have] been here about a year," NBC's Pete Williams — the most reliable source through a chaotic week in Boston — reported Friday, citing multiple sources. He reported the men are brothers.
Firefight video clip from ABC 5 WCVB: (H/T Pat Dollard)
Original post below
:
Hours after the
FBI released video footage and multiple photos
of the the Boston Marathon bombing suspects, one is now dead and the other, the one in the white hat above, is on the run, after a shootout with police during a violence filled night where an MIT Police officer lost his life and a Transit Police officer was seriously wounded in a firefight, according to Boston Globe.
According to State Police Colonel Timothy Alben, the night's outbreak of violence began about 10:30 p.m. police received reports of a robbery of a convenience store in Kendall Square near MIT. A few minutes later, an MIT police officer, who has not been identified, was shot multiple times while in his cruiser at Main and Vassar streets, near Building 32, better known as the renowned the Stata Center on the MIT campus.
The officer was pronounced dead at Massachusetts General Hospital.
A short time later, two men carjacked a Mercedes SUV at gunpoint, and the owner of that car was able to flee at a gas station on Memorial Drive. The SUV proceeded out Memorial Drive toward Watertown followed by a long train of police vehicles in pursuit.
Fox News reports:
Boston Police Commissioner Ed Davis said on Twitter that one of the two suspects was killed and that the at-large suspect, labeled by the FBI as "suspect two" in the marathon bombing, was "armed and dangerous."
"We believe this to be a terrorist," Davis said in a press conference. "We believe this to be a man who's come here to kill people. We need to get him in custody."
The Middlesex district attorney said the two men are suspected of killing the MIT police officer on campus late Thursday, then stealing a car at gunpoint and later releasing its driver unharmed. Hours earlier, police had released photos of the marathon bombing suspects and asked for the public's help finding them.
The suspects threw explosives from the car as police followed it into Watertown, according to the district attorney's news release. The suspects and police exchanged gunfire, and one of the suspects was critically injured and later died while the other escaped.
During the pursuit, a MBTA transit police officer was seriously injured and transported to the hospital, the news release states. Details on the officer's condition were not immediately available Friday morning.
A federal law enforcement official told Fox News they are looking into whether the bombing suspects may have been from overseas and had overseas military training.
Dozens of officers and National Guard members descended on Watertown shortly after the shooting outside a building on MIT's campus in Cambridge, according to the Associated Press.
Authorities were calling for somebody to get on the ground and put their hands up and a loud thud was heard after someone shouted "fire in the hole," the news agency reported.
Witnesses told The Associated Press they heard multiple gunshots and explosions at about 1 a.m. Friday. Dozens of police officers and FBI agents were in the neighborhood and a helicopter circled overhead.
State police spokesman David Procopio told news agency, "The incident in Watertown did involve what we believe to be explosive devices possibly, potentially, being used against the police officers."
Developing....
Updates will be added throughout the day.