This is the first of four blog posts that takes a closer look at one object by each of the artists in the exhibition History in the Making: Renwick Craft Invitational 2011 now on display at the Renwick Gallery until July 31.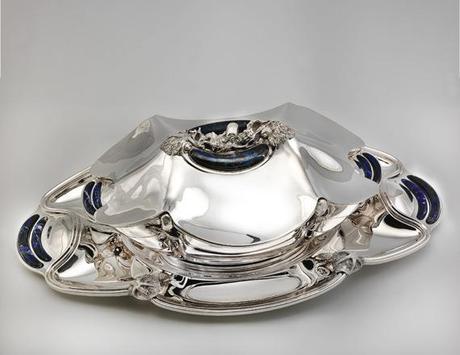 Ubaldo Vitali; Tureen; 2001; silver, sodalite; Collection of the artist
Featured in the exhibition History in the Making: Renwick Craft Invitational 2011, Ubaldo Vitali is a master goldsmith, silversmith, and I'm sure master of any metal he chooses to work with. A student of design, art history, sculpture, and architecture, Vitali was born in Rome into a family of silversmiths. His great grandfather and namesake founded a silversmith shop in Rome in 1886. "I'm just a conduit," he said recently referring to the past goldsmiths, fathers, and mentors who guided him through life, "Life is mentorship. It's a continuum that never stops."
Vitali's silver Tureen from 2001 was commissioned for the purpose of holding "rice fisherman style," or seafood risotto, and its shape has what Vitali calls, "a gentle wave." I think it speaks of all the elements: Its texture rises and falls like the sea; the metal glows; the surface captures the light and casts interesting shadows all around it; and it was created at a high temperature through the lost wax process. It also boasts sea-blue sodalite handles and images of starfish and other sea creatures, all cast from life.
Like many of the objects in this exhibition, Vitali's tureen is rooted in history—in this case baroque craftsmanship—but the contemporary artist's touch gives it a modern voice with which to speak. "Each object reflects its own soul and its own personality," Vitali said during comments in the gallery, "It's both functional and it works in space."
Check out the exhibition slide show to learn more about Ubaldo Vitali's working process.
Ubaldo Vitali, American craft, Renwick Gallery, American Art, Smithsonian American Art Museum