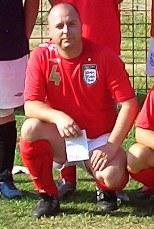 Back in the day (which means more than 5 years ago) I rubbed shoulders with the likes of Sven Goran Ericsson, Steve McLaren and Stuart Pearce as a manager of our national teams.  Whilst they got luxury travel, five star hotels and a pool of the "golden generation" to choose their teams from, my experience was slightly different.
In 2005 I was appointed player/manager of the England Fans Senior team, the high point in my otherwise low level playing career in the various leagues up and down North Kent and Middlesex. England Fans are the official supporters group controlled (and I use that word correctly) by the FA.  Unless you were a member, obtaining tickets for major tournaments and away games was very very difficult.  That all changed in 2008 when we failed to qualify for Euro2008 and hundreds of members simply had enough of the way they were treated by the FA and didn't rejoin.
I held the role for 3 years, overseeing spectacular defeats in Croatia, Belarus and Estonia, and only missing one away game which coincided with our first win (in Israel).  It was a bit of a pain to be truthful carrying shin pads to such exotic locations, and even harder to explain to the security on the turnstiles why you would have a pair of size nines and some vaseline in your bag.
But the highlight of my time is still the trip to Macedonia where I think our importance and status was someone lost in translation.  We were given a police escort through the streets of Skopje to a top league game where a crowd of a few hundred (higher than average for the top level in Macedonia) and TV cameras awaited our arrival.
For the first time, footage of the game has been released.  It's not pretty, especially when a 40 year old 22 stone opposition player runs rings around your defence but makes a perfect stocking filler for Christmas.