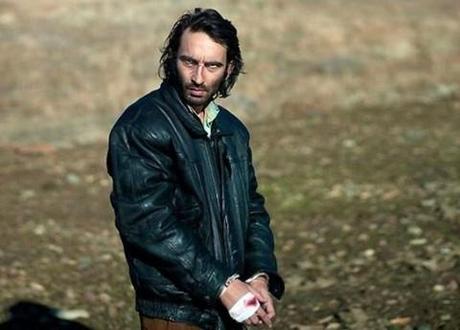 The murder suspect in Once Upon a Time in Anatolia. Publicity still.
Once upon a Time in Anatolia, directed by Nuri Bilge Ceylan is a crime procedural that takes place over one night. A cavalcade of cars, including policemen, the state prosecutor (Taner Birsel), a doctor (Muhammet Uzuner) and men with shovels are taken to the Anatolian steppe by a murder suspect, who has promised to lead them to a body – if only he can remember where it was. The film centres around the suspect, Kenan (Firat Tanis), a haunted, wraith-like man. The search continues for longer than expected and the men are forced to examine their lives. Critics are stunned, breathlessly extolling its profound qualities – if you like that sort of thing.
A masterpiece. It's a film about "waiting and talking," said Peter Bradhsaw in The Guardian. It's "long and difficult, and perhaps not for everyone", but it is "a kind of masterpiece: audacious, uncompromising and possessed of a mysterious grandeur." It's got something of Antonioni, or Chekhov, or Tolstoy. There's hardly anything to do: the characters are often inspired to thoughtfulness or solemnity. Mortality becomes "very real, as it always will, to any of us, in the middle of the night." Ceylan shows "pure, exhilarating mastery" in a film made with "confidence and flair." It's Ceylan's greatest film so far.
Mesmeric. Anthony Quinn in The Independent called it "achingly slow yet completely gripping." The film reveals "a great deal about male regret and melancholy."  When the group rests at the mayor's house, and his daughter comes in with coffee, her "appearance feels as momentous and life-changing as a goddess's in a classical myth." She "haunts the rest of the film like a moral hangover." The story is enigmatic: "its meaning is locked within the silences and dark-eyed gazes of these middle-aged men." The length is "immaterial." It could go on for ever, and you'd still be "mesmerised."
Enigmatic. Tim Robey in The Daily Telegraph was equally ecstatic. The photography is "amaazing." "Somewhere between arduous and mesmerising, his movie intrigues almost more in retrospect than it does when you're watching it, as enigmas and emotions around the case are teased out, and the oblique power of a remarkable ending sneaks up and stuns you."
Too much rain? Wendy Ide on The Times was less sure, but urged audiences to stick with it. It manages to be "enthralling", even without any real "resolution." Even the "exchange of biscuits" is "a subtle power-play." But you do have to "wade through long minutes of rain lashing windscreens." There is, though, "something rather moving and profound here if you look for it."
Watch the trailer here.