It's no secret that Christmas changes for us as we grow up but I still want to have a memorable day each year. Being back in Bilston this year for the festivities was great, but it was a bitter sweet feeling for me as my previous Christmas season served up some tough competition. So, being back home for the holidays meant that this year's festivities had to be top notch! I'm not even sure I should be mentioning half of what went on from my point of view because I was shameless, there's no change there! 
Last year's Christmas season lacked in the tree department for I didn't see my Nan and Granddad's Christmas tree decked out in all of its finery, so I appreciated that this year. I can remember the same Christmas tree making an appearance every year as far back as I can remember, truly magical if I don't say so myself. I have always loved the build up to Christmas, being super excited as a boy and not being able to think about anything else. Things do inevitable change but I just love Christmas! Having younger cousins is great for their excitement and enthusiasm towards the big day is truly amazing! 
Too get in the festive spirit I booked two tickets for the Pantomime in Birmingham, I booked these tickets as soon as they had been released as it had been a good while since I had last been to the Panto! I chose this outing to be a present for my mum, for we usually go to music concerts together and I went to see Madonna in NYC last September without her so this was our treat. This years Panto was Snow White at the Birmingham Hippodrome theater with an outstanding headlining cast. Fashion guru Gok Wan played 'The Man In The Mirror'. Dynasty star Stephanie Beacham dazzled as 'Queen Sadista' whilst West-End and former Eastenders actor John Partridge played the heroic 'Prince John'. I loved the show, it was the perfect way to spend our Christmas Eve in Birmingham, it's a testament that Panto still makes me laugh! 
I didn't want a lot this Christmas, but I love each and every present that I received this year. Christmas changed for me this year, the gifts are lovely and the money that I received will set me for some great trips in 2014 but it was all about the whole experience this year. Captured to the right is my first attempt of a 'haul' I got a great Espirit travel bag and a bottle of Gordon's Gin, I love Gin I do! I have a dream to visit North Korea so my North Korea: Undercover book will make the perfect read. I recently saw the show 'Cabaret' in theater so I look forward to watching this Berlin inspired musical. Bringing the music to the table I asked for Icona Pop's new album This Is ... but I received their EP titled 'Iconic EP' I have been able to listen to a range of songs that don't appear on their 2013 release compared to this earlier release, I love that I got something that I wasn't expecting to get! 
Bastille's new album 'All This Bad Blood' made its way into my 2013 Christmas collection, amongst an array of chocolates and biscuits because the diet isn't welcome for Christmas Day. I love my Chinese tea so I was overjoyed with my tea pot and assortment of Chinese teas. I would like to say my gifts all have a purpose that I shall make my mission to put them to full use. I also received some spends that will sort out some overseas trips during early 2014, but due to a drunken Christmas decision I'm going to Bath and Bristol so it shall come in handy for that upcoming trip. Did I say drunk? I know my choice of beverages will delay the opening of my bottle of Gordon's for I sank a considerable amount of Gin on Christmas Day! Whilst the kids play with their toys its only right to sink a few alcoholic drinks during that special day! Let's just say I embraced the days festivities and got very merry indeed! 
Food glorious food! Christmas Day is all about the food so I'm happy to say that my dinner was great! I had consumed a healthy amount of Christmas spirits by dinnertime so I did the good thing by just eating my dinner. It was all about self-service this year, we all chose what we wanted to eat and that worked out just fine. My Grandparents had cooked up a storm of tasty Christmas delights, we had the choice between Pork and Turkey accompanied by a hearty selection of vegetables. I think we had Brussels Sprouts but judging by the photo captured to the left I had decided against that Christmas dinner choice. I look back to last year's Christmas dinner with fond memories as I was served some super tasty food but nothing compares to family, even though I was suitably inebriated but it was Christmas Day! I don't think I overindulged with my food during Christmas Day but I mad allowances in other areas, we enjoyed a spot of desert once our dinners had settled, I had some Sherry Trifle need I say anymore more!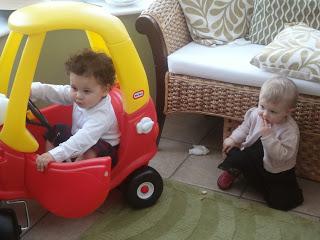 As I said before Christmas is all about the children so I would like to introduce my cousins Poppy and Micky who are both aged one. I missed their first Christmas for I was working in Newark, USA in 2012 but they were only small babies then so their grasp on Christmas wasn't as crazed and excited as it was this year. Essentially, Christmas is all about spending time as a family so I would have to see that I loved it even if it proved to be extra crazy the children made the day for sure! Indigo who is the older brother of Poppy had a great day opening all of his presents and he knew what was going on more than anyone else there, that boy is clever! Me and Indigo shared a present, we will be seeing Charlie and The Chocolate Factory in London at the Theatre Royal on the 18th of January 2014 so I'm very excited, I'm sure Indigo will be as well for children have their own special way of saying their looking forward to something. Poppy got her kitchen and Micky got his car so I know that all parties were impressed with their presents, they were having a great time!
Ultimately, I know that this year's Christmas was unique and very different compared to last Christmas and other previous Christmases. From my pre-Christmas Panto at the Birmingham Hippodrome to my first Christmas drink I know that every moment was equally as good as each other. I loved all of my presents and spent some quality time with my cousins compared to the previous Christmas before my family had expanded. All the trimmings tasted great and I enjoyed maybe a little bit to much Gin but Christmas is for enjoying ourselves and if that means Boxing Day is plagued with a hangover then so be it! 
Tis The Season To Be Jolly! Make Mine a Very Large Gin and Tonic!
Joseph Harrison