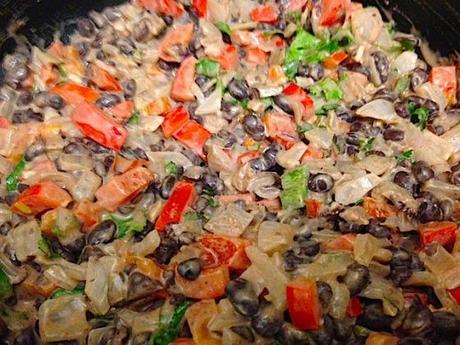 Burritos are my favorite way of experimenting with once a month cooking. I love the Amy's brand burritos that you can heat up for a quick lunch. However, I know I can make plenty of burritos at home that are a little cheaper and a little less processed. I was drawn to this particular recipe because of the cream cheese. The original recipe calls for regular cream cheese but I figured it would still turn out well with a quick swap for some vegan cream cheese. I'm not sure I've ever had cream cheese in a burrito before but it tasted great and holds up well to freezing. The cilantro even held up perfectly when I froze and unfroze these which was another gamble. I loved having some homemade burritos ready in the freezer for healthy, protein-rich lunches. These last up to a month in the freezer so make plenty at a time and you'll be set for lunch.
Ingredients:
4 (10 inch burrito-size) flour tortillas
2 Tbsp vegetable oil
1 small onion, chopped
1 red bell pepper, chopped
1 clove garlic, minced
1 tsp jalapeno pepper, minced
1 can (15 ounce) black beans, rinsed and drained
3 ounces vegan cream cheese
1/2 tsp salt
2 Tbsp fresh cilantro, chopped
Directions:
1. Heat vegetable oil in large skillet over medium heat. Add onion, red bell pepper, garlic, and jalapeno. Cook until onion is translucent.
2. Add black beans to skillet and cook for an additional 3 minutes.
3. Mix cream cheese into skillet and blend together thoroughly. Cook for 2 more minutes while stirring.
4. Remove skillet from heat and mix in the cilantro.
5. Evenly divide the mixture into the center of all four tortillas. Wrap tortilla up burrito-style (YouTube has some tutorials if your burrito wrapping skills need a refresher) and serve immediately or freeze for later.
To freeze: Wrap each burrito tightly in foil. Place all burritos into a plastic freezer bag and leave in freezer for up to a month.
To reheat: Remove burrito from freezer and unwrap the foil. Wrap frozen burrito loosely in a paper towel and heat in the microwave for 1 minute (more or less time depending on your microwave) on one side. Flip the burrito onto its opposite side and heat for 1 more minute.
Yields: 4 burritos
Source: Delicious Black Bean Burritos