Flynn implores Walker to reshape gun bill 
By
Gitte Laasby
of the Journal Sentinel
Updated: June 2, 2011 10:34 p.m.
|
(548) Comments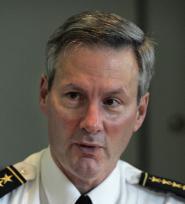 Edward FlynnThe chief of Wisconsin's largest police department issued his most scathing criticism of the state's proposed concealed-carry bill during a news conference Thursday.
Milwaukee Police Chief Edward Flynn urged Gov. Scott Walker to "provide some adult supervision" and ensure that the final version of a concealed-carry bill outlines a strict permitting process for carrying guns and stipulations including basic training and not being a "criminal, drug abuser or insane." He also called for changing the charge of carrying a concealed weapon from a misdemeanor to a felony.
The news conference came after a gunfight Wednesday night between Milwaukee police bicycle patrol officer Jose Viera and a 21-year-old armed suspect in the Sherman Park neighborhood. The officer escaped unharmed despite a chase during which the two exchanged gunfire. The suspect was shot multiple times and arrested.
"I also want to take this as an opportunity to call upon Gov. Walker to exhibit statesmanship and provide adult supervision over the chaotic legislative process that seems bent on inflicting a reckless and foolish concealed-carry law on the citizens of Wisconsin," Flynn said. "This is not a political talking points issue. This is an officer safety issue. This is the second time in less than a week my officers have been in a gunbattle with armed, reckless assailants. We cannot afford a reckless bill."
Under a bill approved in a Senate committee last week, Wisconsin residents would be allowed to carry concealed weapons without getting permits or any training, as long as they're not felons or otherwise barred from possessing firearms. Flynn and Milwaukee County District Attorney John Chisholm are hoping for a bill that ensures criminals arrested for concealed carry would get jail time - three years - rather than be arrested for a misdemeanor, as is currently the case.
Walker's spokesman, Cullen Werwie, wouldn't comment specifically on Flynn's statements.
"While the Governor is generally supportive of the right to carry, he reserves the right to evaluate the final version of the bill when it reaches his desk," Werwie said in an email.
During crime investigations, police often see shooting suspects who have been arrested numerous times for carrying concealed weapons, but police have little power to keep them off the streets, Milwaukee police spokeswoman Anne E. Schwartz said.
"Because it was a misdemeanor, they were quickly back on the streets, where they eventually shot someone," she said.
Nik Clark, chairman and president of Wisconsin Carry Inc., said Flynn's proposal infringes upon the rights of law-abiding citizens to own guns.
"Criminals are now and will continue to be barred from buying, owning or possessing guns under the new law," he said in an online comment. "Milwaukee's entire north and south side fall almost completely within 'gun-free school zones.' Under the new law anyone who wishes to carry a gun in the city of Milwaukee will need to pass a background check and obtain a permit in order to do so....Only people who live outside of urban areas will be able to effectively carry without a permit."
Chisholm said the bill carries no penalties to aid police officers in situations like Wednesday night.
"They'd be forced into the just untenable situation of trying to figure out whether they have the legal justification to act or not," he said. "Everybody in this state can get what they want out of this proposed legislation. People that want to carry concealed in this state can do so. They can do so in a reasonable way. They can do it in a way that protects their constitutional rights....We can do it in a way that protects citizens' civil liberties, but we can also protect people's safety. But we can't do it with this proposed bill."
State Rep. Garey Bies (R-Sister Bay), a former Door County sheriff's deputy, said a simple constitutional carry bill troubles him because it requires no permit and no training. He's proposing an amendment that would require a permit, background check and training on how to handle a gun based on the handler's experience. He said he's also in favor of stronger penalties for not having a permit, although he hasn't decided how much.
Bies is chairman of the Assembly's Criminal Justice and Corrections Committee, which postponed a vote on the concealed-carry bill on Thursday.
"I'm leaning toward a strong penalty for people who carry without the proper training and credentials. I haven't gotten to the point of a felony yet, but a strong misdemeanor that would carry a harsher penalty than the current law," Bies said. "I think there should be at least the ability to put somebody in lockup for at least a year."
Milwaukee County Sheriff David A. Clarke Jr. said he supports making concealed carry without a permit a felony that carries a mandatory jail sentence of three years. That avoids judicial leniency and sentences served concurrently rather than consecutively.
"It doesn't help to say three years if some judge can say, 'OK, two months,'" Clarke said. "I don't want them to miss the sentencing for it. If that's watered down, you're going to see people who don't think it's worth it to go through the (permitting) process."
Clarke said he'd be surprised if a bill goes through without stipulations of permitting and training. But Bies said some legislators seem to have changed their opinions on the subject after adamant constitutional carry supporters voiced strong opinions.
"Somewhere down the line, in the very near future, we as a caucus need to have a long sit-down and just talk about the issue and try to figure out where people are at," he said.
Chisholm said Thursday that his office had changed its investigation of the Wednesday night incident from police use of force to a criminal prosecution of the shooter. Chisholm said he's expecting to file charges early next week but would not go into detail on possible charges.
The suspect is on probation for obstructing and has an arrest history for drugs, fleeing an officer and obstructing, police said.