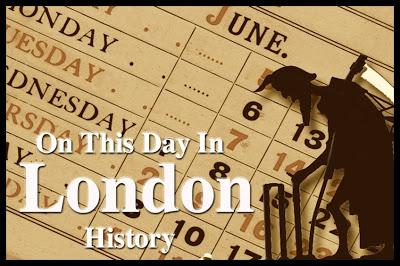 January 16
Now look, if you're "of a sensitive disposition" – i.e., squeamish – PROCEED NO FURTHER. Indeed, turn around and get the hell out of here as fast as you can.
Now for you hard cases, it's this day – January 16 – in the Year of our Lord 1794. In Bentinck Street, in Marylebone. And yes, our Marylebone Walk shimmers through this very neighbourhood. Though I don't think the guides go "full medical" on the walkers. "Sorry, can't go there, left the smelling salts at home."
Edward Gibbon, England's greatest historian, has been declining. Today. He. Falls. Dead.
It's not the act of Gibbon's meeting "at long last, the distinguished thing" that kicks the gag reflex into overdrive. It's the condition he was in that does. In fact, come to think of it, if I'd been Death I would have turned around and got the hell out of there. Haste post haste. And. Most. Certainly. Not. Looked. Back.
Edward Gibbon had a hernia. Some hernia. The mother of all hernias. It married up, so to speak, with his cirrhosis of the liver. The cirrhosis produced a pus. Which dripped. And dripped. And dripped. And dripped. Into the sac. And the sac ballooned. Putting it that way – "the sac ballooned" – is putting it politely. In Gibbon's YUUUUUUKH simile, it was "as big as a small child".
Whereupon Gibbon thought maybe he should seek medical help. The surgeon operated. Well, attempted to drain the sac of its contents. Three times. The third time the knife was dirty. Result: peritonitis. Further result: a death on Bentinck Street.
And now, to decompress – to, er, drain your stunned revery – let's turn our thoughts to the subject of England's greatest historian and the great English educational institutions across whose waters he sailed: Westminster School and Oxford (Magdalen).
Gibbon described Westminster School as that "cavern of fear and sorrow."
He described Oxford as "a university sunk in port and prejudice".


Keep up with On This Day In London History on the main website www.walks.com.
A London Walk costs £9 – £7 concession. To join a London Walk, simply meet your guide at the designated tube station at the appointed time. Details of all London Walks can be found at www.walks.com.