On this day in 1968, then-Senator for New York Robert Kennedy was assassinated in the kitchen of a California hotel after winning the California presidential primary.
President Johnson began the year running for office, but quit the race; in his place previously Vice President Hubert Humphrey of Minnesota lost by less than 1 percentage point to 'Tricky Dicky' Richard Nixon. The difference in votes between the two was 511,944.  Far right wing independent candidate George Wallace won the southern states of Arkansas, Louisiana, Mississippi, Alabama, and Georgia, over desegregation, that had previously been won by Goldwater in the 1964 landslide election of LBJ.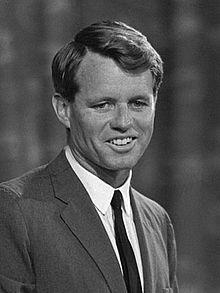 And we all know how the two term presidency of Nixon turned out.  Had Robert Kennedy not been assassinated, it is likely that the very popular Kennedy would have won the Democratic candidacy.  We now know that after the declassification of documents from J. Edgar Hoover, that the reason that LBJ quit, in favor of HHH, was that Tricky Dicky as the GOP candidate had been undermining the efforts of LBJ to end the Viet Nam war, resulting in South Viet Nam backing out of the negotiations at the last minute.  LBJ had the good on Richard Nixon, but could not use them against him politically, because the information had been obtained by the FBI bugging the phone of the embassy and ambassador of South Viet Nam.  Not being able to end the Viet Nam war figured prominently in the violence that attended the 1968 Democratic National Convention, and was a key part of the Nixon / GOP victory.
As a result the Viet Nam war dragged on until April 30, 1975.  During that seven year period, between when LJB nearly concluded the Viet Nam war, a war which Robert Kennedy had also campaigned on ending, thousands of American soldiers died to further the political ambitions of Richard Nixon and the GOP.  Had Robert Kennedy not been assassinated, that would not have happened.
So we have not just one death to remember on this date, we have many.