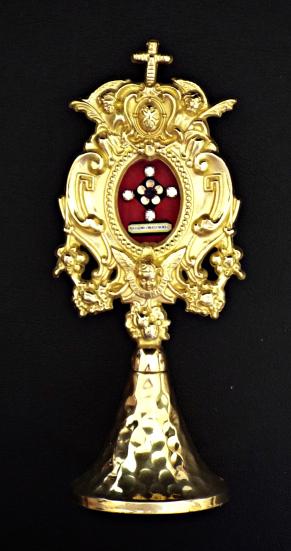 Ex ligno Vera Crucis
Two short, thick pieces of wood from the True Cross of Our Lord and Savior, Jesus Christ, placed upon each other in the form of a cross in a large, gold-plated reliquary (left). Detail of the relic is also shown below.
Documentation certifying the authenticity of this most precious, sacred, treasured, first class relic of the Holy Cross is from Archbishop Paul Karatas of the Catholic Archdiocese (Chaldean Rite) of Diabekir, Turkey in 2004. A sizeable portion of the True Cross can be found at the Basilica della Santa Croce in Gerusalemme, Rome, Italy.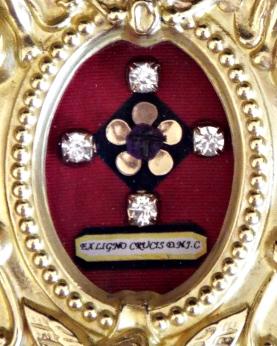 Detail, Ex ligno Vera Crucis
This reliquary is today, for the feast, exposed for public veneration by the faithful during Mass times at Santa Venera Parish Church, Santa Venera, Malta.