Woo hoo! We're in New Orleans! If somehow we weren't allowed the luxury of eight whole weeks driving across the USA and were restricted to spending just seven days anywhere Stateside on this holiday, we probably would have spent all seven days here in New Orleans. All our tour plans over the last few years have always been known by the shorthand title of "going to Louisiana", and that always really meant "going to New Orleans". So we're here at last, and the way we drove into town yesterday made the whole event all the more special. We came in by crossing Lake Ponchartrain.
Lake Who? Lake Ponchartrain. We first heard of it through songs, many different songs in fact. Hank Williams wrote a classic about "The Banks Of The Old Ponchartrain", but in other versions people had rowed across it, runaways had met and fallen in love there, and jilted lovers had strangled their sweethearts down by its shores (bluegrass murder ballads are often like that, alas). It was only sometime much later that we discovered that Lake Ponchartrain is no ordinary lake (it's big and shallow), and the bridge across it is even more remarkable. It's the longest continuous bridge over water in the world – over 23 miles long in fact. And so here's to Lake Ponchartrain, the amazing city of New Orleans and being here at last.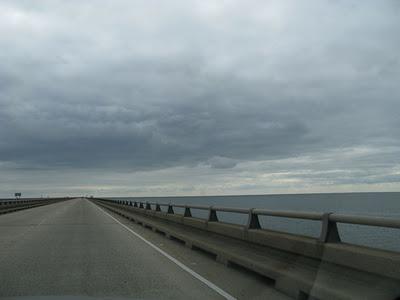 Told you the bridge is long. Just disappears into the distance, and you can barely see the shore at times.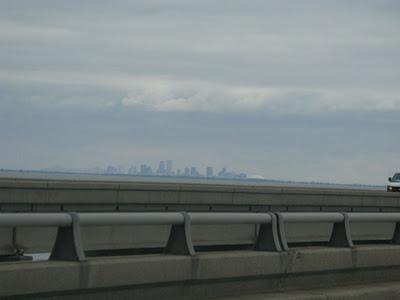 On the horizon you can see New Orleans, but on a 23 mile bridge, it takes a long time for the city's towers to grow any bigger.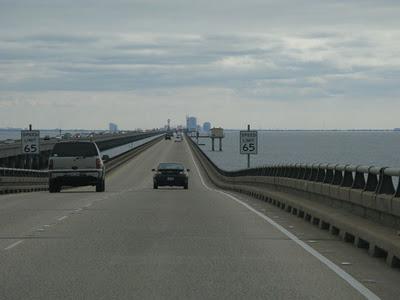 Several times in the course of the 23 mile journey across the thumpity-thumps of the concrete roadway, there are humps in the road for boats to pass under, and as you crest each hump the roads ahead just join somewhere further along on the horizon. As you can see, the bridge is actually two bridges. Two lanes each way, 65mph speed limit, but it still takes a good while to cross.
Getting into town was a fairly easy job for expert map-reader/navigator Pammy to manage, and as we came down Canal Street we could see our destination, the Marriott Hotel, up ahead.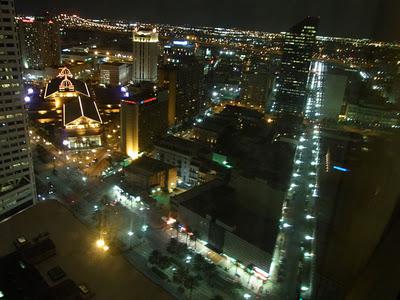 I let the guy on the reservations desk talk me into the 'special half-price upgrade' which put us in a corner room on the top floor. Pammy will need to sell quite a few paintings in her next exhibition to pay for the upgrade, but it's worth it. I don't think I'll ever forget this amazing view. Here's looking west, across the downtown area, at night.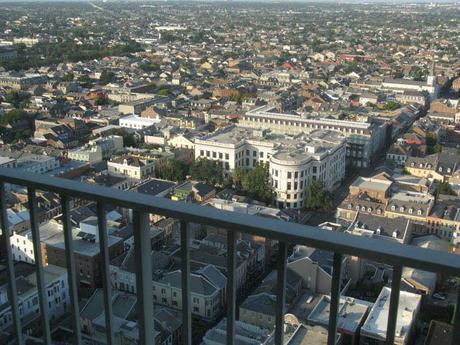 And this is looking north-east, towards Lake Ponchartrain. In the foreground is the French Quarter, and from up here the roofs of many of the buildings here do look they would be perfectly at home in Paris. However, instead of showing you the view bit by bit, the natural course of action is another of my pan shots with commentary, so here we go again.
With New Orleans, there's plenty to tell you about of course. I already have two other blog topics lined up (not counting Tummy Time 6 either!), and we've only been here a day. Our blessed run with the weather is continuing, with the next five days set to be a bit cloudy, sometimes sunny, always in the low 80s.