Online success takes more than just driving  traffic to your website.
You must also make sure visitors are actually willing to stay there.
If you truly want to capture your visitor's attention, you should look for ways on improving your visitor's dwell time through effective on-page optimization.  
Before we begin, let's have a quick word about dwell time and why it's important for SEO.
What is Dwell Time and How Does it Affect SEO?
Dwell time refers to the length of time a viewer stays on a page before returning to the SERP. It's a metric normally used by SEO practitioners and measured with tools like Google Analytics.
If a visitor spends more time looking at your webpage's content, it's generally a good sign that they found what they're looking for. As a result, search engines like Google will reward you with higher rankings.
Higher rankings lead to more organic traffic. More organic traffic will result in more leads and paying customers.
Of course, SEO takes more than just a high dwell time to be effective.
To improve your rankings, you also need long-tail keywords, backlinks, a solid internal linking structure, and an acceptable page loading speed. But since these are essential factors to the user experience, they all inevitably affect dwell time one way or another.
Without further ado, here are the best practices on improving dwell time on your website:
1. Start with a relevant, eye-catching feature image
The first thing the visitor sees in your website can often make or break their experience
Like the headline in a newspaper, the featured image is in charge of piquing your target audience's interest.

That's why every single post must be equipped with an eye-catching featured image that pops out.
The good news is, you don't need to invest in professional visual content with resources like Canva and Pixabay.
Finding a Good Stock Photo on Pixabay
In most cases, a beautiful stock photo should be enough to get your visitors' attention.
There's no need to overcomplicate this step. After all, when you're creating a webpage, you must already have had ideas of what you want to present your viewers.
Just head over to Pixabay's site, enter any relevant keyword, and choose a stock photo that best represents your content's message.

But if you're feeling extra creative, you may want to try using Canva to create custom featured images from scratch.
Designing Your Own Featured Image
Put simply, Canva is a free, drag-and-drop image editing tool that makes graphic design easy.
To use it, click 'Create a design' or look for an existing template.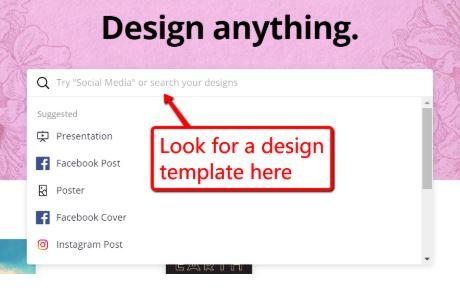 From there, you're free to drag and drop elements from the left panel and into the main editor. Everything you need – from vector graphics to background images – can be found there.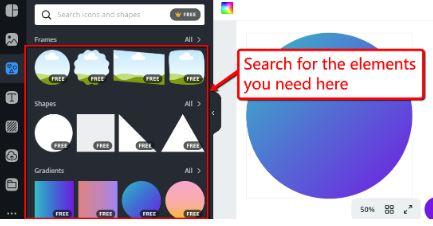 Easy, right?
Other Benefits of Visual Content
Apart from reeling in visitors and making them stay, a good dose of visual content also has the following benefits:
Originality and Authenticity – One of my favorite blog writing tips is using custom visuals whenever it makes sense — be it a custom-made vector or a screenshot. It can really spice up any blog post and help the content stand out. Because let's face it, for every post you publish, there are possibly millions of similar posts out there. A single, custom infographic will surely set your content apart from the rest of the pack.

Embedding Videos/GIFs – What's better than a static picture? A dynamic video. Viewers often follow better with videos since it engages both senses of sight and sound, maximizing the viewer's attention and prolonging viewer engagement and by extension, viewer dwell time.

Pro Tip: You may also decide to repurpose old video content if it keeps the topic relevant and audience appropriate. In the same way, evergreen, text-based content can also be repurposed into full-on videos.

More Compelling CTAs – Rather than relying on plain-text, you can use visual CTAs to give it more "oomph." Again, Canva should be of great help for this task. It has, after all, a drag-and-drop interface that makes it easy to insert text, logos, and other visual elements to a sketch.
2. Keep It Simple, Stupid.
When you stumble upon a giant wall of text, does it put you off from reading the content entirely?
I know I do.
Keep in mind that, in content development, less is often more. People just don't have the attention spans to read every word in a paragraph.
You can't blame them, either. Reading long-form content can simply be straining, especially with visually unorganized write-ups.
To help make your content nice and readable, here are a few tips you ought to remember:
Increase Font Size
As far as improving readability goes, this is as straightforward as it gets.
Every blogging platform and content management system lets you set a font size for your posts. Bump it up by a point or two and see if it makes a difference.
Try to Write Less
Another simple way to make sure readers aren't bored with walls of text is to cut down the content's word count. As a rule of thumb, try writing only 2 to 3 sentences per paragraph – 20 or less words per sentence.
Use Subheadings
Subheadings divide your script into manageable, bite-sized portions.
The majority of viewers skim through the content anyway, so having subheadings will definitely improve the reading experience. Of course, subheadings are also prime locations for your target keywords, so use them well.
Create a Table of Contents
Need to reassure readers that your content has the information they need?
A major help is to add a table of contents with hyperlinks that take readers directly to the right section of your content. You can do this via HTML or, for WordPress users, a plugin like Easy Table of Contents.
If that won't improve their experience, I don't know what will.
3. Sprinkle Your Page with Internal Links
Here's one on-page factor that directly affects both dwell time and SEO.
With internal links, you not only help readers discover related pieces of content that can aid their research. You also distribute PageRank to linked pages — thus, helping improve their individual search engine rankings and the overall visibility of your site.
Put simply, internal links are hyperlinks that lead readers to other pages or posts within the same site.
You know what that means, right?
When used the right way, internal links can make readers stay on your site and keep your content open on their browser — hence, more dwell time.
Just remember the following pointers when utilizing internal links in your website:
Never Force Internal Links — At the end of the day, internal linking should be a tool for the improvement of the user experience. That said, only use internal links if they add value to your content.

Use Keyword-Optimized Anchor Texts — To build the topical relevancy of linked posts, try to use keyword-optimized anchor texts for internal links. But if it can't be helped, there's no harm in using something action-oriented, like "click here," or "check out this post."

Make Internal Links Open a New Tab — Making internal links open on the same tab is pretty much guaranteed to derail the focus of readers. That's why every website owner should adopt the habit of configuring all links — internal and external — to open new tabs.
4. Narrow down your SEO efforts to long-tail keywords
In simple terms, a long-tail keyword contains three terms or more, whereas broad, "head" keywords only contain up to two.
Whenever you search using broad keywords, expect search engines to pull millions of results.
Sure, head keywords typically pull in tons more traffic than long-tail keywords. But they're not nearly as effective from an SEO standpoint.
Why should I use long-tail keywords?
Long-tail keywords have the added benefit of "avoiding" the stiff competition for traffic – improving your chances of snagging high rankings in search engine results.
For example, let's look at the search results for the keyword "writing tips."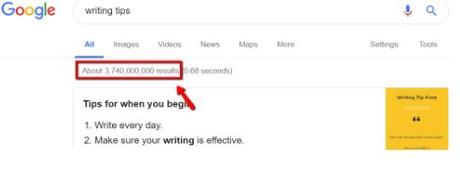 Good luck trying to stand out from a pool of over 3 billion results.
On the other hand, the results for the keyword "writing tips for bloggers" is a lot less intimidating.
Targeting long-tail keywords should give even new websites a puncher's chance at reaching Google's first page.
In addition to being less competitive than broad keywords, long-tail keywords also target users driven by a more specific objective. This means you get to attract visitors who are more likely to convert into subscribers or paying customers.
How is any of this related to dwell time?
Here's the thing: seed keywords in search often creates a mismatch between the content and the user's underlying search intent.
And what happens if visitors don't see the content they expect on your site?
That's right — they'd shoot for the "back" button in a heartbeat!
Those are the reasons why every website must have a long-tail keyword strategy, which starts with finding the right keyword opportunities.
How to find long-tail keywords
The easiest approach is to use a keyword research tool like Ubersuggest to expand seed keywords into long-tail variations.
Here's a step-by-step guide to using Ubersuggest to search for long-tail keywords:
For the sake of this guide, let's say you want to find long-tail keywords for the head keyword "Creative Writing." Just enter this and click 'Search' to get the ball rolling.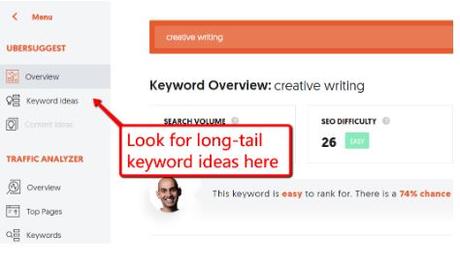 Switch to the 'Keyword Ideas' tab for the possible long-tail keywords you can use.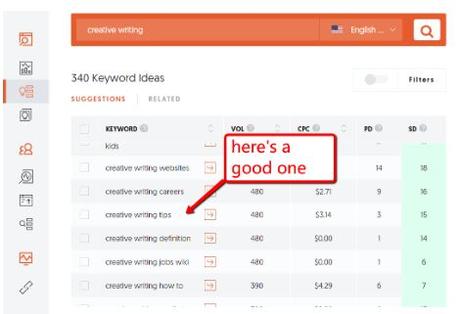 On the right, you'll see the SEO difficulty rating for each keyword idea. Ideally, you'll want to go for keywords with a difficulty rating of around 30 or less, like "Creative Writing Tips".
5. Improve Page Loading Speed
To make sure readers don't experience the "hourglass syndrome", you should keep your page loading time at three seconds or less.
Statistics show that 40 percent of people abandon a page that takes more than three seconds to load completely. That equates to roughly half of your audience bouncing away and giving your site a bad name in the search engine space.
With that out of the way, let's talk about the steps on how to improve your website's loading speed.
Compressing Images
A quick way to reduce the loading time of your website is to compress images.
Kraken.io is a free image compression tool with a web-based interface. All you have to do is upload your images, set the compression options you want to use, and download the processed images.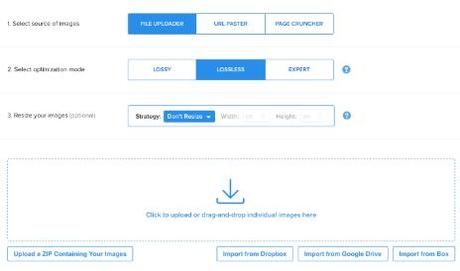 Here's a tip: be sure to select "Lossless" as your optimization mode. This effectively preserves image quality as Kraken.io shrinks their file size.
Select a Great Web Host
Another surefire way to improve your page loading speed is to upgrade your web hosting plan. Avoid one-dollar hosting services as they, without a doubt, cut corners in terms of server hardware.
What I can recommend for you are the likes of HostGator and Bluehost, which are fully-vetted by the online blogging and marketing community.
They offer multiple plans that can fit any budget and website needs.
Reliable web hosts also minimize downtime, which is another factor that can affect your search engine rankings. When in doubt, look for other customer reviews to reinforce your decisions when it comes to picking the right web host.
6. Use Exit-Intent Pop-ups
Here's a cold hard truth: most of your traffic will leave without clicking anywhere else on your site.
Your website's dwell time suffers. Your search engine rankings suffer.
You suffer.
Under most circumstances, you'll want to veer away from pop-ups to avoid aggravating readers more. But if you can do it the right way, it can be an effective weapon against a low dwell time.
A lot of successful websites include an exit-intent pop-up to make users reconsider their decision to leave. This is a pop-up specifically designed to show up whenever users click the "back" button, close the browser tab, or exit the site through other means.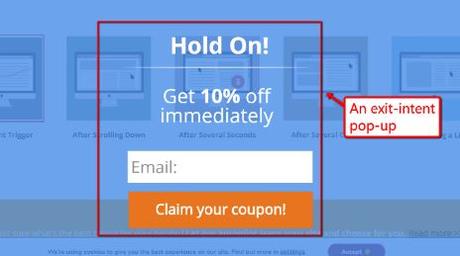 To create a free exit pop-up, I can recommend Poptin as they have user-friendly videos to show you the ropes – perfect for non-developers.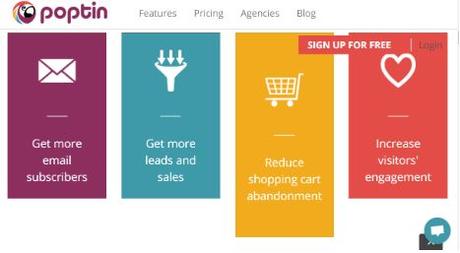 To make the most out of exit-intent pop-ups, make your opt-in offer — also known as "lead magnets" — worthwhile.
Here is a list of ideas that can point you in the right direction:
Free trials

Discounts

Free eBooks

Free consultations

Free templates

Access to paid content
Conclusion
There you have it — six of the best practices that can improve dwell time on your site.
Of course, there's no such thing as a one-size-fits-all solution in SEO. That's why I'm asking you to take these strategies for a spin, come back, and tell us about your experience in the comments below.
Cheers!
---
Ankit is a professional blogger, affiliate marketer, consultant, trainer, public speaker and founder of MasterBlogging, where he is passionate about helping people generate a full-time income with blogging. You can follow him on twitter at @iAnkitSingla