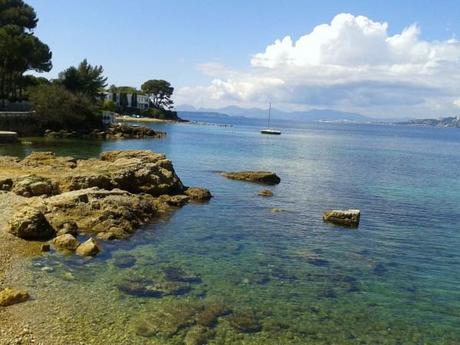 I won't get into why France is so significant to me (another time), but at a guess, I've been there 100-150 times.  I've visited most parts of the country, but it's the Provence-Côte d'Azur Region in the South-eastern corner that pulls me back the most often.   I recently spent a week with my family in Nice, staying in an apartment where we had the delight of sunny breakfasts on the balcony (there was an amazing bakery nearby and my son counted we got through 43 baguettes!) and a stunning view of the city and bay lit up at night.  This is #4 in my On Location series which means it's either a place in my first novel, or a red herring…
The Côte d'Azur, meaning coastline named after the intense blue of the Mediterranean, is known as the French Riviera in English but neither is an official term.  Roughly, it covers the coastline from St Tropez in the west to the Italian border.  Nice is the main city and an ideal base for exploring the area even without a car as public transport is unusually good.  It always surprises me that it's the 5th largest city in France; even the Greater Nice area has fewer than a million in population.  It's also the second most visited, after Paris, with 4 million tourists a year and if you've ever been, you'll know why.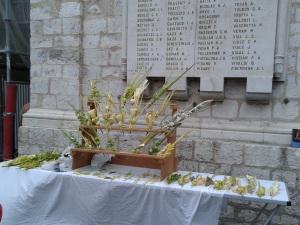 Nice has been seen as a desirable place for a very long time, founded as
Nikaia
by the Greeks of Marseille (
Massalia
) in 350BC.  As a strategic border town it came under Provencal, Savoy and Piedmontese rule before definitively becoming part of France in 1860.  There's a great story about how the head of the eagle on the city's coat of arms you see everywhere used to keep swivelling from left to right depending on which country it belonged to.  Presumably he's now got used to facing right, wearing an expression of Gallic defiance.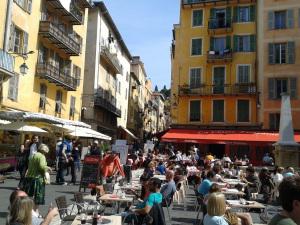 In modern times, this area owes its popularity to the mild climate with over 300 days of sunshine per year and the exceptional soft light that goes with it, and to the beautiful scenery –  sweeping bays, dramatic cliffs and mountainous hinterland.  It was the British upper classes who first cottoned onto all this in the late 18
th
century when it became fashionable to 'winter' in Nice, and the arrival of the railway in the mid 19
th
century and the opening of a casino in the tiny independent state of Monaco nearby (gambling was then illegal in both France and Italy) brought them in droves.  The famous Promenade des Anglais in Nice which skirts the Bay of Angels (Baie des Anges) for miles was even financed by the British.   Queen Victoria was a regular visitor with a huge entourage, though she hardly fits the profile of the decadent, idle pleasure-seeker.
Not surprisingly, the Riviera attracted bohemian types from all over and still does.  It was beloved of Picasso, Matisse, Renoir and Monet, and Yves Klein of the gorgeous eponymous shade of blue was a local.   Word of its allure spread to the States, and Edith Wharton penned The Age of Innocence and F Scott Fitzgerald The Great Gatsby whilst residing here.  Several James Bond films and many others have been shot on the Côte d'Azur and it's home to the super glamorous Cannes Film Festival.  In my distant City days I attended a commercial property show there several years in a row and I can tell you, there are worse places to party…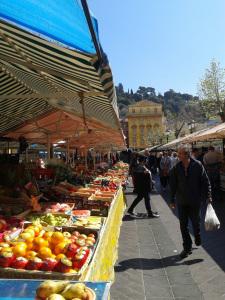 There still is evidence of great prosperity in the form of stylish coastal villas, marinas packed with luxury yachts and expensive shops.  On the whole, it's very tasteful and restrained (with the exception of Monte Carlo, where we went for the day because my sons like Grand Prix.  Every inch is built on and to me it feels really excessive and fake).  The great thing is, of course, you don't have to be rich or famous to come here and it's no more expensive to visit than any other part of France (outside high season, when it's also hot and very crowded).  There's an irresistible sense of the glamour and sophistication of the Côte d'Azur that lingers on and is very enjoyable.  Nice has a really buzzy, laid-back vibe, especially in the Old Town (Vieux Nice) which is a warren of narrow lanes behind the wide Cours Saleya, where there's a regular market of the kind the French do so well, and lots of cheap restaurants where you can sit and people watch.  The Italian influence is all around, in the architecture, the amazing food, the place names…  For my money the Fenocchio ice-cream parlour in Place Rossetti is in itself a reason to return – about 60 flavours, divine!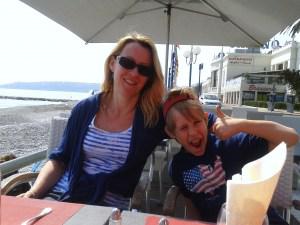 We had lunch by the sea most days, sometimes rubbing shoulders with Russian billionaires (OK, I'm speculating here) and spent hours strolling along the seafront in Nice, Menton and Cannes.  We visited the heavily wooded and achingly exclusive peninsula of Cap Ferrat and walked from Juan-les-Pins to the Cap d'Antibes and Eden Roc.  It's not supposed to be clean at all but for me there's something entrancing about the limpid quality of the water and the way it glitters in the sun.  The memory of it has kept me going since my return to torrential rain, thunder and hailstorms and there lies one of the most wonderful things about travel: once you've been to a place it becomes part of you, and you can return in your mind any time you like.
*POSTSCRIPT*
Staying with the elegant and upmarket theme, next week's book review will be of debut The Last Summer by Judith Kinghorn.