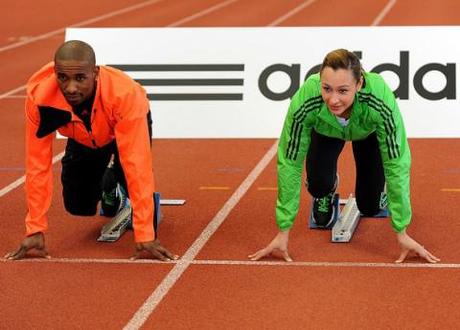 Jermain Defoe & Jessica Ennis. Photo credit: Brunel University http://flic.kr/p/9a8PHk
The background
Tottenham cruised to a 1-3 victory at Reading 16 September to register their first Premier League win in the fourth game and ease the pressure on under-pressure manager Andre Villas-Boas. Tottenham failure to beat Norwich and West Bromwich in their first two home games had disappointed the White Hart Lane faithful. England striker Jermain Defoe, operating in the lone-striker position, kept up his decent run of form with two goals against a poor Reading side.
AVB up and running
At The Independent, James Lawton said that Villas-Boas has made "an extremely embarrassing beginning at White Hart Lane" but said the performance against Reading "at the very least reminded us of how AVB first made his reputation. Tottenham produced some passages of superb cohesion which highlighted the reputation for running, passing football which gave their manager his year in the sun in his hometown of Porto and his hugely profitable move to Chelsea. There was also plenty of encouraging evidence that in the absence of Luka Modric and Rafael van der Vaart Spurs have replacements of impressive quality in Mousa Dembélé and Gylfi Sigurdsson." Lawton praised Spurs' "beautifully rhythmic and intelligent football" but cautioned that, "one extremely eye-catching victory at Reading hardly makes a month, let alone a season."
AVB is changing the way Spurs play
Writing for The Guardian, tactics expert Michael Cox found much to admire in the "flexibility and fluidity" of Spurs' three-man midfield of Sandro, Dembélé and Sigurdsson. Cox also admired Villas-Boas's "influence" on the team's new style of play: "Under Harry Redknapp the winger (Aaron Lennon) received the ball to feet, then attempted to dribble past the full-back – but he is now expected to make intelligent, purposeful off-the-ball runs to collect passes played in behind the defence."
Model pro Defoe can play the hold-up role
At Goal.com, Jay Jaffa praised Defoe's contribution to Villas-Boas' new-look Spurs outfit: "The impression lingered that he was never viewed as a dependable No.9 for Spurs. However, to write off a striker who had scored 195 career goals prior to his three in this campaign and 17 for England would be nonsensical. One of his greatest strengths has been his ability to reinvent himself and, as the idea grows that the traditional goal-poaching striker no longer fits the majority of modern systems, Defoe has shown that he is able to move with the times. Far from his younger days as a striker looking to work off the shoulder of the last defender, Defoe actively worked on his hold-up play and although he is not the giant target man usually associated with the lone striker role, he has shown himself capable of receiving the ball with his back to goal and bringing others into play. Combine that with a dedicated attitude – he does not drink or smoke and has set aside entire summers to arriving in pre-season as fit as he could be – and in many ways, he is the model professional. Put it all together and you have a footballer constantly seeking to eke the maximum from his talents."
More on football
Joey Barton: Beyond redemption?
Balotelli: The ultimate maverick
target="_blank">Gary Speed's death an accident?