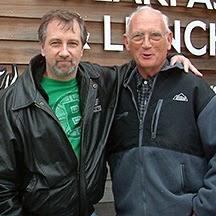 Cape Cod, October 2009
I sang
"On Eagle's Wings"
from the front pew shared with my brothers. The urn storing my father's remains rested on a table a few feet in front of us as hundreds of his friends and customers—several wearing hockey jerseys representing
Fort Collins Muffler & Automotive
—sang, too.
The lyrics, displayed on a white space above the altar, reminded me of Dad's favorite minor league hockey team, the
Colorado Eagles
. He had season tickets since 2003, the team's inaugural season.
On Colorado Eagles' Wings
, I thought.
Dad didn't attend the Eagles' home opener on October 25 because of his rapid decline. Alzheimer's, dementia or whatever other potential undiagnosed disease led him to slip away over the past few years, would claim him two days later. He was ready for the Next Realm, ready to join my mom.
As the service progressed, I continued to think of hockey. Dad, or "Mr. Hockey" as many of his friends referred to him, played a big role in the building of
Edora Pool and Ice Center (EPIC)
in
Fort Collins, CO
. My dad was always quick to say that he had a lot of help.
Peter Jacobs, an integral part of that EPIC success and my father's good friend, told me during the reception, "It's the end of an era."
Nearly a month has passed since Dad ascended to that loge section in the sky or whatever you want to call Heaven, and "On Eagle's Wings" continues to comfort me. When it pops into my mental playlist, I think of the drives to Denver to watch the
Colorado Rockies
and playing with my father and brothers on Wednesday nights—that one game in 1987 as Dad scored the only goal I can recall seeing him get, a tip-in. (Dad's favorite hockey mantra was "head for the net.")
These joyful memories balance the sadness I feel and lead me to gratitude. I'm grateful for Dad's visits to the Land of Ben Affleck (inside joke to those who attended the memorial service), our walks in Maynard, riding the "T" to the TD Garden to watch the Bruins, and our road trips to
Lake Placid
, Ottawa and Hershey.
As the Colorado Eagles are a dozen or so games into their season and
Thanksgiving
Day is almost upon us, I find myself grateful for a sound mind that allows me to reflect back to my father's memorial service once again: I hugged, shook hands and laughed with my dad's former teammates, opponents and customers; I talked hockey with a father whose son I had coached at EPIC; I chatted with a former Colorado Rockie who had become friends with my dad; I served as a conduit between people who didn't know how much they had in common.
I wonder now if the hundreds of people singing "On Eagle's Wings," realize how much they have enriched my life, how their thoughts and prayers and donations to the
Alzheimer's Association
have comforted me.
Thank you, Dear Reader. Whether you knew my dad as a hockey player or horseman (his other great passion), whether you knew him well, met him once or are reading about him for the first time, thank you.
Thank you, too,
Father Jan Michael Joncas
, for composing "On Eagle's Wings."