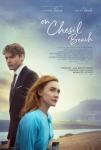 A young couple that have just been married in 1962 England and spend the night at a hotel by the sea, but when it all goes incredibly wrong when it comes to sex on that first night. Extremely awkward moments between them and it really was difficult to watch.
The night is mixed together in flashback form to show how the couple met and the growing romance between them and how they seem to make each other very happy. Florence is very good with Edward's mother who suffered brain damage and therefore cannot remember much at all.
Considering the time this film was set in sex was a big deal on the wedding night, Florence did not seem too keen when she was reading a book about how it all works. From what she quoted it certainly didn't paint sex in a nice light at all. This must have aided to her freaking out.
Edward loves her and feels totally ashamed that she would be willing to allow him to have sex with as many other women as he wanted and still be married to her, that is not what he wanted. Something that was actually really nice from his side considering a lot of men would absolutely love that offer.
I'm afraid to say though that this film is incredibly dull and boring from start to finish. I thought it was going to have some kind of twist, but it didn't at all. Then did two-time jumps and I really don't think that added anything constructive. Although the first time jump did very much grab my attention as T-Rex's 20th Century Boy started playing but that was not enough to allow me to enjoy this film. I guess I just didn't really care about the characters, it tried hard to build them up but with no real success for me, I didn't really care about Edward and Florence.
Like are we supposed to feel sorry for Edward as I actually thought he did the right thing in telling Florence that he had no interest in sex with other women. He could have easily just done that but he actually didn't. Florence really shouldn't have married him? It also makes you think about how times have changed and sex before marriage is pretty much a given now. Although even then you would have thought they would have got a little bit closer before the wedding night?
I have become a big fan of Saorise Ronan in recent years which was the main reason I actually decided to watch the film in all honesty. I don't remember it getting a cinema release? Although I don't imagine it would have pulled in big audiences. It was released back in May, but I really cannot remember seeing any listings for it?