Often dubbed as the cultural capital of Switzerland, Basel is a city that offers a kaleidoscope of sights spanning history, art, architecture and culture.  Known for its innumerable museums, heritage architecture and an engaging old town, Basel forms for a truly compelling visit.  Located about an hour's drive from Zurich, Basel is also home to the oldest university in the country which was established way back in 1460.   While there are several things to see and do here, Basel is arguably best known for its eclectic art scene.  From art museums to contemporary art, art in public spaces and street art, Basel is a haven for anyone who is an art and culture buff.  Here is a look at some places one can visit while on an art trail in the city. 
Street art in Basel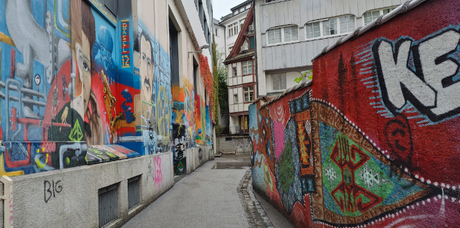 Art Museums Galore
Housing one of the oldest art collections in the world, the Kunstmuseum Basel is listed as a heritage site of national significance.  Apart from Renaissance art, this museum includes work from Surrealism, Constructivism, Dadaism and American art.  The museum of Contemporary Art in the city is a treasure house of modern art in the form of paintings, sculptures as well as video art.  The Vitra Design Museum located on the outskirts of the city is dedicated to furniture and interior design.  The Fondation Beyeler is again a wonderful place to visit if you are a fan of modern art.  Housed amidst lush greenery which includes old trees and water lily ponds, the museum displays the work of renowned artists from the 19th, 20th, and 21st centuries.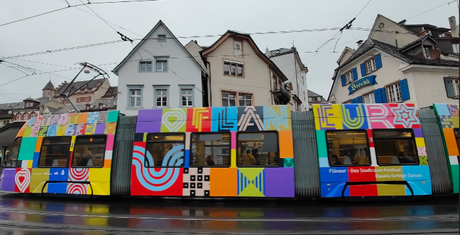 Paintings on the trams also look like works of art!
" data-orig-size="1567,802" sizes="(max-width: 663px) 100vw, 663px" aperture="aperture" />Paintings on the trams also look like works of art!
Town Hall or Rathaus Basel
Interiors of Rathaus Basel
One of the most prominent buildings in the Marktplatz or market square is the Rathaus Basel which was built in various stages between the 16th and 19th centuries.  It is the seat of the government of the canton of Basel city and is a dramatic red building with a prominent tower.  Replete with rich paintings and intricately crafted sculptures, the Rathaus is indeed a picture of beauty. The assembly hall as it stands today has been decorated by famous artist Hans Holbein in 1521.  Subsequently, over the years the mural paintings and plasterwork has been added to the building. 
Interiors of Rathaus Basel
The well-crafted sculpture of Munatius Plancus, the founder of the Roman city, Augusta Raurica is a prominent attraction of the building apart from the images of Emperor Heinrich II and his wife Kunigunde who are the patrons of Basel.  The paintings on the external and internal facade mainly fall into two main themes; law and legislation as well as Basel's membership of the Swiss Confederation in 1501.  All in all, the town hall forms for an engaging visit and one can even opt for a guided tour to know more about this historic building.
Aesthetic Public Spaces
Painted Facades of Buildings in Basel
Basel is a city where one can witness pieces of fascinating art almost everywhere.  From lovely paintings on facades of buildings to vibrant street art, the city's streets are a riot of color.  Given that the city is located at the border of both France and Germany, it attracts artists from everywhere.  The streets near the Swiss SBB railway station and the city center of Grossbasel are filled with graffiti that is ever evolving and features world famous artists, scientists and other superstars. 
Street art in Basel
The area around the Basel cathedral is also a good place to spot artwork.  The metal artwork in the form of ornately carved fruits and vegetables in the cathedral's cloisters is something not to be missed when here.
Sculptures in Basel Cathedral
And speaking of metalwork, the Tinguely fountain created by Jean Tinguely, a Swiss artist, is indeed noteworthy.  Located in the place where the stage of the old city theater company once existed, Tinguely fountain consists of a group of ten iron figures that are constantly moving.  A remarkable piece of art, this one is designed to mimic a theater performance and it appears that these kinetic fountains are playing with one another.
Tinguely fountain in Basel
Basel is an easy day trip from Zurich. Click here and here to read about other day trips from Zurich. This article was originally published in Seema magazine.