By Elizabeth Prata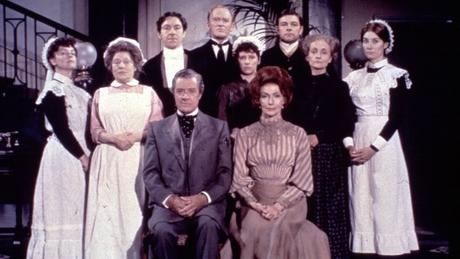 Original cast of the classic PBS period drama, Upstairs, Downstairs
Do you remember the original
Upstairs, Downstairs
TV show? The show ran on PBS from 1971-1975. It was
the
original famous period drama, depicting the doings of a wealthy Edwardian family in London from the point of view of the aristocrats living upstairs, and from the servants who lived downstairs. It was set in the time of 1903-1930.
In the PBS show
Downton Abbey
, we see another show depicting the lives of the aristocrats who lived upstairs and the servants who lived downstairs. This show ran from 2010 to 2015 and was also set in the Edwardian period, with its events spanning from 1912-1926.
I love a good Edwardian period piece. Even as a high school aged girl watching the 1970s Upstairs, Downstairs show for the first time, I was fascinated with the downstairs. Why do the servants do what they do? They often spoke of a life 'in service'. What is it like to spend one's life in service to a household? How do they maintain a lifetime of loyalty to a family?
Edwardian servants were expected to be very disciplined and reliable. ...A butler was the most important servant of an Edwardian house and acted as the liaison between the servant and his master. Source
In Upstairs, Downstairs, Hudson was the Butler. This was the highest rank of servants that existed. He was responsible for the staff's training and perfect execution of their various jobs, the goal of which was the smooth life of the lords and ladies upstairs. Hudson said his calling was a life "in service." Though his sister ran a boarding house and his brother was a civil engineer, Hudson felt his calling was to serve others in a household. He did so with utter dignity and pride.
In Downton Abbey, it was Carson who managed the household staff. In the show we see him training the other servants on how to set the table, using rulers to ensure symmetry in the place settings, exhorting them to be invisible, not to draw attention to themselves, but to perform the job as smoothly as possible.
Carson the Butler's exactitude to detail, his nearly round the clock call to service, his extreme loyalty to the lord of the household were all part of the package. The benefit to the servant was that he had a home to live in, a lifetime tenure usually, and salary.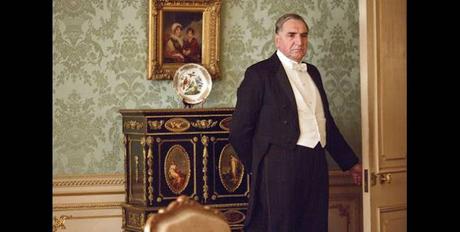 'Carson' in the period drama Downton Abbey
Hudson and Carson were fictional characters, but their lives were based on millions of men who performed the faithful service. I'm sure by now you see exactly where I'm going with this metaphor. 'Hudson' and 'Carson' (and the men they were based on) served their lord with all their strength and mind and body. They did it for what? A bed under a roof, and a salary?
How is our service to the Lord of all? We are called to a life of service when He regenerates us. We are new creatures. Instead of serving satan and our own lusts, we now serve Lord Jesus in any and every way He desires. We have been released from a life in service to the devil, and now in gratitude and obedience, in Spirit power, we must serve Jesus with all our strength, soul, mind and soul.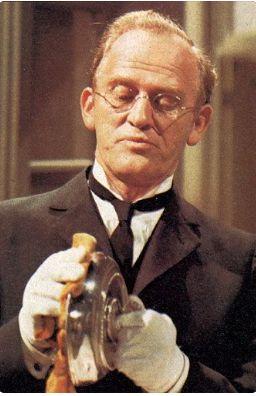 'Hudson' polishing a dinner table item
When we watch a period drama like the ones I've mentioned, and we see the loyalty and attention to detail, the ceaseless service of the Butler, sometimes we might wryly curl our lip and say, 'man those guys were rigorous!' Yet how rigorous are we in our service to the One whom we owe everything? Those guys did it for the pride in their job, and a bed and a few dollars. We are co-heirs with Christ, who achieved a perfect life so He could hang on the cross and endure all of God's wrath, for us. He did it in obedience to the Father. Jesus was rigorous in every detail, diligent and exact in following the Law, all so He could die on the cross in abject humiliation, endure terrifying wrath, so that we could live.
When we see Hudson carefully polishing the ash tray so it shines and glitters, we see a man who takes every task, no matter how low or insignificant, to its complete end in pride and honor. All of the household tasks were ultimately done for the honor of the aristocrat living upstairs.
As for us, when we ready ourselves for church, do we do the same? Or do we throw on any old clothes, arrive huffing at church just before the opening, plop in the pew, and mindlessly begin singing?
When we hop in the car to deliver a lesson to a small group, have we been diligent in seeking the highest and best possible outcome? Researching in detail, crafting our sentences with delight and conviction? Did we even pray?
Before setting off to vacuum the church and dust the pews, do we take as much care as an Edwardian butler would have in ensuring the place of worship is gleaming and showing its best, on behalf of the Lord upstairs?
If the butlers of old served with loyalty and honor, diligence and exactitude, how much more so, should we? We serve others on earth, and ultimately we serve for the dignity and honor of the Lord in heaven.
Let's take stock of our service to the Lord today.
For you were called to freedom, brothers. Only do not use your freedom as an opportunity for the flesh, but through love serve one another.
(Galatians 5:13)
Serve the Lord with fear, and rejoice with trembling.
(Psalm 2:11)