In this post, I have shared the Omnisend Shopify Tutorial 2019. It is actually an eCommerce marketing automation platform which provides powerful tools like content editor, data capturing and marketing. Omnisend is a place where you can create a shopping website through it. It provides tutorials on how to create an excellent website where people can easily buy things with just one click. It also teaches you how to create a sign-up page easily.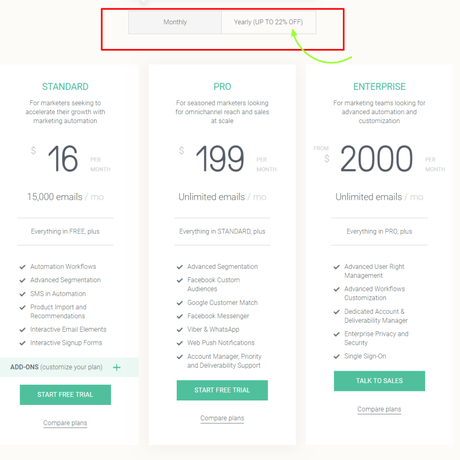 Omnisend Shopify Tutorial 2019: (Smart Email Marketing For Shopify)
What is Omnisend?
Omnisend lets you create drives from ready to use templates which actually saves a lot of time. You can increase your click-through rates with its additional elements. Personalizing an e-commerce marketing is not easy but with Omnisend you can do it easily.
The solution of Omnisend sends an email which is based on user activities like cart and browsing abandonment. Omnisend re-engages with your customers from time to time to increase new traffic and also sends them birthday emails and promotion codes. These tools will help you in keeping your customers happy so they will be a repeat buyer on your website. It also had a reporting dashboard which shows your campaign performance metrics.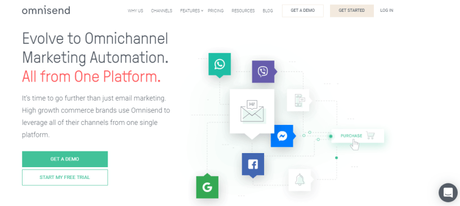 With all of these tools in your hand, you can build better campaigns which will increase your engagement with your customers and as well as your profits. You can easily increase the number of your subscribers with creating a wide variety of signup forms and convert those new subscribers with the easy-to-use editor. It works with every eCommerce platform like Shopify, Bigcommerce, Magento, WooCommerce and many more. It sends emails to the subscribers but these emails sent from business accounts so they mostly end up in spam folder and people rarely open their spam folder so the chances are most likely 20%.
If you wanna get the best results by using this email marketing campaign then you and this platform must work together.
While Omnisend sends the email regarding your website, you have to reach to your readers on a personal level like send them birthday wishes and promo codes, so they will not end up in the spam folder because of the good email marketing automation software. Omnisend doesn't worry about that their emails are going into the spam folder so you have to take care of that.
Features of Omnisend
1.Automation:
Many of your visitors on your website add the items into their carts and then forget about them like they abandon them but it doesn't mean it's over. Omnisend has an Automation feature which sends email to your customers about their cart and reminds them about what they left behind. It allows them to complete their purchase. People love celebrating their birthdays and they love surprises too. You can help make their day special by sending a greeting email saying happy birthday attached with a special promo code.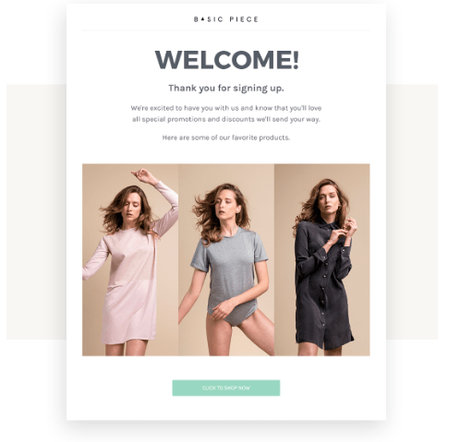 You can easily set it Omnisend before their birthdays and it will send them on that exact date because of its automation feature. Its automation feature has a lot to offer. For example whenever someone enters in your website then they'll see the first thing is the signup page after signing up they'll receive an email about them signing up in your website after whenever they make a purchase they will get an email regarding their purchase.
Your subscribers will get emails regarding their reviews, order confirmation, order follow-up, product abandonment, push notifications and more. You will see your website's browsing activities through Omnisend.
Automation feature gives tool regarding website tracking means you can now track your website easily because seeing the traffic on your online store will definitely make you happy.
2. Campaign Management:
Omnisend has a Campaign feature which gives you tools like A/B testing and Campaign booster. Sometimes you are not able to decide which subject line works best or which name to use as your user's name. But you can figure that out by A/B testing. It allows you to send exactly two subject lines to two different types of customer to see which is working better. Then it is easy to select the subject lines because you will only select the subject line which has the highest open rate. Its feature of campaign booster is really simple to use.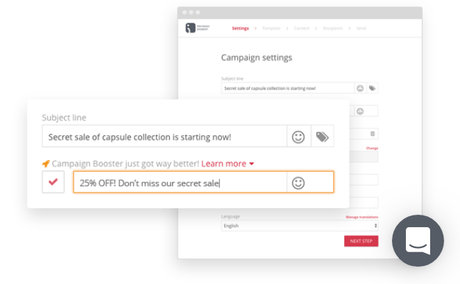 When you send out your campaign to your subscribers then most likely they won't open it. After 48 hours campaign booster send another campaign to those people who didn't open the last one and most likely to buy because of a new subject line which it will provide in the next campaign. With campaign booster, you can increase your sales by up to 30%. That means with every campaign you boost, you are increasing the chances of your success with it.
3. Content Editor:
You can send unique offers to your subscribers with Content Editor feature of Omnisend. It allows you to create discount coupons for your website. You can easily enter the percentage of discount and a title and then you are ready to go means you can use those coupons to attract your subscribers. To make your campaign easy it gives you ready-made 4 email templates so you don't have to create one from the beginning. You can just edit them out then you can use them.
These email templates will show the best way to present your products and all the other things you will say in that email. It has a gift box feature to where you can add some exciting gifts and send them to your subscribers.

Then all they have to click on the box and then will receive the gift from you. This will increase the engagement between you and your subscribers because everyone loves unexpected surprises. You can increase the conversion rate with it too because then your subscribers will buy more with your online store.
The content editor feature also gives you the tools to create images for your website which will make it look more beautiful and interactive. There is a scratch card tool too which is same in some manner as a gift box. You can simply just write the discount coupon code with a text in the scratch screen. Then all your subscribers have to scratch it to avail the code. Isn't this exciting feature because it'll make a connection between you and your subscribers.
4. Forms:
You can send your campaigns to your subscribers and to make sure every campaign has a different landing page than the others you can use the Form feature of Omnisend. But you just have to make sure that each landing page has the same text, images and even colors with your ads. Actually, Omnisend makes it very easy to use a landing page for you, all you have to do add some text and discount offer with it.
Whenever a person visits your website and doesn't buy anything that it doesn't mean you can't convert them in various ways. You can attract them by creating beautiful popups. These pop-ups come with beautiful images, high converting texts, different styles and you can also customize them to grab your visitor's attention and it'll make them to signup on your website.


Most of the visitors don't buy from your online store for the first time. It doesn't mean you can't get their email. The signup box of Omnisend is only for this purpose. It is a very small box which will constantly show on your website whenever a person visits it for the first time.
When a person fills their details in the signup box you will get their emails and now they are one of your subscribers. You can also make your signup form more fun by using the wheel of fortune. It means whenever they fill up their details they get to play a wheel of fortune which will give them a lot of greeting gifts like discount coupons.
5. Reports:
Omnisend provides you various reports. You can track your performance with this feature. The automation reports dashboard will show a full overview of your performance. It will show you how many people have visited your website, are currently in it and have exited from it. You can see your automation flow by tracking click, open and unsubscribe rates.
You can see the data on the dashboard of any time period which will help you understand how your workflows are changing your business. You can compare the last 30 days to the previous 30 days or you can compare on a weekly basis too.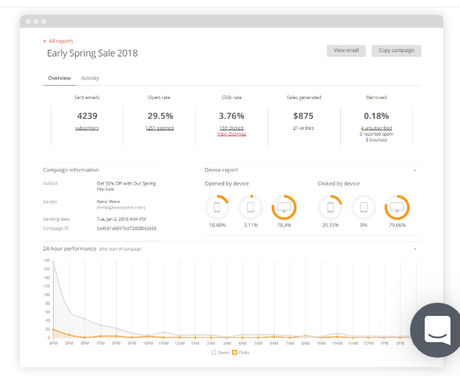 You will see the information about how many people engaged with your email as soon as you send your campaign to them. You will see the real-time activity to help you improve your future campaigns. For the first 24 hours, you will see the hourly reports on your campaign.
On the forms reports dashboard, you will see how your signup forms are doing. You will get to see the exact number of people who have checked your signup forms and actually signed up. You can track the country from where the traffic is coming from with this feature.
6. Subscriber Management:
There are different kinds of lists of your subscriber in Omnisend. You don't need to create one big list instead of that you can create different lists on the basis of different forms. From this, you'll be able to choose among these lists and then you can send your campaign to the right audiences.
The segmentation tool helps you create different and powerful segments that allow you to send the right messages to the right people.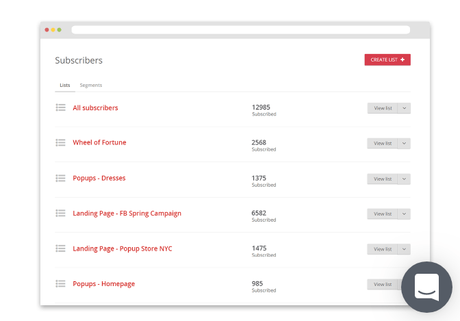 These segments can be made on the basis of your subscriber's shopping behavior. It will only target those people who have not just placed orders from you but also opened and clicked on your campaigns.
There is a custom audience facebook sync feature which automatically moves your customers from Omnisend in and out inside facebook and Instagram. Now in these days, you don't need to get your subscribers to list from facebook, you can just use dynamic Omnisend segments to super-target your ads on Facebook and Instagram which will bring more traffic to your website.
How Much Does Omnisend Cost?
There are exactly 3 options in Omnisend. Two packages cost money but the third one is free. The price actually depends on the number of your subscribers.
You can start your Omnisend Shopify Tutorial which would bring more leads to your Shopify store.
For example, if you are starting with 1 and have subscribers between 1-500 then you can pay the minimum amount. But if you have more than 500 subscribers then you can calculate the amount through the website's price calculator. Now you'll see the feature you'll get in every offer.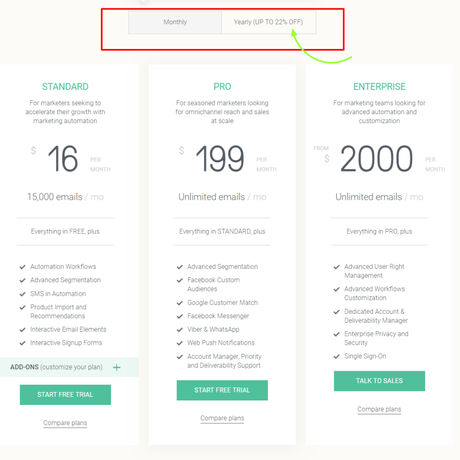 Who Should Consider Omnisend?
If you are looking to create an online store and want to make money from it them Omnisend is the right place for you. It helps you in various categories like in bringing the traffic, sending emails automatically to your subscribers, creating discount coupons and much more.
Free:
There are a lot of online shopping websites on the internet today. Not all of them are as successful as Amazon or Flipkart. But still, you can earn money from it by using Omnisend tools. In starting it will help you create your website's outlook.
15000 Emails per month
Website Tracking
Signup Forms
Newsletters & Content Editor
Discount Codes
SMS Campaigns
Sales Reporting
24/7 Email & Chat Support
Standard: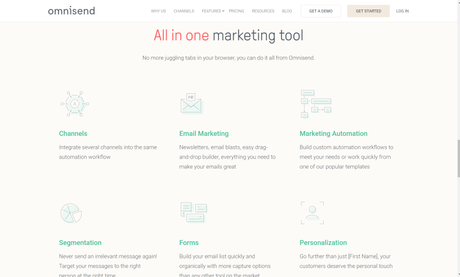 Costs from $10/month or $8/month/annual billing
All Free Features
Automation Workflows
SMS Automation
Standard Segmentation
Product Import & Recommendations
Interactive Email Elements
Interactive Signup Forms
You can choose your email type through 4 given email templates and these email templates are already designed by Omnisend. All you have to do is put the text in the email. If you're looking to connect with your subscribers then it's gift box feature, scratch code feature, discount coupons, and birthday email feature will help you out. To create a better understanding between you and your subscribers Omnisend is the best place for you.
Pro:
Benefits of Omnisend:
Cost from $199/month or 160/month/annual billing
All Standard Features
Unlimited Emails
Advanced Segmentation
Facebook Custom Audiences Sync
Google Customer Match Sync
UTM Management
Account Manager & Priority Support
Custom IP & Deliverability Support
1. Intuitive Content Editor:
Even if you are very good in content building and editing after using Omnisend your confidence will increase by 2 times. With Omnisend's intuitive content editor you'll feel like a teacher in those things. This actually saves your time because it provides a large number of templates that you can customize.
You can also pick one of your products which you wanna include in your emails and newsletters. It also offers automatic product recommendation too. It will definitely attract customers to buy the product from the website.
You can engage with your customers without using a computer. It can happen only because of Omnisend, it has host marketing automation tools that send emails according to the behavior of visitors. It sends emails to those people who abandoned browsing products or left items in their carts.
Sometimes the emails you send to your subscribers, they couldn't read it because it never actually made it to their inbox. Instead of inbox, it ended in the spam folder. Because of that Omnisend allows you to send your campaign again. So this way it may not end up in spam folder. The success of that happening gets increases by 50%.
Omnisend has many forms from which you can collect your customer's details. There is simply sign up for the new visitors or maybe you can use pop-ups whenever someone visits your website. With this way you can get their details even if they don't buy anything for the first time. You can convert those visitors into repeating buyers by using the tools of Omnisend.
Dividing your audiences according to different characteristics can help you build campaigns which will attract them to your online store.
With Omnisend you can create as many lists as you want, you can create them on the basis of your audiences and segment them. It will save the cost of your email marketing because then you have the targeted audience in your mind.
2. Marketing Automation & Personalization:
To create better marketing campaigns you will need to know about your customers so the actionable reports help you with that by showing the reports of best campaigns, the forms of collected data and highly engaged newsletters elements.
3. Effective & Sophisticated Campaigns:
These reports are available on your dashboard but still, you will receive them through email. Which will help you study your performances?
Pros And Cons
4. Always-on Visitor Capturing Tools:
5. Targeted Messages:
Quick Links:
6. Actionable Marketing Reports:
Conclusion: Is Omnisend for Shopify Worth Try?? Omnisend Shopify Tutorial 2019: (Smart Email Marketing For Shopify)
The features and tools of Omnisend for Shopify are amazing. It has a variety of tools which makes it more interesting than any other marketing automation software. For example, the connectivity between you and your customers increases day by day as you keep connecting with them on a personal level.
To make an awesome online store you'll need resources which will be provided by Omnisend. These resources will help you in creating automatic emails, new and exciting campaigns, awesome sign-up forms, popups and much more. You can set the automation to send birthday wishes to your customer and you can attach coupon codes in it as a birthday gift to them which will definitely make them happy.
These tools convert your visitors into repeat buyers. Omnisend is one of the top 50 e-commerce software products all around the world.
Pros: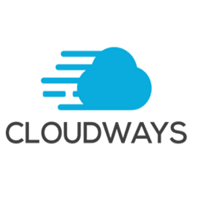 User-friendly environment
Great deliverability
Insightful reports
Beautiful email templates
Cons:
There should be more email templates
The real-time activity is slower than expected