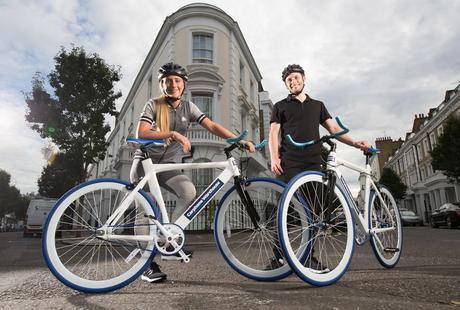 The Olympic's golden couple Laura Trott and Jason Kenny have teamed up with Carphone Warehouse to celebrate the launch of the highly anticipated iPhone 7 and iPhone 7 Plus.
The pair, fresh from their winning performances in Rio, spearheaded a procession of couriers through London today, as Carphone Warehouse announced the 'gold standard' in delivery - offering one lucky customer the chance to have their new iPhone 7 hand delivered to their door by one of the Olympic dream team.
It comes amid unprecedented levels of demand for the new handset. Initial figures released by the retailer reveals that record numbers of Brits have pre ordered the new device, with orders up by more than 200% compared to the iPhone 6s. Black is revealed as the most popular colour - accounting for 66% of orders - and is currently outstripping rose gold (in second place) by 4 to 1.
Commenting on the launch Jason Kenny says: "Black may be the favourite colour for the new iPhone 7 but it's gold when it comes to Carphone Warehouse's delivery service. I'm looking forward to making sure customers are among the first in the UK to get a new handset."
The new iPhone 7 and iPhone 7 Plus are already available to pre-order from Carphone Warehouse giving those that pre-order guaranteed delivery this week with one handset being hand-delivered by Jason or Laura.
Jeremy Fennell, Managing Director of Carphone Warehouse said: "Demand for new iPhones is at record levels as people rush to be amongst the first recipients. We want to ensure our customers get their hands on the new phones the moment they launch, and what better way to do that than enlist the help of two of the fastest Brits around."
Carphone Warehouse will offer the new iPhone 7 and iPhone 7 Plus, in all colour variants and storage sizes.
For all iPhone 6 customers Carphone Warehouse is offering a guaranteed trade in of £200 if they bring their handset into store before 30 th September and upgrade to the new iPhone 7.
Carphone Warehouse compares the widest range of tariffs on the market so is offering its Price Promise** to any new or upgrading customer. Price Promise means anyone who thinks they've found a better deal from either O2, Vodafone or EE on a Pay monthly or SIM Only plan, will have the deal matched by Carphone Warehouse and their first month's line rental paid for free.