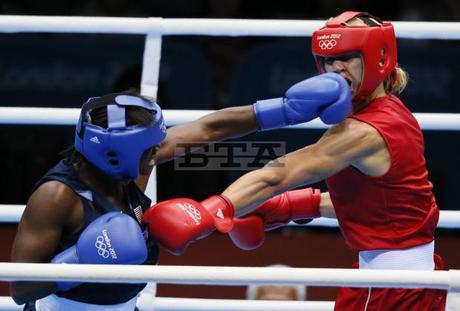 brutally redefining what it means to 'fight like a girl', SEVENTEEN YEARS OLD American female middleweight boxer Claressa Shields from Flint, Michigan, is like a boxing machine.
She's just demolished her opponent Marina Volnova from Kazakstan, literally took her to pieces in a perfect display of controlled aggression.
In this illustrative image, Shields (in blue) shows that she can not only hit the target but hit it with FORCE.
And the thing that's not conveyed by this action shot is the sheer number of punches that hit their target; one two three, six punch combinations. Even though she was caught on the ropes once or twice, all four rounds were just a text-book demonstration of how you take one's opponent apart.
Brilliant to watch; good luck to Claressa Shields in her forthcoming gold-medal bout.