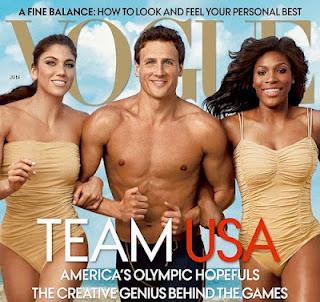 The 2012 London Olympic Games are a little more than one month away so here is Post No. 4 in the

Tennis Fixation Olympic Tennis Fix

series.

Check out the Team USA edition of Vogue magazine. Yes, that's Serena Williams alongside fabulous soccer goalie Hope Solo and extremely buff swimmer Ryan Lochte. Which makes me wonder - who else will be playing tennis for Team USA in the 2012 Olympics? (It also makes me wonder what Ryan Lochte does in his spare time and if he's ever in Houston but let's focus on the tennis.)

Once the French Open was completed, the names of Tennis Team USA were pretty much known. To qualify for tennis play at the Olympics, you have to be one of the top 56 ranked players, with a maximum of 4 players per country. As of the conclusion of the French Open, it looked like this for Team USA:
Men - John Isner (current ATP ranking of No. 10), Andy Roddick (No. 32), Donald Young (No. 48) and Ryan Harrison (No. 52)
Men's Doubles - Bob and Mike Bryan (current ATP doubles ranking of No. 3)
Women - Serena Williams (current WTA ranking of No. 5), Venus Williams (No. 47), Christina McHale (No. 29) and Varvara Lepchenko (No. 52)
Women's Doubles - Liezel Huber and Lisa Raymond (current WTA doubles ranking of No. 1)
Team USA will also field two mixed doubles teams but those players won't be determined until after the tennis matches have started.

You probably notice that top-ranked Mardy Fish is not on this list. His recent medical issues will keep him out of

the Olympics

.

To sum it up - it looks like Team USA will pick up multiple medals in doubles. And I'm hoping that includes mixed doubles. As for singles, I would love to see any of these players win (of course) but I'm especially hoping for breakout play by Ryan Harrison, Donald Young and Varvara Lepchencko.

Stay tuned for more Olympic tennis news as the games get closer!

If you missed out on the previous

Olympic Tennis Fix

posts, click on these links to catch-up:

Olympic Tennis Fix: Getting Ready For London

Olympic Tennis Fix: Who Gets To Play Olympic Tennis? Olympic Tennis Fix: Our Defending Champs Are . . .

© Kim Selzman 2012 All Rights Reserved