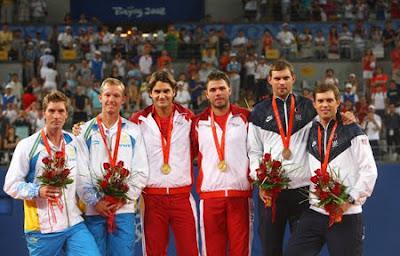 The 2012 Summer Olympics in London are now just 100 days away (!) so here is Post No. 3 in the Tennis Fixation "Olympic Tennis Fix" series.
Who are the defending tennis champs from the 2008 Beijing Summer Olympics that we need to keep an eye out for? Well, I'll bet that some of these names will surprise you.
First off, in men's singles, Spain's Rafael Nadal took gold. Nadal was having an incredible year in 2008, winning both the French Open and Wimbledon. The silver medal went to Fernando Gonzalez of Chile and bronze went to Novak Djokovic of Serbia.
In women's singles, the gold medal winner was Russia's Elena Dementieva, now retired. Silver went to Russia's Dinara Safina, also retired. And bronze went to Vera Zvonareva of Russia, still around and still a strong player. Jeez - what were they putting in the water in Russia that year? And is it still available for women like me?
In men's doubles, how's this for a surprise? The gold medal was won by the Swiss team of Roger Federer and Stanislas Wawrinka! Silver went to Sweden's Simon Aspelin and Thomas Johansson. And the bronze medal was won by the United States team of Bob and Mike Bryan. Just in case you think Roger wasn't excited about winning gold in doubles, check out this photo collage:



He certainly looks happy about it to me.
In women's doubles, the gold medal winners were the United States' Serena and Venus Williams - no surprise there in my opinion. Silver went to Spain's Anabel Medina Garrigues and Virginia Ruano Pascual. The bronze medal was won by China's Yan Zi and Zheng Jie.
There was no mixed doubles in 2008 (although there will be this year).
While I'm sure we'll see many of these players back for 2012, it will be interesting to see the new faces in the line-up. And I would love to see Djokovic, Nadal and Federer playing singles, doubles and mixed doubles! Which isn't too crazy of an idea since ATP points are awarded for Olympic victories.
If you missed out on the previous

Olympic Tennis Fix

posts, click on these links to catch-up:
Olympic Tennis Fix: Getting Ready For London
Olympic Tennis Fix: Who Gets To Play Olympic Tennis?


© Kim Selzman 2012 All Rights Reserved