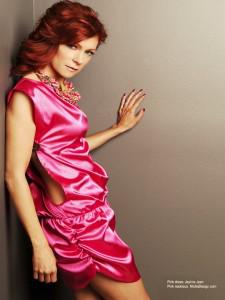 John Kurzynowski at Ology just interviewed True Blood's Carrie Preston and she gave him the dish on her favorite moments from the past few seasons, where the show might be heading this summer, and how the cast has changed over the years.
Below is a portion of that interview.
Ology: When did filming begin for this season, and how has the cast dynamic changed over the years as you've gotten to know each other better?
We started shooting end of November. The cast has grown exponentially since we started, so the original cast doesn't have the luxury of working together as much as we did the first couple of seasons. But we all get along surprisingly well for such a large cast, and we have a shorthand with each other that can only come with time.
When we last left off, Arlene was in a pretty sticky situation. Can you give us any hints as to what's in store for Arlene, Terry, and the baby?
Arlene seems to always find herself in a sticky situation. Just when she thinks she's finally going to get a chance to take a breath, something else rears it's scary head. She is face to face this season with something that hasn't yet been seen on the show, and it definitely gives everyone involved a fright.
If I could play any character on True Blood, Arlene would definitely be at the top of my list. What are your favorite Arlene moments from the show?
Well, first of all, thank you. I love playing Arlene and take it as an extreme compliment that you consider her one of the top characters you would want to play. My favorite moments from the show: Season 1 … in the pilot episode when Lafayette, Arlene and Dawn spar with each other in Merlotte's. Season 2 … when Arlene tells Tara that she thinks she "date raped" Terry Bellefleur. Season 3 … when Arlene confesses to Holly that she doesn't want the baby and doesn't want to lose Terry because of it. And Season 4 … you'll just have to wait to see!
So what aspects of her character are the most appealing to you?
Her strength, her loyalty and attention to her kids, her work ethic.
Do you sometimes wish Arlene were a vampire, just for the super powers and the steamy sex scenes?
I definitely think the vampires have more fun on our show! I keep pitching to Alan Ball [the show's creator] the idea of making Arlene some kind of supernatural, but to no avail. I think they need someone to hold down the human fort. And Arlene is the woman for the job, I think.
Bill Compton or Eric Northman?
Would you consider a menage a trois?
To read the rest of this interview, head on over to their site at this address: ology.com