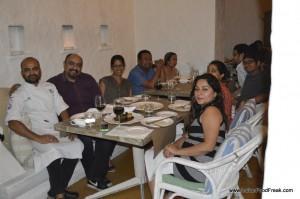 There is no free meal. When I was invited to try the new summer menu at Olive Qutub, it was my longest dinner meal where I invested over six hours (including travel) post my official work hours. But am I complaining, perhaps not.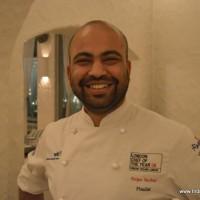 I remember long ago I wrote that I cannot imagine Olive without Chef Sabyasachi Gorai who was the face for long at Olive. And as it's said, never say never, time wheel turned and a new promising chef Sujan Sarkar took over. He joined some seven months ago, but one may call it sheer nostalgia of missing Saby, I skipped few invites till time became a healer and the success stories of the new chef induced me to give it a go, even on a working day.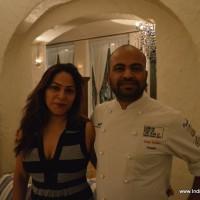 The ambience at Olive has always impressed me – it's calm, quiet, fun, cozy, and romantic with lots of positive energy flowing around. Even in May, temperature is always less than the main city and outside seating is always much in demand. However, this is a bloggers meet, where we are booked inside of the main restaurant. I see my name on the reservation desk where 'blockers' is mentioned in front of all bloggers names. An error or if this is how restaurants feel about us, I smile and get myself a table with my friend, Pooja Sharma.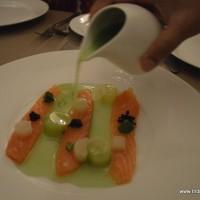 The tasting menu set for us is exhaustive; luckily we are four on a table between which every portion is to be shared. We start with a amuse bouche consisting of goat cheese, tomato on a crackling. The wonderful little piece builds up my expectations of a lovely evening ahead. In starters, foie gras and chicken liver parfait served along with brioche and poached cherries is not to be missed. The combination of liver and foie gras worked like magic for me. I cannot understand the combination of cured salmon topped with apple water. Neither has the salmon soaked the flavors nor can I pick the juice with the available fork on the table. Chef mentions that he wants us to have the syrup like a soup along with Salmon but lack of cutlery spoils his imagination and efforts.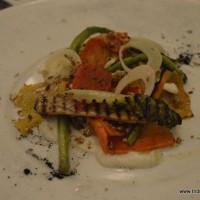 Baby gem is a lettuce and it is skillfully used in the salad by charring it on the griddle. Along with the smokiness from smoked goat curd mixed with pickled palm hearts, baby carrot, other vegetables and tender almond; it is over in no time with everyone looking for some more.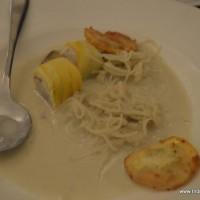 All those who have been reading me know that I am not fond of risotto, but I do appreciate good flavors. The green asparagus and broad bean risotto is not to be missed by any risotto lover. My favorite dish on the main course is zucchini wrapped reef cod. No, it is not the fish that is a star for me…it is the potato spaghetti that the dish is served along with that takes my breath. We love potato and while potato Spaghetti is common around the world, it is the first time I am eating it in India. Spaghetti is executed to perfection that retains a bite without leaving it raw or overcooked that will make it gooey.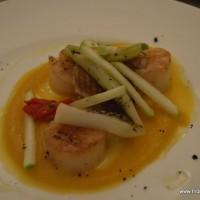 Pan seared scallop and pumpkin puree is again interesting, however why someone should serve crispy chicken wings along with it is beyond me. I did my little check on google uncle to find that it is not an uncommon combination but for me these two meats have their own unique characteristics which makes it difficult to complement each other.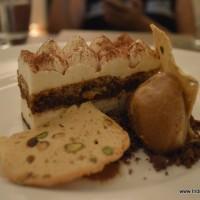 The long meal ends with a Tiramisu that is irresistible and baked cheese cake served with passion fruit curd. Desserts provide an excellent ending to a superb dinner.
Chef Sujan Sarkar is a great addition to Olive's culinary team. He comes with rich experience at London where in his last role was the head chef for Capriani group of restaurants that is known for Italian fine dining.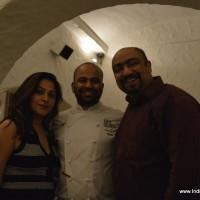 He is a thinking chef and brings many innovative ideas Some of them may or may not work with the Indian palate but unless someone tries we will never know. However the snail pace of kitchen service, plating too few components of a dish for the table of four,  and someother misses with the serving staff dropped the overall experience from 'Spectacular' to a 'Must visit'.
Do check out the new menu at Olive by Chef Sujan Sarkar. He has many more aces waiting up his sleeve including his expertise in modern and molecular gastronomy, which I eagerly look forward to trying soon.
Ratings (out of 5)
Food: 4.0 | Ambience: 4.5 | Service: 2.5 | Overall: 3.5
Meal for two: Rs 3000 | Alcohol: Yes | Credit Card: Yes | Wheel Chair Accessible: Yes
Address: Olive Mehrauli, One Style Mile, Haveli No. 6, Kalka Das Marg, Mehrauli , New Delhi | Phone: 011 29574444