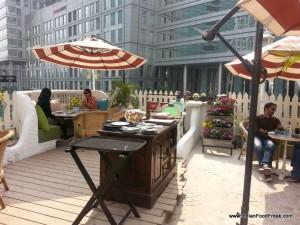 If there is a market that has become talk of the town of all foodies and cynosure of all other restaurateurs of Gurgaon, it is cyber hub. I am to meet few friends here and I go to the recently opened Olive Bistrothat not only has space but is like an oasis amidst corporate jungle.
The theme is just like any other olive property and gives an open feel but the menu has been slightly changed to appeal to the corporate youth and their desire for a quick meal between meetings and short lunch hours.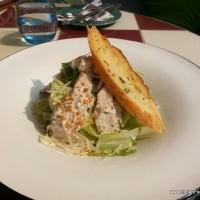 Apple & Kiwi Delight and Milano Smooch(Rs145 each), are well-made mocktails (alcohol license is still awaited) and Chicken Caeser salad (Rs 260) is fresh with perfectly grilled chicken and crisp lettuce. It is served with garlic bread while I like it better with traditionally used croutons.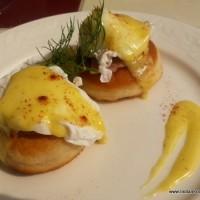 I can have
eggs Benedict
(Rs160) anytime and I have for the mid day meal. The yolk flows well, hollandaise is perfectly balanced and the muffin is nice. I like the bacon that is served along, however either the menu or the order taker should warn people who may not know that the preparation contains it.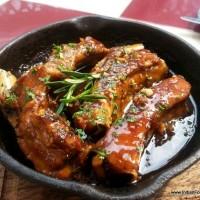 Pork Ribs are melt-in-the-mouth and I love them except that overuse of barbeque sauce makes them a tad bit overly sweet. Equally good is the Roast Stuffed Chicken (Rs440) which is neither dry nor devoid of flavors like in most other places.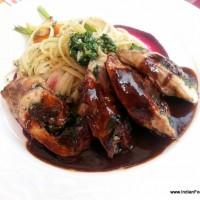 Fennel Chilly Basa (Rs410) is served with spaghetti and makes for a lovely meal for my friend who relishes every bite of it. The Pizza is slightly burnt at the edges but still packs all the flavors. Olive is popular for their pizzas and few consider it to serve the best pizzas in town. It is nice but undoubtedly not the best.
The ambience at Olive Bisto is inviting and service capable (even though they did not serve us the complimentary breads that are served to all); I shall soon revisit it to try their desserts.
Ratings (out of 5)
Ambience: 4.5 | Food: 4.0 | Service: 3.5 | Overall: 4.0
Alcohol: No (License awaited) | Credit Card: Yes | Meal for two: Rs1000/-
Address: Olive Bistro, Cyber Hub, Shop No 101, DLF Cyber Hub, Cyber City, Gurgaon | Phone: 0124-6518803/ 8130838811