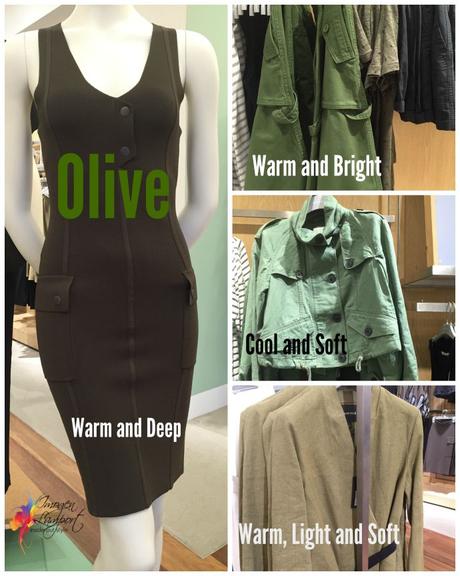 Clockwise from left: Dress  Skirt Jacket Jacket
The other day as I was walking through my local shopping mall I glanced in the doorway of Country Road (the Australian version of J Crew or Banana Republic) and discovered that it was awash with olive/khaki type greens.
Pantone had forecast that Dried Herb would be a big color this year, and here it is for the Australian Spring/Summer in its many shades and I'm also seeing it in the Autumn/Winter collections for the Northern Hemisphere.
The Pantone version is definitely warm, but interestingly I'm seeing some cooler versions here in stores and so I wanted to show you the differences so you can look out for the most flattering version for you.
This khaki green is a brilliant neutral for you if you are warm – particularly if you have an olive green or hazel eye – as it will be a fabulous eye enhancer, so snap it up while it's in the stores!
Here are some ideas on how to mix Dried Herb with other colours in your wardrobe.  It goes brilliantly with the warm military navy of Reflecting Pond.
Shop for Khaki and Olive Green

Turn on your JavaScript to view content