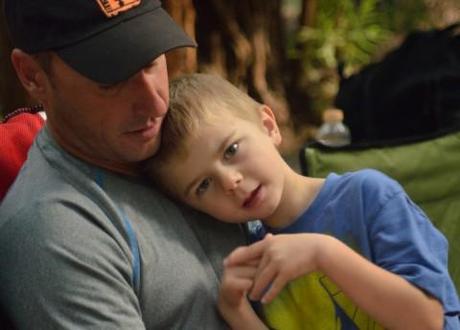 A new study shows that children of older fathers experience a higher risk of developing mental illness.
The background
The recent rise in mental disorders such as autism among children may be down to men waiting to have kids until later in life, a new study out this week in the journal Nature suggested.
Scientists from deCode Genetics Inc., a lab based in Reykjavik, found that the older the father is at the time of conception, the more DNA mutations he is likely to pass on to the child. A 20-year-old father transmits about 25 new mutations to his child while a 40-year-old transmits 65. Mothers, on the other hand, always transmit on average 15 new mutations, despite their age.
Allan Pacey, an andrologist at the University of Sheffield and chairman of the British Fertility Society, admitted to The Guardian that he was surprised at these findings, as it is usually maternal age that is said to have significant impact on children's development.
This isn't a subtle thing
Dr. Kari Stefansson, chairman and CEO of deCode Genetics, told Live Science, "This is not a subtle effect, this is a very, very large effect. And it increases the probability that a mutation may strike a gene that is very important, which can lead to a disease."
But still relatively small to the individual father
Don't panic, though, Stefansson declared: "It's incredibly important to recognize that, even though there is a doubling in risk of a 40-year-old father conceiving a child that develops schizophrenia [for example] compared to a 20-year-old, the overall risk is still not above 1%." Pallab Ghosh, the BBC's science correspondent, echoed Stefansson's caution, noting, "The findings should not alarm older fathers… Nearly all children born to older fathers will be healthy. But across the population the number of children born with disorders is likely to increase if this theory holds true."
So, not to worry?
Scientists were divided on whether fathers should act on this or not. Alexey Kondrashov, professor of evolutionary biology in the University of Michigan in Ann Arbor, for instance, suggested that prospective dads "should consider collecting their sperm at a young age and storing it for later use", reported Bloomberg Business Week. But Darren Griffin, professor of genetics at the University of Kent, seemed more relaxed, urging fathers-to-be not to worry, reported The Guardian: "This study only considered single DNA letter changes. However, overall DNA damage in the sperm as well as more gross genomic [chromosomal] age-related changes on the egg should be considered."