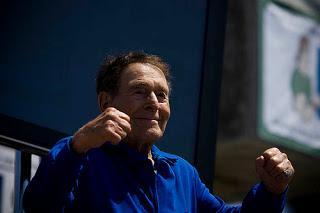 Photo of Jack LaLanne by nathancremisino
Recently, the media has made much of
Dara Torres
, Olympic Swimmer, who was born April 15, 1967.  Not all older athletes are professionals.  Many of the Baby Boomers are redefining late adulthood as an era of active aging. The
IHRSA
reports that the number of health club members 55+
grew by 343%
between 1987 and 2003 compared to 180% for their middle aged peers. Publications such as
Sports Geezer
and online sources such as the sports section of The Senior Journal attest to an 
increase
of amateur athletes.
For those who are more serious about their fitness, they have the opportunity to compete in organizations specifically for higher age brackets such as the Master Athletes competitions and  
National Senior Games
 (NSG). Here is a trailer for the documentary, Age of Champions, featuring athletes competing in the NSG:
What follows is a list of older athletes (organized by date of birth).
Most of them are living and participating in their sport at the date of this writing, but I have included a few who have recently passed because they were active athletes at advanced ages.
Track,
John Whittemore
(b. November 20, 1899, d. April 13, 2005)
Rower,
Ernestine Bayer
(b. March 25, 1909, d. September 10, 2006) Tennis, Roger Gentilhomme (b. May 21, 1909, d. June 18, 2011)
Shot Put, Ruth Frith (b. August 23, 1909)
Marathon Runner,
Fauja Singh
(b. April 1, 1911)
Marathon Runner,
Jenny Wood
 (b. November 20, 1911, d. December 30, 2010) Fitness Celebrity,
Jack LaLanne
(b. September 19, 1914, d. January 23, 2011) Yoga Teacher,
Tao Porchon-Lynch
(b. August 13, 1918)
Triathlete,
Arthur Gilber
t (b. 1921)  Swimmers,
John and Bradford Tatum
(b. 1920 and 1922). Pole Vaulter,
Adolph Hoffman
(b. 1923) Gymnast,
Johanna Quaas
 (b. 1925)
Runner,
Ed Whitlock
(b. March 6, 1931) Fitness Instructor,
Peggy Sullivan
(b. February 5, 1932) Bodybuilder,
Ernestine "Ernie" Shepherd
(b.  June 16, 1936)
Mountain Climber,
Tamae Watanabe
(b. November 11, 1938) Equestrian Rider,
Hiroshi Hoketsu
(b. March 28, 1941) Swimmer,
Diana Nyad
(b. August 22, 1949)
Now when I start muttering excuses for skipping my workout, I'll watch one of these videos and get myself out the door.