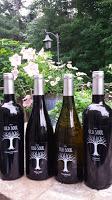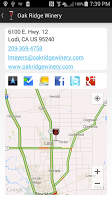 Last month I received samples from Oak Ridge Winery, specifically four wines focusing on their unique Old Soul brand. I say unique in the sense that this brand focuses on non-Zinfandel grape varieties and as the oldest winery in Lodi, these grapes have an "old soul".  Oak Ridge's Zin is rather tasty, so was excited to get started. 
Old Soul 2013 Lodi Chardonnay ($14, 13.5%) starts with tropical and stone fruits on the nose and palate, but then the buttery oak dominates the wine. The butter even overwhelms the favorable lemon pepper spice finish. Would love to try an unoaked version of this wine.
Old Soul 2014 Lodi Pinot Noir ($14, 13.5%) - blended with Zinfandel and Merlot. Plenty of sweet red fruits on the nose; dark blackberry fruit on the palate; easy finish with subtle spice and tannins.Very approachable, although comes across on the sweeter side. 
Old Soul 2012 Lodi Cabernet Sauvignon ($14, 13.5%) - blended with Zinfandel and Merlot. Jammy throughout, dark cherries on the nose then blackberries on the palate. Slight spice on the tail. Like the Pinot, feels slightly sweet.
Old Soul 2013 "Pure Red" Blend ($14, 13.5%) -  a blend of Cabernet Sauvignon, Zinfandel, Petite Sirah.  Cherry spice on nose, deep blackberry fruit, easy chewy tannins for a savory finish.