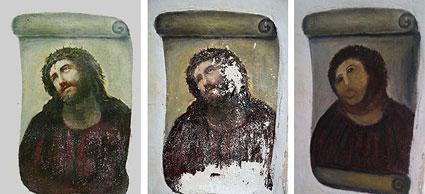 An old lady in Spain has wrecked a masterpiece in Spain by restoring it without permission. Art experts the world over have been stunned by the news that the old lady had been given access to the Christ Fresco to be able to "restore" it.
Spanish painter Elias Garcia Martinez's Ecce Homo has taken pride of place at The Sanctuary of Mercy Church in Zaragoza, Spain, for more than 120 years but over the last 18 months or so moisture has damaged the fresco which has enormous sentimental value to the local community.
As the 19th century masterpiece was deteriorating due to moisture in the chuch, an aged woman decided to take matters into her own hands and restore the fresco herself with asking for permission. She had not realized that restoring a piece of art of this calibre was beyond her scope and has left locals and art experts the world over fuming in the process!
A spokesperson from The Centre of Borjanos who incidentally received a donation from the artist's granddaughter to restore the work had this to say about the fresco:
"The value of the original work was not very high but it was more of a sentimental value.
"It was by Elias Garcia Martinez, who is the father of two well-known artists.
"The lady, who is in her 80s, acted without authorisation from anyone.
"The church is always open because many people visit and although there is a guard, no one realised what the old woman was doing until she had finished."
On Monday a team of professionals will arrive to assess the fresco to see if it can be saved.