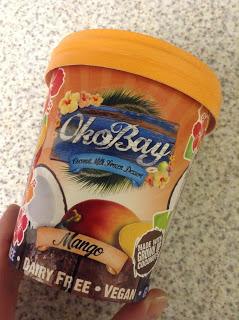 Continuing the theme of healthier products at bargain prices, today's review is for Oko Bay Mango Coconut Milk Frozen Dessert, which usually costs £4.99 in Holland & Barrett for the original and chocolate varieties, but for which I found for a mere 49p in Heron Foods recently! Naturally I snapped up several tubs.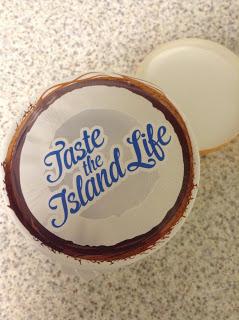 This ice cream or "iced dessert" is special in that it is made predominantly with coconut milk, making it vegan, dairy free and lactose free. It's also GMO free. Opening the lid which said "Taste the Island Life" (very exotic!) it had an orange, sorbet-like appearance. It was rather firm so I allowed it to thaw at room temperature for a while, before spooning into a bowl.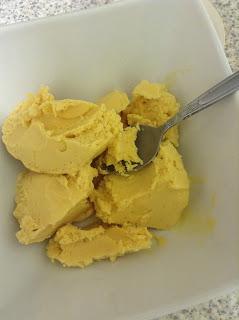 It was still pretty firm so I decided to just dig right in. The texture is different from ice cream, it's more akin to a firm sorbet, but that's not a bad thing because it melts in the mouth as you eat it. It's very tasty and creamy, with the mango bringing a fresh fruity flavor. It felt quite luxurious, especially compared to other dairy free options on the market like Alpro Ice Cream. If I were to eat dairy free ice cream regularly, this is undoubtedly one I would want to have in my freezer! It makes a great base to add your own inclusions like chocolate chips, sauces etc, but it's also tasty and indulgent all by itself.
Overall, this Mango Oko Bay Ice Cream is pretty good indeed and I do hope it's appearance in Heron Frozen Foods doesn't mean it's being discontinued. We need more variety in dairy free ice creams! If you do spot this anywhere and are vegan or dairy free, I'd recommend picking up a tub.
Ingredients: Coconut milk 42%, water, cane sugar, mango puree 10%, chicory root fibre, coconut oil 2%, stabiliser (guar gum, locust bean gum, xanthan gum), natural flavouring, colouring (anatto, beetrot red). Gluten free, soy free, dairy free, GMO free, vegan.
8 out of 10.