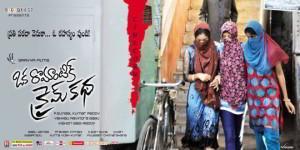 BUY NOW! Atharintiki Daredi Official Merchandise

@CelebOutfit
Enjoy reading cinecorn.com on your Smartphones. Download the FREE App right now.

Android App

/

iOS App
Story:
Oka Romantic Crime Katha is the story of a girl who moves out of her little village to live with her uncle due to unexpected paralysis attack to her father. She has a lover in the village and he too comes to the city following her. What changes the girl goes through in the city and why it happens? How does it affect the guy, is the overall story along with its plots.
Performances:
The film benefits a lot due to good casting overall for all the main characters. The boy (Manoj), the girl (Priyanka) and the uncle (Satyanand) are the crucial roles in the movie and they all play their parts well which is just about enough to hook the audience in.
The rest of the characters surrounding them, from the friends, to the police and the professor all fail to create any sort of mark and even worse bring down the overall effect of the film. Johnny and Venkatesh were fine in their brief roles among these side characters.
Positives:
Topical theme taken
Decent performances
Pre climax and climax
Negatives:
Slow narration
In your face treatment of theme chosen
Poor first half
Analysis:
Nandi Award winning director P Sunil Kumar Reddy has once again came up with a film that could earn him another award. The theme the director chosen here is a very topical one, one that needs to be addressed in a mainstream way. The director must be appreciated for taking this subject but mere taking up of such a subject doesn't automatically warrant anyone a merit.
For the story to work and people to connect, the narrative must be engaging. This is where the director has failed in a way. The director has simply depicted the harsh reality in an insensitive and unsympathetic way. What this does is that it forces people to shun away from it rather than see it and get positively affected. If the aim is to just know the humiliation aspect that one goes through, a documentary would have been suffice. The director is clearly not aiming at that as he brings in the crime angle to make it cinematic-ally engaging. This cinematic engagement for a non-discerning viewer is where the director fails. Otherwise he is right in the depiction of the harsh reality.
Music is below par but the BGM makes up for it. Cinematography is decent in parts but overall poor which is the same case with editing. Production values are okay keeping in mind the low budget nature of the film. It is still better than many films in its bracket though.
Bottom-line: Realistic show all the way
Rating: 2.75/5