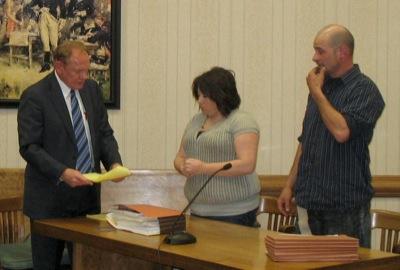 Local news reports
Darke County Common Pleas Court Judge Jonathan Hein minced no words when it came to sentencing Michael L. and Melody R. Fisher of rural Fort Recovery in connection with the accidental shooting of their 11-year-old son. 
The Fishers, who each received five years community control sanctions (probation) plus 15 days in jail, were found guilty earlier this month of endangering children. Jurors failed to reach a verdict after 13 hours of deliberation on more serious involuntary manslaughter charges.    Hein referred to the statement, "I thought I taught my son better," Michael Fisher made during a three-day jury trial. 
Michael "Mikey" Fisher III died Aug. 4, 2011, after shooting himself in the head while handling a 9-millimeter handgun.    Older and younger siblings reportedly were in the room at the time of the 1:15 a.m. shooting and the parents were in bed.    The judge also bristled at comments made regarding constitutional rights to bear arms. It is a constitutional privilege to own guns and responsibility goes with that privilege. The more guns the higher duty," Hein said referring to the 86 guns found in the Fisher home. 
Darke County Assistant Prosecutor Deborah Quigley had requested 30-day jail sentences and forfeiture of the guns, many of which had been left unsecured at the Fisher home. 
  What do you think?  A few days in jail and lose the guns sound about right?
How about that brilliant observation:
"I thought I taught my son better."
Please leave a comment.