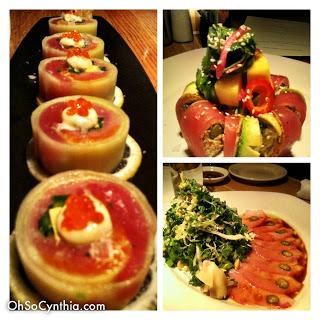 R+D Kitchen (left) Kuri Maki
(top right) Tuna Roll (Bottom right) Sashimi Salad
When asked to name my top picks for a night out,
R+D Kitchen
is always on my Top 5 list.  The people-watching is great, the atmosphere is airy and cool and the kids love the koi pond out front.  And did I mention the food? I've never had a bad dish there. Ever.
In case you are wondering, the R+D stands for "Research and Development".  Since they are owned by Hillstone, the rumor I heard when they first opened was that this was a test kitchen of sorts for Hillstone. Manager,
Will Seals
, dispelled that myth and basically said they are just researching and developing new recipes for themselves.
And while I'm thinking about it
, what's up with Hillstone always changing their concept names. First it was Cafe R+D, then they changed it to R+D Kitchen. Same thing with their sister concept across the parking lot, Houston's, which recently changed to Hillstone. Seriously, it's confusing.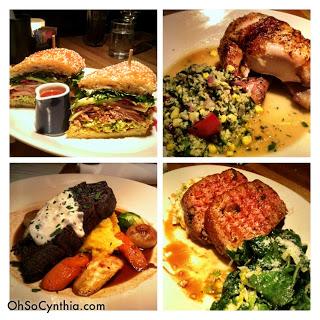 top) Carnitas Sandwich, Rotisserie Chicken with Couscous (bottom) Braised Short Ribs and Wild Mushroom Meatloaf
The
Dallas Oberver
describes this places as having an "indoor-outdoor ambience and attentive service, supporting a seasonally changing menu that features just a few choices among the starter, salad, sandwich and sushi categories. A half-dozen or so heavier entrées, a few more at dinner than at lunch, include the usual fillets of fin, feather and fur."  Yep, that about sums it up.
R+D Kitchen has been hidden behind a construction wall for months, while a new parking garage was being built in Preston Center. To celebrate the end of that project and their return to visibility they are introducing several new menu items worth trying.
My favorite dish of the night was the Sashimi Salad . I am not a huge sashimi fan but
that salad
... I could have eaten three plates of it. Made from kale it had a slightly bitter taste to it that was offset by macadamia nuts and a tangy peanut dressing. I am not describing it very well, you're just gonna have to trust me that it is fabulous. It won't be on the menu for about a month, but it is worth the wait...
R+D Kitchen is located at 8300 Preston Center Plaza, University Park, TX 75225, 
http://www.hillstone.com/#/restaurants/cafeRandD/