Brothers Complete is a family-owned and operated Pet Industry business – not a wholly-owned subsidiary of some conglomerate with fingers in any number of different pies.  Brothers Pierre and Aaron Earling believe good nutrition is the key to a pet's health and well-being. As proprietors of The Doggy Store in Fort Lauderdale, Florida, they've  recommended foods to their clientele for years. And determined they would formulate a product on their own that would surpass anything currently available.
Brothers Complete is a grain free, white potato free dog food, with white meat, red meat, allergy and fish formulas.
Cici was excited to try out all the yummy foods and treats. Drooling… delicious… she is a big fan and has enjoyed every bite and below are the things I am most happiest about. Feels good to feed her high quality foods and treats.
The Brothers Complete White Meat Formula uses Chicken as its main source of protein, with a good portion of egg and turkey meal included for added animal protein. Because white meat has a low ash content, this formula allows for high absorption of nutrients. The tapioca starch is obtained from the roots of the cassava plant (manihot esculenta) and is a natural source of very low glycemic carbohydrates. The tapioca starch used in Brothers does not contain the additional ingredients (like sugar and milk) normally added to tapioca for human consumption. This low glycemic starch allows Brothers to formulate a food that is closer to a dog's historic diet which is based predominantly on animal protein, fat, and bone.
Ingredients: Chicken meal, tapioca, turkey meal, dried eggs, sweet potato, peas, chicken fat (preserved with mixed Tocopherols, a source of Vitamin E), Menhaden fish meal, dried chicken liver, pumpkin, flaxseed, alfalfa meal, carrots, potassium chloride, salt, choline chloride, blueberries, cranberries, apples, celery, beets, parsley, lettuce, spinach, DL-methionine, L-lysine, taurine, mixed Tocopherols, Rosemary extract, Green tea extract, lecithin, Vitamin A supplement, Vitamin D3 supplement, Vitamin E supplement, zinc sulfate, ferrous sulfate, niacin, folic acid, biotin, manganese sulfate, copper sulfate, calcium pantothenate, thiamine mononitrate, pyridoxine hydrochloride, riboflavin, L-ascorbyl 2-polyphosphate (source of Vitamin C activity), zinc proteinate, manganese proteinate, copper proteinate, calcium iodate, sodium selenite, cobalt carbonate, Vitamin B12 supplement, Organic branched Inulin/FOS, dried Enterococcus faecium fermentation product, dried Lactobacillus acidophilus fermentation product, dried Lactobacillus casei fermentation product, Amylase (Aspergillus oryzae), Protease (Aspergillus oryzae), Cellulase (Trichoderma reesei), Lactase (Aspergillus oryzae), Hemicellulase (Trichoderma reesei), Lipase (Aspergillus oryzae).
In the last few years, some commercial pet food manufacturers have eliminated or restricted the use of grains but have substituted white potato instead. White potatoes have a higher glycemic index than white sugar (80 to 110 versus sugar at 65) so it puts a strain on the adrenal and pancreatic systems when it spikes the blood sugar and produces a large insulin response every time the dog eats. The high glycemic property of the white potato also feeds the Candida Albicans yeast in the colon which, when overgrown, becomes a fungus whose rhizomes grow into the mucosal lining of the intestine and contribute to a condition known as "leaky gut" which allows matter from the colon, including the Candida Fungus, to get into the blood stream which usually leads to a host of skin conditions and allergy-related problems.
One of the problems with white potatoes, under less than perfect conditions (when too old, sprouting small roots, exposed to warm temperatures above 50 to 65 degrees F for too long, or exposed to light for too long) is that they generate a neurotoxin called solanine which can be extremely toxic. Potatoes rejected from the human food chain, and used in the dog food industry, are all too often a source of excessive solanine in dog food.
Potatoes and grains (due to improper preparation) are also a source of "Lectins" which compromise the effectiveness of the colon and can severly reduce the ability of the cilia to extract necessary minerals and vitamins from the food they eat.
Another possible problem when potatoes are heated to high temperatures is the production of acrylamide which is a recognized carcinogen. For these, and other reasons relating to a dogs health, all of Brothers Complete Formulas are grain and white potato free.
Brothers is the only dry dog food we are aware of that stores their food in air-conditioned storage facilities to maintain the freshness built into it.
Most dog foods spend 3 to 6 months in hot warehouses before reaching the retail outlets. Then they can sit on shelves in pet food stores for several more months before being purchased by the customer.  At Brothers Complete, two days after the food is made it is put in a dark, air-conditioned storage facility where it stays perfectly fresh until it is shipped to  customers or sold in the store. Brothers manufactures only small batches and sell directly to the consumer. There are no middle men.
Cici also got to try the dog biscuits On The Lamb, Country Chicken, Red Meat Raves and the Dehydrated Chicken Breast, (which she scarfed up right away!) and the Dehydrated Canadian Beef Liver, YUM…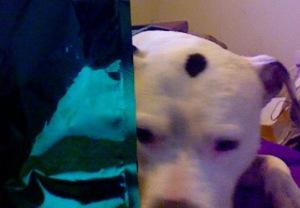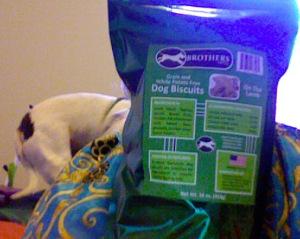 Brothers Complete "On The Lamb" dog biscuits are a departure from the "same-old, same-old" – a real taste sensation your pet will get excited about. Made in the USA, these healthful biscuits contain only wholesome real food ingredients, and, of course, are grain and white potato free. "On The Lamb" Dog Biscuits will keep your pet happy as a bunny.
INGREDIENTS: Lamb Meal, Tapioca Starch, Green Peas, Chicken Fat (Preserved with Mixed Tocopherols), Chicken Liver, Sweet Potato.