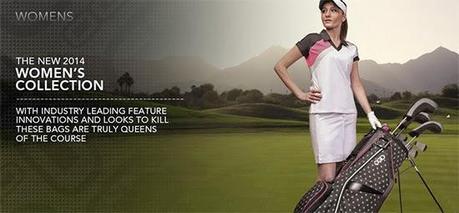 The new collection fuses eye-catching designs and industry-leading features in four bags fit for a queen; the Majestic, Duchess, Diva Luxe and Featherlite Luxe
Salt Lake City, UT (December, 2013) – OGIO, a global leader in golf and lifestyle accessories design, introduces four new, striking golf bags with its 2014 Women's Collection. These bags combine feminine color palettes and energetic patterns with the innovative features golfers have learned to expect from OGIO.
The Majestic cart bag features seven zippered pockets and ZBP™, a zipperless ball pocket. This sleek bag comes in two trendy designs featuring polka dots and geometric shapes. The hot-pink piping pops against the charcoal and white designs and makes this bag impossible to overlook on the course. $194.99
The Duchess cart bag is fit for a queen with its five stylish designs and deluxe features. It boasts plenty of storage with its six zippered pockets and tee holder, and the durable fabrics will resist wear and tear to continue looking great. Both the Duchess and
Majestic feature a padded shoulder strap and 10" Uniter 15-way cart top with a putter pit for oversized grips. $154.99
The Diva Luxe and Featherlite Luxe stand bags combine fun, feminine patterns with utility. Both feature the Crossbow 3-point shoulder strap system and a 9.5" Woode™ top with an oversized putter pit.
The Diva Luxe bag is available in three attractive patterns, including a bold pink and black plaid that will be sure to attract attention at any club. The designated pen and scorecard sleeves, along with the accessible and insulated water bottle holster, make this bag a practical choice for any golfer as well. $194.99
The Featherlite Luxe bag comes in five innovative patterns inspired by women's fashion that hide the dirt and wear caused by regular use. It is a stylish option with a detached ball pocket panel for embroidery and logo application, for the woman who craves customization. $154.99
"OGIO is known for merging innovative designs with appealing style to produce high-quality golf accessories," said Tom Gocke, Global VP of OGIO Golf. "We are proud to expand our golf line with the new 2014 Women's Collection, designed for the avid and stylish golfer with function and fashion in mind."
About OGIO
OGIO International, Inc. carved a reputation as a designer of adrenaline-driven styled Golf bags and apparel born from our sports and lifestyle heritage. We built this reputation by crafting our collections from high-performance materials surrounding innovative design features that provide the ultimate combination of protection, comfort and organization. OGIO's Golf collections have changed the style of golf and are designed to raise adrenaline levels at first glance.