I know that the Police come under fire from the press on a regular basis, and sometimes this is justified, but sometimes it appears that a paper or program have decided to publish an article simply to try to cause damage. Rarely do these things get under my skin, but today is one of those rare days.
The article in question was published by the Mail on Sunday today and attempts to imply that, not satisfied with over inflated salaries and gold-plated pensions, Police officers are busy lining their own pockets with unethical contract work within their own training departments. The headline reads:
Now police are being paid thousands of pounds for second jobs teaching fellow officers to fire tasers
This article relates to officers that have given up their time off to assist in training those involved in the widespread role-out of Taser equipment. Police officers are widely employed within the Police training environment. Initial recruit training, divisional and specialist training, driver and firearms training, all of these departments use officers with their years of experience and knowledge to provide the best quality training for those that require it. Security Editor at the Mail on Sunday, Robert Verkaik, goes on to accuse Police officers of draining the infamous taxpayer-funded Police budgets implying that this spending is unnecessary and part of some financial conspiracy. Verkaik seems to have a bit of a bee in his bonnet about Police officers and their efforts to subsidise  their salaries, publishing another article eight days ago which stated that 9,000 officers had second jobs. If our salaries were so good, as is implied by so many in the press, does he not think we would spend our days off with our friends, families or down the pub?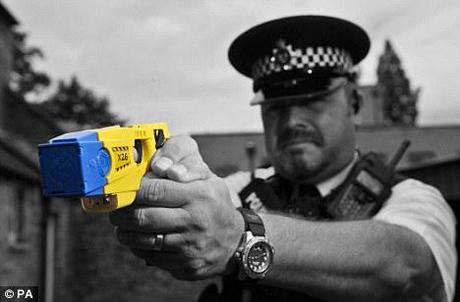 With Taser, until recent times, being issued to just firearms, public order and other specialist officers the provision of the 18 hour training course has previously been manageable with relatively low numbers of staff. However, with more and more officers being issued this extremely effective piece of kit, the training resources required will have also increased.
If officers, already employed by Police forces, are being utilised to resource this training instead of resorting to the employment of additional civilian or contracted staff then this does not create any additional cost to the public purse. It demonstrates a common sense approach through the use of those with a good working knowledge of the product, operational experience on which informative training can be based, and pre-existing IT systems access and security clearance amongst other immediate benefits. This is provided at the same or less financial cost as would be involved in alternative scenarios and, I would suggest, results in a better and more efficient level of service than would otherwise be available.
The only reason more money is being spent is because more training is required. I assume that the reporter does not endorse the provision of this type of PPE without officers being appropriately trained? No doubt he would be very quick to write a story about maverick cops running amok in our cities using stun guns without any training…
Perhaps some of the blame for the lack of training staff should be apportioned to the Government who have forced most, if not all, Police forces to reduce their civilian staff numbers to meet the financial constraints imposed on them in the last 18 months.
Many officers have secondary employment – I have two other 'jobs' myself which I have used to offset the £3100 that I have lost as a result of Winsor 1. I pay additional tax at a higher rate on everything I earn from that employment, as would any Police officer doing the training role to which this article relates.
So, not only do the Police benefit from the use of their own officers to complete necessary training, but the government benefit from the higher rate of tax paid by those officers on everything they earn from doing it. I expect that with salaries in the Police so outrageously high (ahem…) already, this additional income would also push most into the 40% tax bracket (the threshold of which the government has, just in case you didn't know, lowered by over £3000 since 2010. It now sits at £34,371 (2012-2013) which is lower than the top rate for a PC on a basic salary).
So, in summary, Robert Verkaik's headline should have read:
Police officers give up valuable free time to train colleagues. More effective training, more effective Police response and higher tax revenue.
I don't expect the story would have made it past the editor with such an objective point of view though…
NB: My additional business interests are both declared with HMRC and approved by my force. And no, I don't train taser…