by SAINT FRANCIS DE SALES
The chief thing I ask is that in the course of the day you should continually recollect yourself and lift your heart up to God to say a few short words telling him of your faithfulness and love.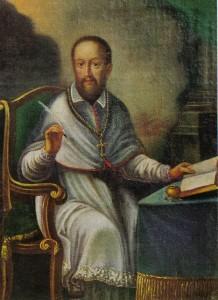 As to the afflictions of your heart, you can easily see for yourself those for which there is a remedy and those for which there is none. Where a remedy is possible you must try and apply it gently and peacefully; where there is none, you must bear it as a mortification sent by Our Lord to try you and make you all his.
Be careful not to give way to complaining: make your heart suffer in stillness. If you are seized with any sort of impatience, restore peace and gentleness in your heart the moment you become aware of what is happening. Believe me, my dear daughter, God loves the souls that are tossed about by the waves and tempests of the world, as long as they receive their hardships as coming from his hands, and like valiant warriors, try to keep faithful in the thick of the attack and fighting.

ACKNOWLEDGEMENT
Saint Francis de Sales, T.O.M., A.O.F.M. Cap. "Offer No Resistance." from St. Francis de Sales translated by Elisabeth Stopp (New York: Harper & Brothers, 1960).
Note: St. Francis de Sales is out of print. This excerpt appeared in Magnificat in June 2004.

THE AUTHOR
Saint Francis de Sales, T.O.M., A.O.F.M. Cap., (1567-1622) was a Bishop of Geneva who became noted for his deep faith and his gentle approach to the religious divisions in his land resulting from the Protestant Reformation. He is known also for his writings on the topic of spiritual direction and spiritual formation, particularly the Introduction to the Devout Life and theTreatise on the Love of God. Besides these two well-known books he wrote many pamphlets and carried on a vast correspondence. Some of his devotional writings have been collected intoSermons of St. Francis de Sales on Our Lady, Sermons of St. Francis de Sales For Lent,Sermons of St. Francis de Sales On Prayer. For his writings, he has been named patron of the Catholic Press. His writings, filled with his characteristic gentle spirit, are addressed to lay people. He wants to make them understand that they too are called to be saints.
Copyright © Harper & Brothers
If you enjoyed this post, make sure you subscribe to The Faith Explorer RSS feed!