The day began like any other.  After our morning routines Jim went to the gym for a workout, I played a tennis match, and the kids went to the "inside park," known to us grateful parents simply as the gym's daycare!  We've been calling it the "inside park" since the first day we took the children there because we weren't sure they would have understood the concept of daycare, and we certainly didn't want them to think we were leaving them, never to return.  We quickly learned that our kids don't have any separation anxiety whatsoever, which in some instances can be good, but in others it is nothing short of scary (e.g. their willingness to go off with complete strangers).
Once we had all returned from our morning activities Jim and I still tried to keep as much normalcy going as possible, even though this was the day, Friday, August 5th, that the adoption of CJ and Brooklyn would be finalized…finally!  For close to two months we had been talking to the children about this day, prepping them for what would be happening, and reassuring them that family life, as they have come to know it, would not be changing, except that we would become a forever family.  We used the word "adoption," although I don't think neither one of the kids grasped the definition.  We also told them that on our special family day we had to go to a courthouse and visit with a Judge so he could officially make us a family.  "Any questions children?"  They both replied with resounding "No's" as they had moved on to more important things like picking at their toes or trying to do origami with their arms.  I didn't think so – tough to have questions when you don't understand the concept to begin with.
Right after the adoption talk I took each child individually into the office and they got to pick out their own personalized bear from the "Build-A-Bear" web site that they would take along on our adoption day.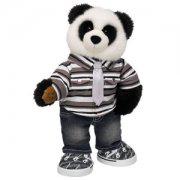 CJ picked a panda bear, while Brooklyn, with no encouragement from me (I swear!), picked out a rainbow striped bear.  Clearly she has no issues in having two dads and is only a sequined outfit away from riding on a float with PFLAG (Parents, Families, & Friends of Lesbians and Gays) in the next gay parade!  For days and weeks after this family meeting the kids kept asking us, "Is today the adoption?" "Is my bear here yet?" "I see the Judge today?"  Sometimes telling them about something this far in advance can backfire on us, and this was one of those times.
We also had a special guest arriving that morning who hadn't seen the children in a year-and-a-half.  Kim, who was part of the original foster care intake team in Reno, and later worked with the children several hours a week in their foster home, wanted to witness our special day, and we were more than happy to host her!  Again, we talked to the children ahead of time about Kim's visit because we didn't want them to think they were leaving with her.  Brooklyn, because of her young age likely didn't remember Kim, seemed secure that she wasn't going anywhere – she's trained us already so the idea of breaking in a new family seemed senseless.  CJ, on the complete opposite end of the spectrum, seemed convinced that Kim was his mom and that he would be flying back with her.  We had to take extra precautions to make sure the kids didn't feel like their home life, the family life they had finally gotten used to, was being threatened, and to put Kim at ease that neither child was returning to Reno with her.  Usually when we have a friend or family member stay in our casita (guest house) there is a babysitting gig attached (hey, we have to take advantage of any and all possibilities), but we decided to waive that for Kim since she was with us for just under 24 hours and to reduce the amount of possible trauma for all parties.
Shortly after Kim arrives at our home it was time for everyone to get dressed for court.  Brooklyn had been looking forward to wearing her new pink dress that had been hanging in her closet and taunting her for a couple of weeks.  For CJ it was the moment he could wear his new pair of Bakugan shoes (I can barely pronounce it, let alone spell it).  For Jim and I we were dreading having to wear long pants and long-sleeved shirts in the desert at the peak of summer (it was 108 degrees that day).
Just before leaving the house we gave the kids their bears to take with them and then all seven us (bears included) buckle ourselves into the Outback and head to Indio, about a 25-minute trip.  A trip, like so many others, that included a plethora of questions from CJ:
"Today is the adoption?" Yes, we've talked about this already.
"I see the Judge today?" Yes, and he gets to see you too.
"We go to the courthouse?" Um, yeah, that is where the Judge is.
"I have my panda bear?" Yep, he's sitting right there on your lap.
"Brooklyn has her bear?" Can't you see her trying to dismember it?
"Kim is going with us?" Oh no, we forgot Kim!
These aren't so much questions as affirmations.  The amount of anxiety this little boy carries with him is astonishing, but after being asked the same question a minimum of five times it teeters on annoying.  Okay, I'm being too kind…it is annoying!  It's like a gnat that won't go away; except you can't hug a gnat and it doesn't say, "I love you."

As we pull up to our destination I announce, "Here we are at the courthouse for our adoption!"  Brooklyn, taking a slight break from her bear-memberment, announces gleefully, "Yay, we at the whorehouse!"  Sometimes you can't help but love this little girl and her struggles with consonants.  Priceless!
To Be Continued…
–Thomas L-L