A prefabricated off-the-grid vacation home in eastern Washington provides not just a getaway, but lessons in learning to be one with the land.
Slideshow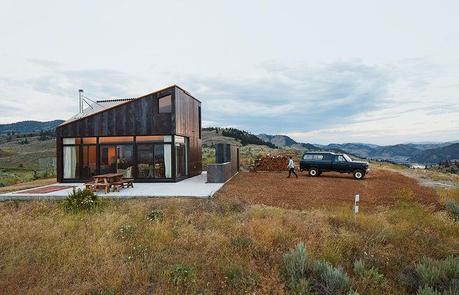 Architect Jesse Garlick's rural Washington vacation home references its rugged surroundings. The steel cladding has developed a patina similar to the ochre-red color of bedrock found in the area.
Project  Sky House Architect  Platform Architecture + Design LTD
When Vancouver-based architect Jesse Garlick was growing up, his family used to take him sailing. Those aquatic outings instilled a love of solitude, design, and self-sufficiency that inspired him to join his profession. But when Garlick and his wife, Susan Elliott, decided to build a vacation retreat, they chose a different kind of geography and challenge: a prefabricated, off-the-grid home in eastern Washington's high desert. 
Garlick draws parallels between sailing the sea and building on a remote, sagebrush-covered hilltop. "There is an openness and an isolation," he says. "Deserts are very calming and clearing, but there's also an intensity to them and a severity." For Garlick, having a rural home, like sailing, evokes a feeling of being anchored. "People think, 'It would be great to be away from it all.' But you've got to understand the place and do the work to make that happen. It's beautiful, but you have to be able to troubleshoot."
The project began in 2011, during a wave of change in the couple's lives: Garlick just left the Vancouver firm he worked for to start his own shop, Platform Architecture + Design; Elliott had ended a 20-year dance career to become a personal chef; and they had just adopted their infant son, Teo. Garlick and Elliott saw their so-called Sky House as a place to recharge and embrace their love of the outdoors. After living in a small Vancouver apartment overlooking a noisy urban intersection for years, the allure of decamping to the backcountry became irresistible. "There's this kind of magic moment," Garlick says of crossing the Okanogan National Forest en route to the cabin, "when you transition out of the temperate rain forest and begin to smell that first scent of sage."
Slideshow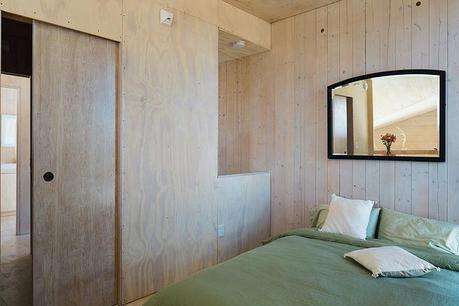 The bedroom is outfitted with only the basics.
The site's location near the tiny town of Oroville, Washington, made prefab construction a logical choice. The 820-square-foot, two-story home was built from solid cross-laminated timber panels and sheets of unfinished raw steel, all manufactured offsite. The heavy onsite construction required a 15-ton mobile crane and a four-person team and only took three days—but there were moments of uncertainty, like when the truck carrying the materials couldn't make it up the hilly road to the house. Luckily, a friend of a friend on a nearby ranch offered use of his dump truck and trailer. A skeleton crew of two to four people completed the remaining work over the course of three months, due in part to Garlick's wise material choices. He specified 80-pound steel panels to clad the facade because they were the biggest size he and his brother could lift into place. "Even though they were made by machine, at the end of the day, they needed to be installed by humans," he says.
The house uses solar power for electricity, propane for heating and cooking, and a well for water. The interior temperature remains comfortable without the use of air-conditioning, despite the region's often high summer heat. Garlick designed a two-story house with a compact footprint in order to optimize passive strategies, like the stack ventilation effect: Heat rises in the tall space, eventually escaping through aptly placed windows, which causes cooler air to continuously flow into the building's lower portion. By using solid cross-laminated timber for the structure and specifying mineral-wool insulation, Garlick helped the building avoid dramatic temperature spikes and drops. "Log cabins hold their mass in a similar way," he says. 
The relatively small floor plate doesn't keep their family (or a succession of guests) from enjoying moments of luxury. Thanks to a self-supporting, origami-like faceted roof, Garlick was able to forgo structural columns inside and have an open interior. The ground-floor kitchen is much larger than the  family's Vancouver apartment and features a commercial-grade Wolf range and a sizable island covered with a slab of PaperStone in their slate hue. 
At the same time, Garlick's design is smartly compact, again influenced by his maritime experiences. A guest bed tucked into a curtained-off corner of the living area, for example, can be raised to the ceiling with a boat winch crank to reveal a bathtub sunk into a tile surround. "We even call it the quarter berth," Elliott says of the space. Garlick built the adjacent stereo cabinet (as well as the outdoor shower stall) using wood reclaimed from a long-abandoned cabin on the 20-acre property. "The nails in the planks were made by a blacksmith, so the wood had been there for probably 80 to 100 years," he says. "But because it's a desert, the wood doesn't rot."
Just as living off-grid takes planning, the beautiful setting requires awareness, with rattlesnakes not infrequently appearing outside. "What I love about the place is it puts you in a very mindful state," Elliott says. "When you step outside your door, you need to be listening for the rattles. But it's also the sound of birds and coyotes and wind in the grass. The juxtaposition between that and where we live in Vancouver is just so fantastic. It completely recharges my system when I'm there." 
Slideshow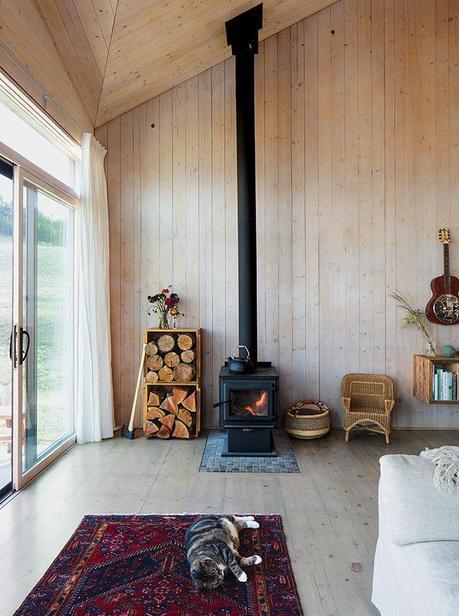 The restrained 820-square-foot interior is defined by the angular ceiling. Garlick left the prefabricated structural panels unfinished to save on material costs. A True North wood stove from Pacific Energy heats the house. Max, the family's cat, naps on a vintage rug purchased on eBay.
Originally published
in  The New Prefab as  Sailing the High Desert