Published as:  Pride of the Ozarks Stocked with green features, an inexpensive off-the-grid retreat in Arkansas provides its owner peace of mind through its clean-lined architecture. Slideshow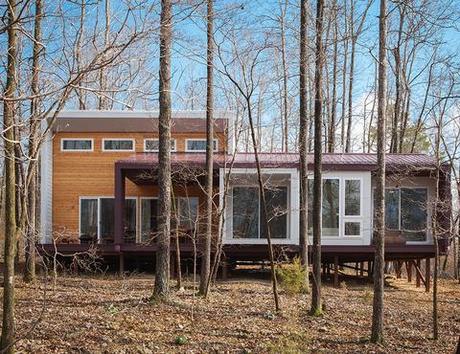 Cement panels painted a plum hue clad Jason Gordon's 1,157-square-foot cabin in the Ozark Mountains. Architect German Brun originally specified wood, but opted for the much less expensive material from James Hardie after contractor Damian Fitzpatrick recommended it. "It was an exercise in cost engineering," Brun says.
For years, architect Germán Brun and practicing Buddhist Jason Gordon—members of the same Miami soccer team—casually batted ideas around for a cabin. "Then one day, it finally happened," Brun says. Gordon's plot of land sits within the Katog Choling Rit'hröd Buddhist center in the Ozark Mountains, and he wanted to create a haven that echoed its philosophy. (Gordon's longtime teacher and mentor, Khentrul Rinpoche, established the retreat in 2006.) "My idea was to live off the grid and to live simply," Gordon says.
Completed in fall 2013 for just over $118,000, Gordon's 1,157-square-foot house was designed to have as little of an impact on its environment as possible. Green elements include a photovoltaic array, a rainwater catchment system, and a pier footing foundation that elevates the house over the land, minimizing site disturbance. The restrained interior features bamboo flooring, Vermont slate tile, recycled paper countertops, and ample glass to showcase the surrounding deciduous forest. "When I go inside, my mind expands," Gordon says. "The interior offers clarity and calm."